Competition/Digital Research
Blog Archive » e-Rewards, Inc. Announces Agreement to Acquire Conversition Strategies. E-Rewards, Inc.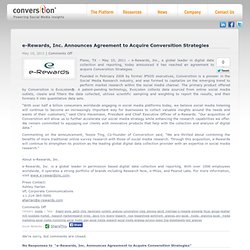 Announces Agreement to Acquire Conversition Strategies May 10, 2011 | Plano, TX – May 10, 2011 – e-Rewards, Inc., a global leader in digital data collection and reporting, today announced it has reached an agreement to acquire Conversition Strategies. Founded in February 2009 by former IPSOS executives, Conversition is a pioneer in the Social Media Research industry, and was formed to capitalize on the emerging trend to perform market research within the social media channel. The primary product offered by Conversition is EvoListen®.
Trends in Consumers' Time Spent with Media. There are only so many hours per day that consumers can spend watching TV, reading newspapers and surfing the internet.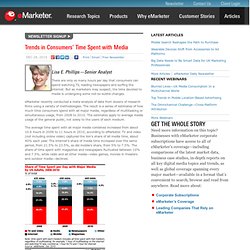 But as marketers may suspect, the time devoted to media is undergoing some not-so-subtle changes. eMarketer recently conducted a meta-analysis of data from dozens of research firms using a variety of methodologies. The result is a series of estimates of how much time consumers spend with all major media, regardless of multitasking or simultaneous usage, from 2008 to 2010. The estimates apply to average media usage of the general public, not solely to the users of each medium. Research.ly Debuts Real-Time Social Search Platform, Plus 3 Years of Twitter's Archive. There's a new tool that online marketers, brand managers and social media experts should be aware of: Research.ly, a new social search platform for researching Twitter conversations and tracking the associated analytics.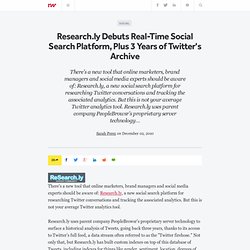 But this is not your average Twitter analytics tool. Research.ly uses parent company PeopleBrowsr's proprietary server technology to surface a historical analysis of Tweets, going back three years, thanks to its access to Twitter's full feed, a data stream often referred to as the "Twitter firehose. " Not only that, but Research.ly has built custom indexes on top of this database of Tweets, including indexes for things like gender, sentiment, location, degrees of separation and more. Research.ly's technology breakthrough are these custom indexes on top of Twitter's firehose. As noted above, they include gender, ? Qualitative Research Consultants Association. Products | dub. Dub's software is currently being put to work by the world's online leading MR, brand strategy, innovation and advertising agencies and brands including TNS, Ipsos, Added Value, Flamingo, Decision Analyst and Buzzback.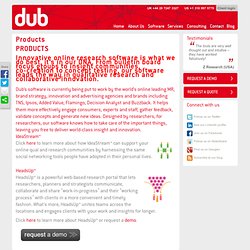 It helps them more effectively engage consumers, experts and staff, gather feedback, validate concepts and generate new ideas. Designed by researchers, for researchers, our software knows how to take care of the important things, leaving you free to deliver world-class insight and innovation. IdeaStream™
---