Pneumonia-RDU-AMR
Pneumococcal diseases are a major public health problem all over the world.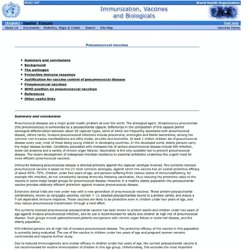 Pneumococcal vaccines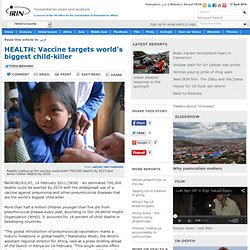 Read this article in: عربي Rapidly scaling up the vaccine could avert 700,000 deaths by 2015 and seven million deaths by 2030 NAIROBI/KILIFI, 14 February 2011 (IRIN) - An estimated 700,000 deaths could be averted by 2015 with the widespread use of a vaccine against pneumonia and other pneumococcal diseases that are the world's biggest child-killer. More than half a million children younger than five die from pneumococcal disease every year, according to the UN World Health Organization (WHO). It accounts for 18 percent of child deaths in developing countries.
IRIN Global | HEALTH: Vaccine targets world's biggest child-killer | Global | Gambia | Kenya | Niger | Rwanda | Sierra Leone | Uganda | Yemen | South Africa | Aid Policy | Children | Early Warning | Education | Health & Nutrition
Read this article in: عربي Pneumonia patient in Pakistan, which has one of the world's 15 highest caseloads of the disease BANGKOK, 11 November 2010 (IRIN) - Efforts to treat and prevent pneumonia are falling short in the 15 countries responsible for three-quarters of the world's annual deaths from the disease, according to a "report card" issued by the US-based International Vaccine Access Center (IVAC) at Johns Hopkins University. Pneumonia kills more children under five every year – 1.6 million – than measles, HIV/AIDS and malaria combined, according to the World Health Organization (WHO). The report's lead author and IVAC's executive director, Orin Levine, said unimplemented policies were at fault. "We have safe effective proven interventions that can decrease under-five deaths by two-thirds, but they are simply not reaching the children who need them the most."
IRIN Global | HEALTH: Pneumonia action falling short | Afghanistan | Angola | Bangladesh | Burkina Faso | DRC | Ethiopia | Indonesia | Kenya | Niger | Nigeria | Pakistan | Tanzania | Uganda | Health & Nutrition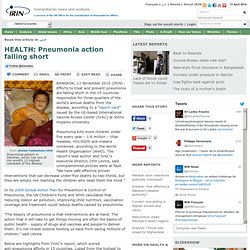 s and Antimicrobial Therapy (ANTIBIOTIC.ru)