Evaluation
Indicators: Definition and Use in a Results-Based Accountability System / Browse Our Publications / Publications & Resources
This brief defines and explores the role of indicators as an integral part of a results-based accountability system. The brief shows how indicators enable decision makers to assess progress toward the achievement of intended outputs, outcomes, goals, and objectives. About This Series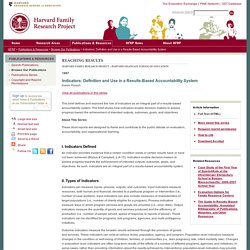 MEASURE Evaluation — UNC Carolina Population Center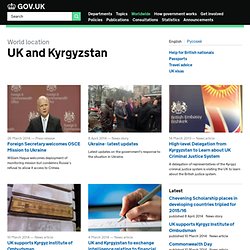 We develop and sustain the important bilateral relationship between the UK and the Kyrgyz Republic, supporting security, democratisation and prosperity. Our work includes efforts to deepen democracy and embed an international rules-based system in Kyrgyz legislation; supporting defence and security co-operation, working to reduce conflict, encouraging sustainable economic growth, and providing modern and efficient services to British nationals.
Kyrgyzstan
Evaluating Your Program - Types of Evaluation
Types of Evaluation As mentioned in Plan of Action , multiple evaluation methods should be used in a comprehensive community-based health promotion program. Most organizations do not have the resources and expertise to measure impact, but with formative, process, and some outcome measurements you will be making a major step in evaluating your programs, either the effectiveness of parts of the program, or the effectiveness of the total program.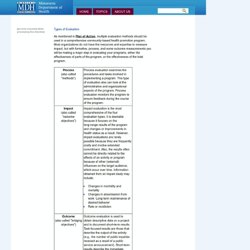 © Copyright Carter McNamara, MBA, PhD, Authenticity Consulting, LLC . Adapted from the Field Guide to Nonprofit Program Design, Marketing and Evaluation . This document provides guidance toward planning and implementing an evaluation process for for-profit or nonprofit programs -- there are many kinds of evaluations that can be applied to programs, for example, goals-based, process-based and outcomes-based. Nonprofit organizations are increasingly interested in outcomes-based evaluation. If you are interested in learning more about outcomes-based evaluation, then see the sections Outcomes-Evaluation and Outcomes-Based Evaluations in Nonprofit Organizations .