Web Development
21 Free Video Players For Your Website and Blogs | Tools. For one reason or another, a lot of designers use Video Players on their website.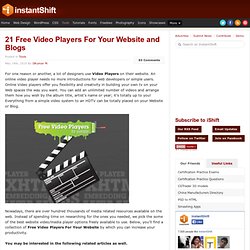 An online video player needs no more introductions for web developers or simple users. Online Video players offer you flexibility and creativity in building your own tv on your Web spaces the way you want. You can add an unlimited number of videos and arrange them how you wish by the album title, artist's name or year; it's totally up to you! Everything from a simple video system to an HDTV can be totally placed on your Website or Blog. Cool and Useful jQuery Image and Content Sliders and Slideshows. May 23 2011 Looking for some cool new (and free) jQuery slider plug-ins and scripts?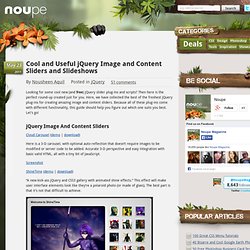 Then here is the perfect round-up created just for you. Here, we have collected the best of the freshest jQuery plug-ins for creating amazing image and content sliders. Private Eye. Right.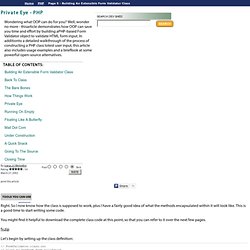 So I now know how the class is supposed to work, plus I have a fairly good idea of what the methods encapsulated within it will look like. This is a good time to start writing some code. You might find it helpful to download the complete class code at this point, so that you can refer to it over the next few pages. fv.zip.
Ajax. CSS. Real-Time Commenting System. The Web has become increasingly interactive over the years.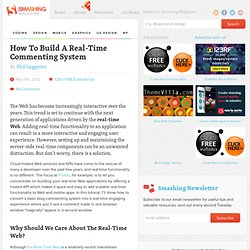 This trend is set to continue with the next generation of applications driven by the real-time Web. Adding real-time functionality to an application can result in a more interactive and engaging user experience. Smashing Magazine. SEO. Code Snippets.
---