Web Development
21 Free Video Players For Your Website and Blogs | Tools
For one reason or another, a lot of designers use Video Players on their website. An online video player needs no more introductions for web developers or simple users. Online Video players offer you flexibility and creativity in building your own tv on your Web spaces the way you want. You can add an unlimited number of videos and arrange them how you wish by the album title, artist's name or year; it's totally up to you! Everything from a simple video system to an HDTV can be totally placed on your Website or Blog.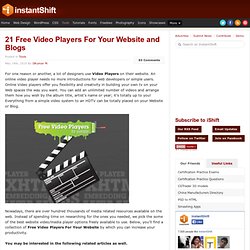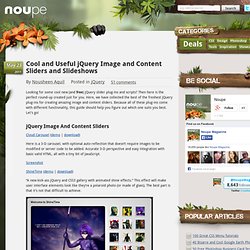 Cool and Useful jQuery Image and Content Sliders and Slideshows
May 23 2011 Looking for some cool new (and free) jQuery slider plug-ins and scripts? Then here is the perfect round-up created just for you. Here, we have collected the best of the freshest jQuery plug-ins for creating amazing image and content sliders.
PHP | edrackham
I was working on a project today, and I needed to convert a PHP based multidimensional array into a Javascript array, so that I could use it for a dynamic select dropdown (depending on the top level category chosen, the next level select dropdown would be populated with the child elements of the top level category options – if you follow me!). Anyway, I soon realised that converting the PHP array into a Javascript array was a bad idea, as converting it to a Javascript object would be much much better. Read the rest of this entry »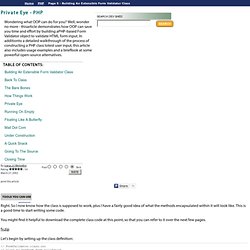 Right. So I now know how the class is supposed to work, plus I have a fairly good idea of what the methods encapsulated within it will look like. This is a good time to start writing some code. You might find it helpful to download the complete class code at this point, so that you can refer to it over the next few pages. fv.zip
Private Eye
It's very easy and fast how to add the prominent Social Networking Buttons such as Facebook Like Button, Twitter 'Tweet' Button, Google 'Plus One' and the new addition to the social networking community, the Pinterest 'Pin it' button inside every blog post in your WordPress blog. Simple implementation guides on how to add the buttons are scattered across the world wide web. You just need to copy few codes, tweak some of it and paste it directly wherever you want to display it inside your single.php file. Unfortunately, this method is not appropriate in your Index.php file or in a page with multiple post. If you do this method, you're button will just return the active url in your web browser. The supposedly task to share the right blog post or url will not be met.
How To Add Facebook Like, Twitter Tweet, Google Plus One and Pinterest Pin IT Button in your Index File (Multiple Blog Posts) in Wordpress | BenDaggers.com | Feeding Your Dirty Doubting Minds.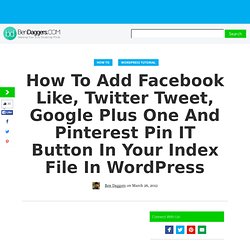 The Web has become increasingly interactive over the years. This trend is set to continue with the next generation of applications driven by the real-time Web. Adding real-time functionality to an application can result in a more interactive and engaging user experience.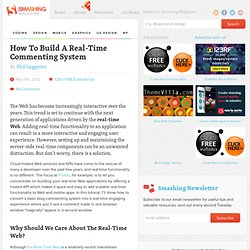 Real-Time Commenting System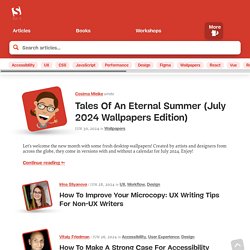 Interview With Khajag Apelian"Type Design Is Not Only About Drawing Letters" Having started his career studying under some of the best typographic minds in the world, Khajag Apelian not only is a talented type and graphic designer, unsurprisingly, but also counts Disney as a client, as well as a number of local and not-for-profit organizations throughout the Middle East. Even more impressive is Khajag's willingness to take on work that most people would find too challenging. Designing a quality typeface is a daunting task when it's only in the Latin alphabet. Khajag goes deeper still, having designed a Latin-Armenian dual-script typeface in four weights, named "Arek", as well as an Arabic adaptation of Typotheque's Fedra Display.