Ville verticale
BIG is commissioned by Novawest to design a 420 ft tall mixed-use observation tower to serve as a symbol for the city of Phoenix, Arizona. Project Details: Location: Phoenix, Arizona, USA Type: Infrastructure Size: 70,000 square feet Client: Novawest Architects: BIG - www.big.dk Collaborators: MKA (structure), Atelier10 (sustainability), Gensler (local architect), TenEyck (landscape) Partner in Charge: Bjarke Ingels and Thomas Christoffersen Project Leader: Iannis Kandyliaris Team: Thomas Fagan, Aaron Hales, Ola Hariri, Dennis Harvey, Beat Schenk Aerial View Located in downtown Phoenix, the 70,000 sf Observation Tower shall add a significant structure to the Phoenix skyline from which to enjoy the city's spectacular views of the surrounding mountain ranges and dramatic sunsets.
Phoenix Observation Tower, Arizona / USA by BIG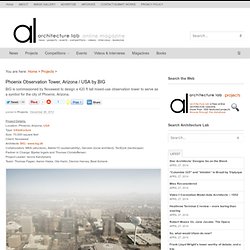 Atelier Roland Castro & Sophie Denissof
Habiter le Ciel Atelier Roland Castro & Sophie Denissof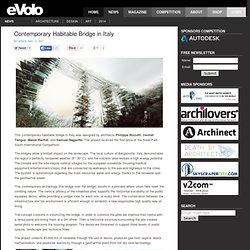 This contemporary habitable bridge in Italy was designed by architects Philippe Rizzotti , Vermet Tanguy , Manal Rachdi , and Samuel Nageotte.
Contemporary Habitable Bridge in Italy
Eco-Pods Produce Bio-Fuel Energy
We have seen the financial outcome of the Real Estate crash in 2008. What sometimes we overlook are the urban voids left by unfinished buildings. That is the case of the Filene's development in downtown Boston which construction was halted in November 2008.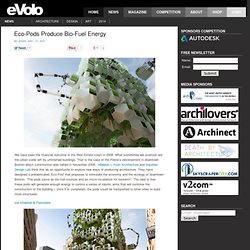 The Taiwan Tower is a proposal by Vienna-based architect Steven Ma in Collaboration with San Liu , Xinyu Wan , and Emre Icdem .
The Taiwan Tower is a Sustainable Twin Syscraper for the 21st Century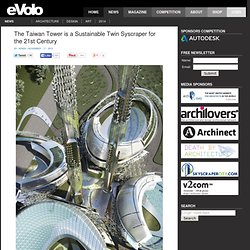 Finalist 2011 Skyscraper Competition
A Vertical Manifesto for Mumbai