Technology
Da PDF to Excel (XLS) — ¡100% Gratis!
My First Petabyte: Now What?
Multi-tenancy, multi-master, Sharding, scaling and analytics with Drizzle at linux.conf.au 2012
Get Lanyrd on your mobile (iPhone, Android and more) - check it out here Add an event Lanyrd.com The Social Conference Directory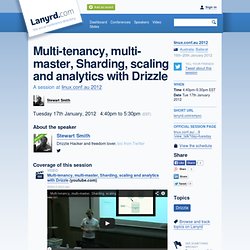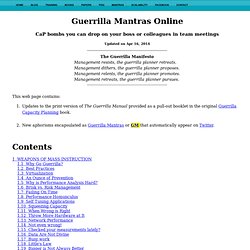 Guerrilla Manual Online
Because of the great diversity of time scales that exist in modern computer systems, it's a good idea to try and get a more intuitive feel for some of them. My first attempt at helping you to do that was in 1998, where I included the table shown at the left in The Practical Performance Analyst . I updated that as Table 3.1 in my Perl PDQ book. Here, I've rendered those quantities as a data frame in R:
your database in the cloud - The official Google Code blog
By Navneet Joneja, Product Manager for Google Cloud SQL Cross-posted from the Google App Engine Blog One of App Engine's most requested features has been a simple way to develop traditional database-driven applications. In response to your feedback, we're happy to announce the limited preview of Google Cloud SQL . You can now choose to power your App Engine applications with a familiar relational database in a fully-managed cloud environment. This allows you to focus on developing your applications and services, free from the chores of managing, maintaining and administering relational databases.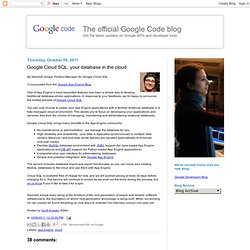 MySQL Performance | Tokutek
Lists: mysql: Re: InnoDB vs. other storage engines
Can HBase replace MySQL as the main database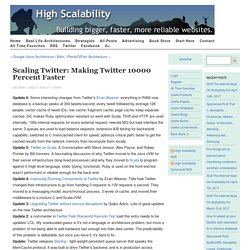 Scaling Twitter: Making Twitter 10000 Percent Faster
Update 6: Some interesting changes from Twitter's Evan Weaver : everything in RAM now, database is a backup; peaks at 300 tweets/second; every tweet followed by average 126 people; vector cache of tweet IDs; row cache; fragment cache; page cache; keep separate caches; GC makes Ruby optimization resistant so went with Scala; Thrift and HTTP are used internally; 100s internal requests for every external request; rewrote MQ but kept interface the same; 3 queues are used to load balance requests; extensive A/B testing for backwards capability; switched to C memcached client for speed; optimize critical path; faster to get the cached results from the network memory than recompute them locally. Update 5: Twitter on Scala . A Conversation with Steve Jenson, Alex Payne, and Robey Pointer by Bill Venners.
Getting infos from a video file ffmpeg -i video.avi Turn X images to a video sequence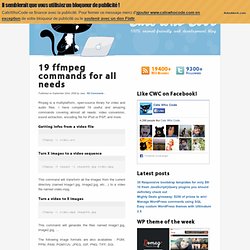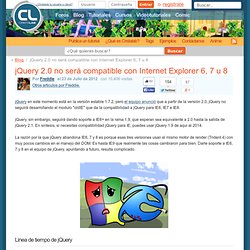 jQuery 2.0 no será compatible con Internet Explorer 6, 7 u 8
jQuery en este momento está en la versión estable 1.7.2, pero el equipo anunció que a partir de la versión 2.0, jQuery no seguirá desarrollando el modulo "oldIE" que da la compatibilidad a jQuery para IE6, IE7 e IE8. jQuery, sin embargo, seguirá dando soporte a IE6+ en la rama 1.9, que esperan sea equivalente a 2.0 hasta la salida de jQuery 2.1. En sintesis, si necesitas compatibilidad jQuery para IE, puedes usar jQuery 1.9 de aquí al 2014. La razón por la que jQuery abandona IE6, 7 y 8 es porque esas tres versiones usan el mismo motor de render (Trident 4) con muy pocos cambios en el manejo del DOM. Es hasta IE9 que realmente las cosas cambiaron para bien. Darle soporte a IE6, 7 y 8 en el equipo de jQuery, apuntando a futuro, resulta complicado. Linea de tiempo de jQuery
Subtítulos de Películas DivX para descargar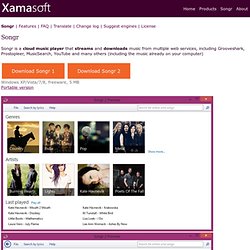 Songr is a cloud music player that streams and downloads music from multiple web services, including Grooveshark, Prostopleer, MusicSearch, YouTube and many others (including the music already on your computer) Note: Songr does not index nor host any mp3 files, it's just a desktop interface to third party mp3 search engines. Songr has no control over any web sites or resources which are provided by companies or persons other than Songr.
Songr
TRENDnet Store Online :
OpenRA - Home
I live online. I store all my email, documents and pictures in the cloud. Except for work, the only application I regularly use on my computer is a web browser. It gives me access to everything I need.
Building a Computing Highway for Web Applications | Research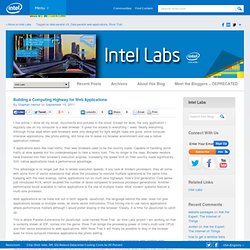 Posting Source Code
While WordPress.com doesn't allow you to use potentially dangerous code on your blog, there is a way to post source code for viewing. We have created a shortcode you can wrap around source code that preserves its formatting and even provides syntax highlighting for certain languages, like so: To accomplish the above, just wrap your code in these tags: [code language="css"] your code here [/code] The language (or lang ) parameter controls how the code is syntax highlighted.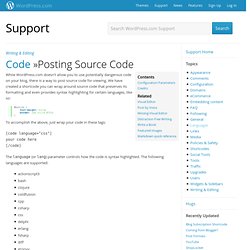 Online syntax highlighting for "html"
The Commodore 64 was introduced in January 1982 with a CPU of 1.024 megahertz and 64 kilobytes of RAM. These specs seem very small by today's standards, but they were enough to make the Commodore 64 the best-selling single personal computer model of all time. Today an Alienware gaming pc or laptop can reach CPU speed of 4.2 gigahertz with multiple cores supported by a massive 16GB of RAM. Source : www.alienware.co.uk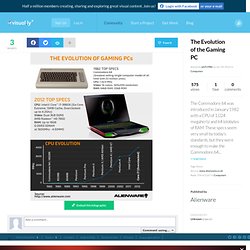 The Evolution of the Gaming PC
Slim Framework
It is almost one year I've been using CodeIgniter framework for my projects. Personally, I like this PHP framework very much because it is small, easy to setup, no need to use command prompt and etc. Besides, the documentation is great!
CodeIgniter for beginner: 5 things you should know | Blog Pisyek
SL3 + WCF + Stream response - is it possible?
Google Nexus tablet price: $99 Nexus tablet launching in 2012
pgModeler - PostgreSQL Database Modeler
The Wealth & Health of Nations
Source: Tom Carden , Gapminder . This is a recreation in D3 of Gapminder's Wealth & Health of Nations , made famous by Hans Rosling's memorable 2006 TED talk . It shows the dynamic fluctuation in per-capita income ( x ), life expectancy ( y ) and population (radius) of 180 nations over the last 209 years. Nations are colored by geographic region; mouseover to read their names. As Tom Carden noted, there's a surprising amount of work that goes into making something look simple. For one, data collected in recent years is consistent, while data prior to 1950 is sparse; although potentially misleading, these visualizations use linear interpolation for missing data points.
Note: The EzAuth core has changed. You will need to change some things in your database in order to upgrade to 0.6. DO NOT replace the old model with the new one without performing the necessary database changes first! Your users will not be able to login if you replace the model before making the database changes. To upgrade your existing database tables, run these MySQL commands: alter table ez_auth add cookie_hash varchar(255), add activation_code varchar(255); alter table ez_users add register_date datetime not null; update ez_users, ez_auth, ez_access_keys set ez_auth.activation_code = md5(concat(md5(ez_users.username), md5(ez_users.email), md5(ez_users.register_date))) where ez_access_keys.access = 'user' and ez_access_keys.user_id = ez_users.id and ez_auth.user_id = ez_users.id;
EzAuth User Guide | BizWidgets Solutions
3 CodeIgniter libraries that will make your life easier (EzAuth, Ocular and DataMapper) - Geshan's Blog
CodeIgniter is a Model View Controller (MVC) based open source web application framework for use in building dynamic web sites with PHP. It has a very small footprint, built for PHP coders who need a simple and elegant toolkit to create full-featured web applications. More About CI Its goal is to enable you to develop projects much faster than you could if you were writing code from scratch, by providing a rich set of libraries for commonly needed tasks, as well as a simple interface and logical structure to access these libraries.
machuga/codeigniter-authority-authorization
[VIDEOTUTORIAL] Cómo instalar Windows 8 con VirtualBox
Instalar Windows 8 preview con VirtualBox (Tutorial)
gmapcatcher - An offline map viewer
Overview GMapCatcher is an offline maps viewer. It can display maps from many providers such as: CloudMade , OpenStreetMap , Yahoo Maps , Bing Maps , Nokia Maps , SkyVector , Google Map . It displays them using a custom GUI. User can view the maps while offline.
by T-Mobile
HTTP Made Really Easy
Twilio Conference 2011: Steve Klabnik, Everything You Know About REST Is Wrong on Vimeo
gabrielflor.it
La NASA planea lanzar a fin de año satélites basados en teléfonos Nexus | Internet
Hypermedia APIs - Jon Moore on Vimeo
How RESTful is Your API? | BitNative
Zorba - The XQuery Processor
Tal Raviv — Being a Developer Makes You Valuable. Learning How to Market Makes You Dangerous
TikTok+LunaTik Multi-Touch Watch Kits by Scott Wilson + MINIMAL
Filabot: Plastic Filament Maker by Tyler McNaney
gTar: The First Guitar That Anybody Can Play by Incident
15-Year-Old Maker Astronomically Improves Pancreatic Cancer Test
Altavoz inalámbrico Jawbone JAMBOX | Audio de alta fidelidad, teléfono con altavoz y más
Ouya: La consola de Kickstarter ya lleva recaudado 5 millones de dólares
German Scientists Create Aerographite, the Lightest Material in the World
The missing switch: High-performance monolithic graphene transistors created