Tatouage
Y A N N — B L A C K   T A TT OO. SNAT Syndicat National des Artistes Tatoueurs. Tatoueurs.fr : l'actu des pros du tatouage et du piercing. TATTOO PASSION : le portail francophone du tatouage et du pierci. TIN-TIN, tatoueur, Paris.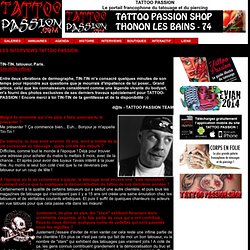 Site WEB officiel Entre deux vibrations de dermographe, TIN-TIN m'a consacré quelques minutes de son temps pour répondre aux questions que je mourrais d'impatience de lui poser... Grand prince, celui que les connaisseurs considèrent comme une légende vivante du bodyart, m'a fourni des photos exclusives de ses derniers travaux spécialement pour TATTOO-PASSION !
Encore merci à toi TIN-TIN de ta gentillesse et de ta disponibilité ;-) d@ts - TATTOO PASSION TEAM. The International London Tattoo Convention - Home. Jamieruth.com. Tatouage Magazine, le site Internet du magazine Tatouage Magazine. Tattoo Piercing BAD BONES Tattoo Piercing. Primordial Pain - Tattoos And Painful Fights. Bienvenue sur le site officiel de la bête humaine. Le site de ta.
---