Tatouage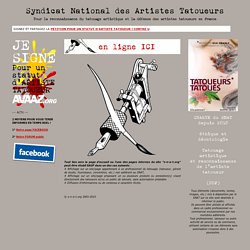 Tout lien vers la page d'accueil ou l'une des pages internes du site "s-n-a-t.org" peut être établi SAUF dans un des cas suivants : # Affichage sur un site/page appartenant à un professionnel du tatouage (tatoueur, gérant de studio, fournisseur, convention, etc.) non adhérent au SNAT, # Affichage sur un site/page proposant un ou plusieurs produits ou prestation(s) visant directement des tatoueurs et/ou un public de tatoués, sans autorisation préalable # Diffusion d'informations ou de contenus à caractère illicite.
SNAT Syndicat National des Artistes Tatoueurs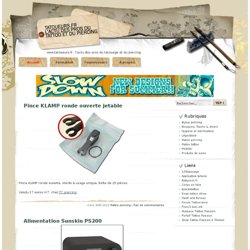 tatoueurs.fr : l'actu des pros du tatouage et du piercing
Pince KLAMP ronde ouverte, stérile à usage unique, boîte de 25 pièces. Vendu 17 euros H.T. chez ITC piercing . Alimentation Sunskin PS200. Puissance : 4 ampères. Cadran digital qui affiche le voltage. Vendue 220 euros H.T. chez Lucky7supplies .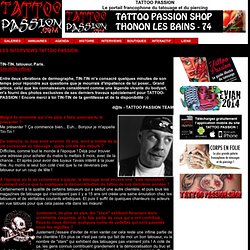 TIN-TIN, tatoueur, Paris. Site WEB officiel Entre deux vibrations de dermographe, TIN-TIN m'a consacré quelques minutes de son temps pour répondre aux questions que je mourrais d'impatience de lui poser... Grand prince, celui que les connaisseurs considèrent comme une légende vivante du bodyart, m'a fourni des photos exclusives de ses derniers travaux spécialement pour TATTOO-PASSION ! Encore merci à toi TIN-TIN de ta gentillesse et de ta disponibilité ;-) d@ts - TATTOO PASSION TEAM
TATTOO PASSION : le portail francophone du tatouage et du pierci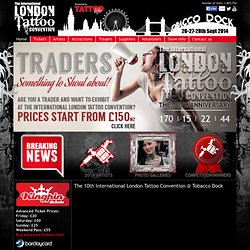 The International London Tattoo Convention - Home
The 10th London International Tattoo Convention, the greatest, most respected and prestigious body art convention in the world, is to be held on 26th, 27th and 28th September 2014 at Tobacco Dock, 50 Porters Walk, London E1W 2SF. Anticipation is running high for The London Tattoo Convention 2014, not only because this event receives such incredibly positive feedback every year at the international level, but primarily because September 2014 will be the tenth anniversary of a convention which showcases the best of international tattoo art. Ten years have gone by, full of transformation, growth and emotions; first at the Old Truman Brewery in the famous Brick Lane area, and then for the past six years in the picturesque setting of East London's Tobacco Dock. So what's going down on 26/27/28 September 2014?
jamieruth.com
Tatouage Magazine, le site Internet du magazine Tatouage Magazine
Tattoo Piercing BAD BONES Tattoo Piercing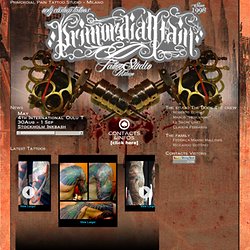 Primordial Pain - Tattoos And Painful Fights
Primordial Pain Tattoo Studio - Milano The studio The Book
Bienvenue sur le site officiel de la bête humaine. Le site de ta