The Holocaust
Music and the Holocaust: Kraków. During the inter-war years, with a well-established Jewish community of around 60,000, the city of Kraków was a centre of Jewish cultural life.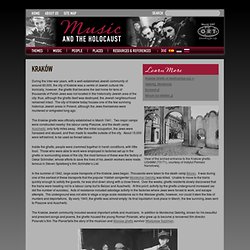 Ironically, however, the ghetto that became the last home for tens of thousands of Polish Jews was not located in the historically Jewish area of the city; thus, although the ghetto itself was destroyed, the Jewish neighbourhood remained intact. The city of Kraków today houses one of the few surviving historical Jewish areas in Poland, although the Jews themselves were murdered or emigrated long ago. Holocaust Timeline: The Krakow Ghetto 1940-43. Forced by the Nazis to relocate to the Krakow Ghetto, Jews move their belongings in horse-drawn wagons.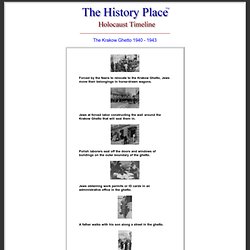 Jews at forced labor constructing the wall around the Krakow Ghetto that will seal them in. Polish laborers seal off the doors and windows of buildings on the outer boundary of the ghetto. The Virtual Jewish History Tour - Cracow. Kraków (also Cracow) is the second largest, and one of the oldest, cities in Poland.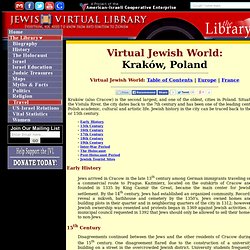 Situated on the Vistula River, the city dates back to the 7th century and has been one of the leading centers of Polish academic, cultural and artistic life. Jewish history in the city can be traced back to the 14th or 15th century. - Early History - 15th Century - 16th Century - 17th Century - 18th Century - 19th Century - Inter-War Period - The Holocaust - Post-Holocaust Period - Jewish Tourist Sites. Bernard Offen Video. Holocaust Survivors Walk | Bernard Offen. Voices of the Holocaust. During the 1930s and 40s, the Nazis and their collaborators murdered six million Jews.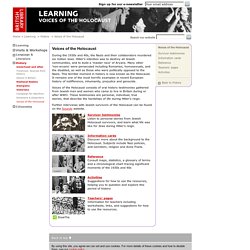 Hitler's intention was to destroy all Jewish communities, and to build a 'master race' of Aryans. Many other 'non-aryans' were persecuted including Romanies, homosexuals, and the disabled, as well as those who were politically opposed to the Nazis. Holocaust Survivors. The Holocaust - Comprehensive Resources About the Holocaust. Whether you are just beginning to learn about the Holocaust or you are looking for more in-depth stories about the subject, this page is for you.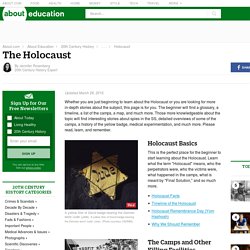 The beginner will find a glossary, a timeline, a list of the camps, a map, and much more. Those more knowledgeable about the topic will find interesting stories about spies in the SS, detailed overviews of some of the camps, a history of the yellow badge, medical experimentation, and much more. Holocaust Encyclopedia. Introduction to the Holocaust The Holocaust was the systematic, bureaucratic, state-sponsored persecution and murder of approximately six million Jews by the Nazi regime and its collaborators.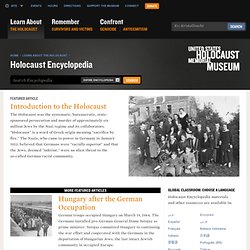 "Holocaust" is a word of Greek origin meaning "sacrifice by fire. " The Nazis, who came to power in Germany in January 1933, believed that Germans were "racially superior" and that the Jews, deemed "inferior," were an alien threat to the so-called German racial community.
---