Twitter
Búsquedas - españa
Beta-6 is Out! | ÜberTwitter Advisors John Durham, CEO/Managing Partner, Catalyst S+F--a strategy firm for digital start-ups and early funding companies. A true industry veteran, most recently Durham served as the executive vice president, business strategy at Carat Fusion, for Carat's offices across the country including New York, Boston, San Francisco, Chicago and Los Angeles.
Ad.ly Analytics - Understand Your Followers
La mayoría de las personas se encuentran desorientadas cuando se enfrentan a una búsqueda de empleo. Es importante que no descartes ninguna de las posibilidades de búsqueda de empleo a las que puedes acceder ya que por remotas que parezcan, pueden resultar efectivas. Puedes comenzar por la redacción del currículum: debes diseñar un currículum claro que aporte la información necesaria para su valoración en la primera fase del proceso de selección; no olvides fechas, empresas, puestos ocupados, funciones desempeñadas, idiomas, y sobre todo aquellos aspectos que pueden aportar un valor añadido a tu candidatura frente a otros candidatos. A pesar de tener un modelo de currículum es importante que lo adaptes a cada oferta de empleo, potenciando y resaltando aquello que posees y mejor se ajuste al puesto. La carta de presentación también es relevante.
http://www.organizartemagazine.com/2010/04/08/como-organizar-tu-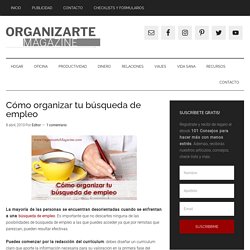 Daily on Twitter as shared by Cesar Camino