Rss
Maestro
Your Online Productivity Center
Free realtime RSS and Atom feed to email service. Get your favourite blogs, feeds, and news delivered to your inbox.
Feed My Inbox - Subscribe to a Feed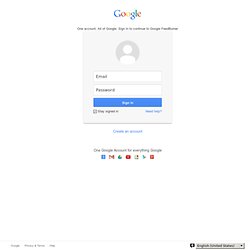 Hallo! Wir heißen immer noch FeedBurner. Welcome! It took us a while but we moved the whole neighborhood, down to every last tree, beagle, and mailbox, to Google. We hope you like it. Sie hatten bis jetzt ein Konto auf feedburner.com und haben Ihre Feeds noch nicht auf ein Google-Konto übertragen?