Miscellaneous
Tracking Not Required: Frequency Capping « Web Policy. Co-authored by Arvind Narayanan.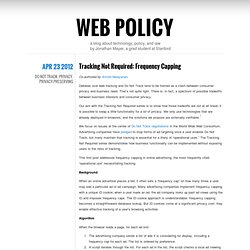 Debates over web tracking and Do Not Track tend to be framed as a clash between consumer privacy and business need. That's not quite right. There is, in fact, a spectrum of possible tradeoffs between business interests and consumer privacy. Our aim with the Tracking Not Required series is to show how those tradeoffs are not at all linear; it is possible to swap a little functionality for a lot of privacy.
Google HQ Bans Microsoft Windows In-House After Hacking Scare. The Financial Times reports that according to Google sources, all versions of Microsoft's Windows OS are henceforth banned.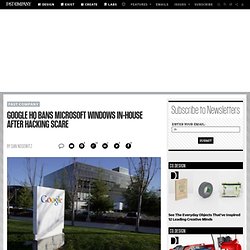 Employees will instead be able to choose between Apple's Mac OS and Linux. Google employees have until now been able to choose their OS of choice, but apparently due to security concerns in the wake of that whole hacking mess, the Google higher-ups have deemed Windows too risky to support. Google declined to comment. Amazon EC2 cloud is made up of almost half-a-million Linux servers. Almost half-a-million Amazon cloud servers run Linux every day.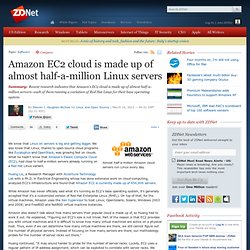 We know that Linux on servers is big and getting bigger. We also knew that Linux, thanks to open-source cloud programs like Eucalyptus and OpenStack, was growing fast on clouds. What he hadn't know that Amazon's Elastic Compute Cloud (EC2), had close to half-a-million servers already running on a Red Hat Linux variant. Huang Liu, a Research Manager with Accenture Technology Lab with a Ph.D. in Electrical Engineering whose has done extensive work on cloud-computing, analyzed EC2's infrastructure and found that Amazon EC2 is currently made up of 454,400 servers. While Amazon has never officially said what it's running as EC2's base operating system, it's generally accepted that it's a customized version of Red Hat Enterprise Linux (RHEL). Powerful tool for creating web surveys. Online survey software made easy! Web Upd8: Ubuntu / Linux blog. How E-mail Works" Every day, the citizens of the Internet send each other billions of e-mail messages.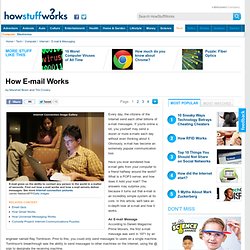 If you're online a lot, you yourself may send a dozen or more e-mails each day without even thinking about it. Obviously, e-mail has become an extremely popular communication tool. Have you ever wondered how e-mail gets from your computer to a friend halfway around the world? What is a POP3 server, and how does it hold your mail? Online tools and applications - Go2web20. IBM and the Holocaust. IBM and the Holocaust is a book by investigative journalist Edwin Black which details the business dealings of the American-based multinational corporation International Business Machines (IBM) and its German and other European subsidiaries with the government of Adolf Hitler during the 1930s and the years of World War II.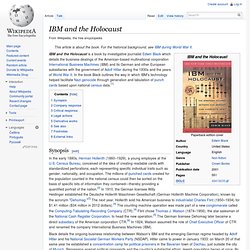 In the book Black outlines the way in which IBM's technology helped facilitate Nazi genocide through generation and tabulation of punch cards based upon national census data.[1] Synopsis[edit] Black details the ongoing business relationship between Watson's IBM and the emerging German regime headed by Adolf Hitler and his National Socialist German Workers Party (NSDAP). Hitler came to power in January 1933; on March 20 of that same year he established a concentration camp for political prisoners in the Bavarian town of Dachau, just outside the city of Munich.
Repression against political opponents and the country's substantial ethnic Jewish population began at once. Wired.com. Welcome to SecurityTube! Sslstrip Tutorial. Night School News, Videos, Reviews and Gossip - Lifehacker. Computer Security. Computer Security Jane F.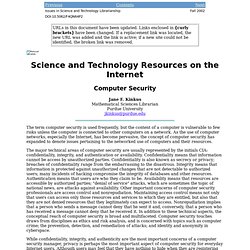 Kinkus Mathematical Sciences Librarian Purdue Universityjkinkus@purdue.edu The term computer security is used frequently, but the content of a computer is vulnerable to few risks unless the computer is connected to other computers on a network. Free Tech Support - Computer Questions and Answers - Ask Bob Rankin. Information Center. Search | Consumer Watchdog. News Release SANTA MONICA, CA -- Google has allowed its social network to become a virtual playground for online ... social network, Google+."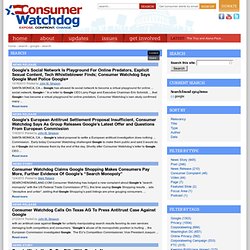 In a letter to Google CEO Larry Page and Executive Chairman Eric Schmidt, ... that Google+ has become a virtual playground for online predators. Consumer Watchdog's own study confirmed many ... SANTA MONICA, CA. – Google's latest proposal to settle a European antitrust investigation does nothing ... Commission. How to delete your Google Browsing History before new policy. With just a week to go before Google changes to its new privacy policy that allows it to gather, store and use personal information, users have a last chance to delete their Google Browsing History, along with any damning information therein.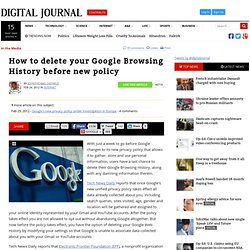 Tech News Daily reports that once Google's new unified privacy policy takes effect all data already collected about you, including search queries, sites visited, age, gender and location will be gathered and assigned to your online identity represented by your Gmail and YouTube accounts. After the policy takes effect you are not allowed to opt out without abandoning Google altogether. But now before the policy takes effect, you have the option of deleting your Google Web History by modifying your settings so that Google is unable to associate data collected about you with your Gmail or YouTube accounts. Your Privacy Kind of Sucks, Fix it Up This Weekend. Since it's hard to trust what companies that get your data will do with it, the best way to maintain your privacy online is to minimize what you give them.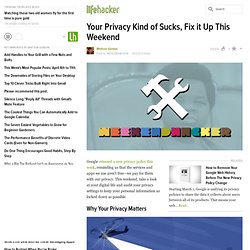 Create accounts with pseudonyms or variants of your name (yes, even Facebook and Google+). Supply only profile information that is absolutely necessary, and lie about critical stuff like birthdates. Block Sites from Using Your Facebook Login with Adblock Plus.
---