Drinks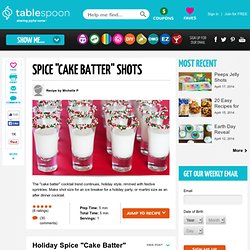 Recipe: Spice "Cake Batter" Shots Try as they might to find a fruitcake recipe that is light and airy, all too often the only thing any fruitcake is good for is propping open a door. Gingerbread houses are no better.
Spice "Cake Batter" Shots Recipe - Tablespoon
Iced Tea with Cider, Mint and Honey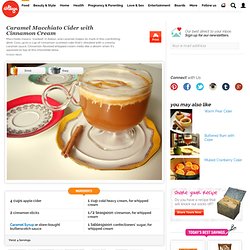 Caramel Macchiato Cider with Cinnamon Cream
Try Kitchen View! Take your computer to the kitchen and view this recipe full-screen, with step-by-step directions. Enter Kitchen View 1 Make Caramel Syrup and allow to cool. Pour into a squeeze bottle with a tip. 2 On the stove, simmer apple cider and cinnamon sticks in a saucepan for at least 10 minutes. 3 In a mixing bowl, whip cold heavy cream with a whisk or the whisk attachment of your electric beaters. When soft peaks form, add cinnamon and confectioners' sugar and continue beating until stiff peaks form. 4 Pour hot cider into glasses, and top each with a large dollop of whipped cream.
Holiday Mixed Drink Recipes – Drink Recipe Ideas for Your Holiday Party
Top 20 Mixed Drink Recipes Looking for the perfect drinks to serve at your holiday party? We've put together a list of our favorites including holiday martinis, party punches and the world's best hot toddy! Mistletoe Bellini Toast to someone special and then hope for a kiss with this bellini from Barefoot Bubbly! The Grinch