Drinks
Spice "Cake Batter" Shots Recipe. Recipe: Spice "Cake Batter" Shots Try as they might to find a fruitcake recipe that is light and airy, all too often the only thing any fruitcake is good for is propping open a door.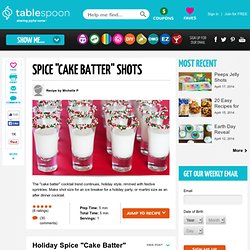 Gingerbread houses are no better. Iced Tea with Cider, Mint and Honey. Caramel Macchiato Cider with Cinnamon Cream. Try Kitchen View!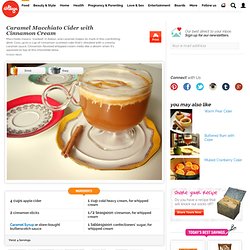 Take your computer to the kitchen and view this recipe full-screen, with step-by-step directions. Enter Kitchen View 1 Make Caramel Syrup and allow to cool. Pour into a squeeze bottle with a tip. 2 On the stove, simmer apple cider and cinnamon sticks in a saucepan for at least 10 minutes. 3 In a mixing bowl, whip cold heavy cream with a whisk or the whisk attachment of your electric beaters. When soft peaks form, add cinnamon and confectioners' sugar and continue beating until stiff peaks form. 4 Pour hot cider into glasses, and top each with a large dollop of whipped cream. Holiday Mixed Drink Recipes – Drink Recipe Ideas for Your Holiday Party.
Top 20 Mixed Drink Recipes Looking for the perfect drinks to serve at your holiday party?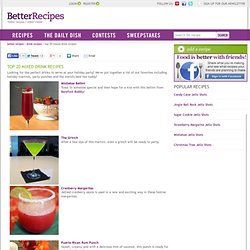 We've put together a list of our favorites including holiday martinis, party punches and the world's best hot toddy! Mistletoe Bellini Toast to someone special and then hope for a kiss with this bellini from Barefoot Bubbly! The Grinch.
---