Pinterest
10 Best Pinterest Practices. In the world of social media there are few mediums that go untouched, but there are those that are significantly more prominent than the others.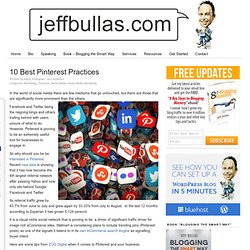 Facebook and Twitter being the reigning kings and others trailing behind with users unsure of what to do. However, Pinterest is proving to be an extremely useful tool for businesses to engage in. So why should you be be interested in Pinterest. Recent new data is showing that it has now become the 4th largest referral network after passing Yahoo and now only sits behind Google, Facebook and Twitter. Its referral traffic grew by 43.7% from June to July and grew again by 33.33% from July to August. Infographic: The Astounding Power Of Pinterest. In our upcoming October design issue, one of the many fascinating feature stories we've lined up is a lengthy profile of Pinterest and its elusive CEO, Ben Silbermann.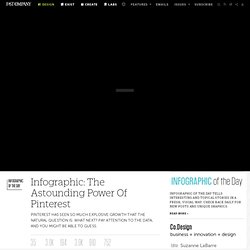 That story goes live later this week, but until then, I wanted to offer a teaser, in the form of an infographic about Pinterest, created by Fast Company's staff and designed by our own Ted Keller. In this profusion of figures, you find out a few, key things about the image-sharing service. For one, it's dominated by women. Creating Perfect Marketing Pins For Pinterest. There's no doubt Pinterest is a promotional platform to consider.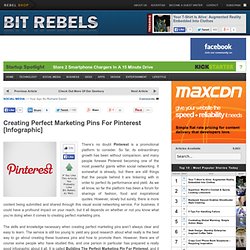 So far, its extraordinary growth has been without comparison, and many people foresee Pinterest becoming one of the most powerful giants within social networking. It somewhat is already, but there are still things that the people behind it are tinkering with in order to perfect its performance and yield. As we all know, so far the platform has been a forum for sharings of fashion, food and inspirational quotes. However, slowly but surely, there is more content being submitted and shared through this visual social networking service.
For business, it could have a profound impact on your reach, but it all depends on whether or not you know what you're doing when it comes to creating perfect marketing pins. Marketing / How Pinterest Is Changing Website Design Forever. Pinterest gains social traction. It's bad for a tech startup when the founder wakes up to a barrage of emails saying the website crashed, or some part of it is broken.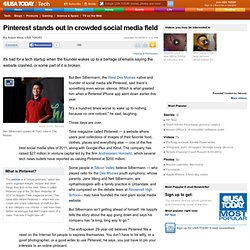 But Ben Silbermann, the West Des Moines native and founder of social media site Pinterest, said there's something even worse: silence. Which is what greeted him when a Pinterest iPhone app went down earlier this year. "It's a hundred times worse to wake up to nothing, because no one noticed," he said, laughing.
Those days are over. Time magazine called Pinterest — a website where users post collections of images of their favorite food, clothes, places and everything else — one of the five best social media sites of 2011, along with Google-Plus and Klout. How Pinterest Changed Website Design Forever. Even if you haven't ever visited popular visual bookmarking site Pinterest, you might recognize its design elements — which have been popping up everywhere since the startup burst onto the mainstream scene in 2011.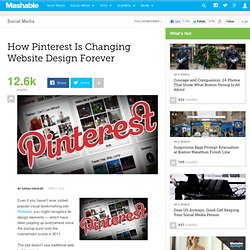 The site doesn't use traditional web building blocks. "It's almost like a window-shopping mode," says Khoi Vinh, the former design director for NYTimes.com. "It puts the ball back in the user's court," muses Andrew Beck, a web designer at Blue Fountain Media. Why Pinterest Is So Addictive. I would have written this article sooner, but I was busy on Pinterest.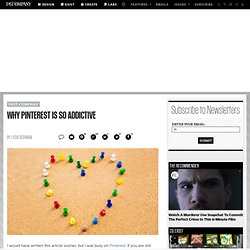 If you are still among the uninitiated, the social platform for collecting, sharing, and commenting on of photos of personal passions is uniquely engaging, absorbing, and addictive. The human instinct to collect things--be it baseball cards, miniature spoons, or teacups--is as old as stuff itself. Five Ways Brands Can Leverage Pinterest Now. Editor's Note: Reggie Bradford is the Founder and CEO of Vitrue, a provider of social marketing SaaS solutions.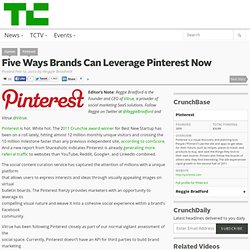 Follow Reggie on Twitter at @ReggieBradford and Vitrue @Vitrue. Pinterest is hot. White hot. 26 Tips for Using Pinterest for Business. Are you wondering how your business could use Pinterest?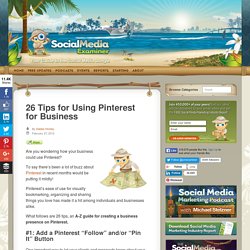 To say there's been a lot of buzz about Pinterest in recent months would be putting it mildly! Pinterest's ease of use for visually bookmarking, organizing and sharing things you love has made it a hit among individuals and businesses alike. What follows are 26 tips, an A-Z guide for creating a business presence on Pinterest. #1: Add a Pinterest "Follow" and/or "Pin It" Button One important way to let your clients and prospects know about your presence on Pinterest is to add a Pinterest button. 56 Ways to Market Your Business on Pinterest.
How Pinterest is Becoming the Next Big Thing in Social Media for Business. Move over Facebook, Twitter and Google+.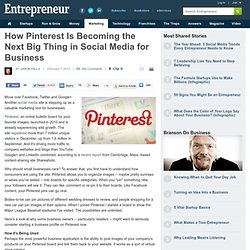 Another social media site is stepping up as a valuable marketing tool for businesses. Pinterest, an online bulletin board for your favorite images, launched in 2010 and is already experiencing wild growth. Pinterest: Everything You Need To Know Is In This Massive Post. Let me guess, you heard about Pinterest.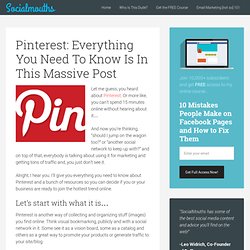 Or more like, you can't spend 15 minutes online without hearing about it… And now you're thinking, "should I jump on the wagon too?" 7 Examples of Brands That Pop on Pinterest. I'm sitting here next to an empty pan of mini red velvet donuts, and all I want to do is find another recipe to bake this weekend.
No, my first stop won't be the Food Network, Gourmet, or Cooking Light. What I am dying to do is head over to my new obsession -- Pinterest -- to discover the next pastry to tackle. Currently, I'm using Pinterest to save links to just about everything: recipes I love, clothes I want to buy, or furniture I want to furnish my house with someday. As a 25-year-old graduate student, someday is a little farther off than I'd like, but it's best to be prepared. Since you already know how to use Pinterest for marketing, now you're probably craving some inspirational real-life examples of brands using it effectively. 7 Ways Journalists Can Use Pinterest. Virtual pinboard Pinterest helps journalists find trend stories, display their work and more. The social networking site has more than four million users, landing it a spot on a list of most visited social media sites of 2011.
Perfect for showing off your favorite finds as you troll the web, users "pin" images to themed boards for visually-appealing displays. Don't be put off by its "invite-only" status.
---
aaeebl May 9 2013

Awesome overview of ways to use Pinterest.
---