Marketing
Like many people, I enjoy guessing as to what technology is going to bring and what innovations will transform our lives.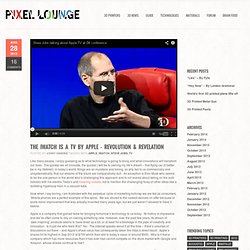 What if Apple's iWatch is… a TV?
A while back we showed you how a number of famous logos that you probably see everyday are hiding cleverly disguised images.
25 Popular Company Logos Then And Now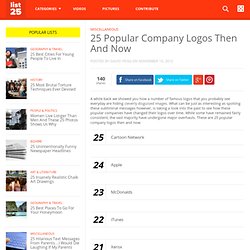 What Is The Virtuous Marketing Circle?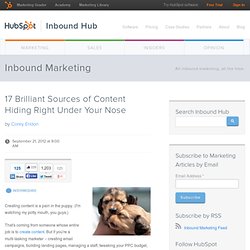 Creating content is a pain in the puppy.
17 Brilliant Sources of Content Hiding Right Under Your Nose
How Gamification Can Help Attract New Customers | Video
David Klein is the co-founder of Orange Line, Australia's leading strategic inbound marketing consultancy.
5 Companies With Inbound Marketing Strategies That Work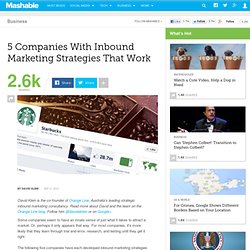 12 Simple Ways Marketers Can Humanize Their Brand
Companies are not people. Boom. How's that for a controversial opening line?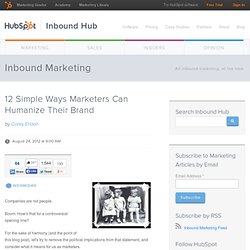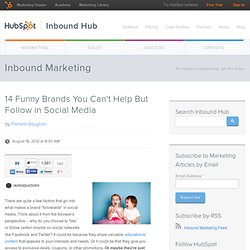 14 Funny Brands You Can't Help But Follow in Social Media
There are quite a few factors that go into what makes a brand "followable" in social media. Think about it from the follower's perspective -- why do you choose to 'like' or follow certain brands on social networks like Facebook and Twitter? Traditional marketing — including advertising, public relations, branding and corporate communications — is dead. Many people in traditional marketing roles and organizations may not realize they're operating within a dead paradigm. But they are.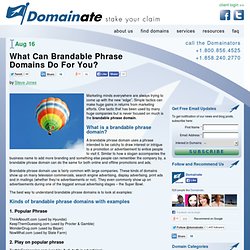 What Can Brandable Phrase Domains Do For You? || Domainate.com
Marketing minds everywhere are always trying to come up with the new "edge".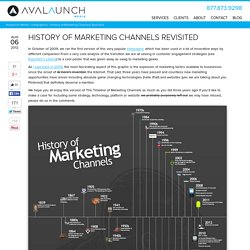 History of Marketing Channels Revisited
In October of 2009, we ran the first version of this very popular infographic which has been used in a lot of innovative ways by different companies!
Marketing / History of Mobile Marketing
Here it is. The 100+ Best Slides From Cannes Lions 2012. Now if you've been to the Cannes Lions International Festival of Creativity, you'll know the vast array of amazing content on offer, but perhaps the only challenge you'll have all week, is choosing what sessions to attend. So, as he always does, my good friend Jesse Desjardins (@JesseDee) has curated the 100+ Best Slides from the entire Cannes Lions Festival, meaning if you missed a session, couldn't remember that kick-ass slide or spent your whole Cannes Lions trip partying on the beach, you can utilise some of this to convince your boss you might have actually went to the sessions! Last year, his 100+ Best Slides From Cannes Lions 2011 SlideShare presentation had almost 400,000 views, so I can't wait to see how The 100+ Best Slides From Cannes Lions 2012 takes off. Be Sociable, Share!
The 100+ Best Slides From Cannes Lions 2012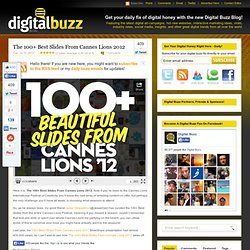 www.wpp.com/NR/rdonlyres/0A43D84F-AF3A-43BF-A520-A4BA60AAC79D/0/2006_BrandZ_Ranking_Report.pdf
Great Logos With A Secret Meaning
Amazon vs. Apple: Competing Ecosystem Strategies - Ron Adner
by Ron Adner | 11:59 AM March 19, 2012 The most viable rival to Apple's iPad isn't produced by a traditional hardware firm.
The World's 50 Most Innovative Companies in India 2012
Top 10 India 01 - Narayana Hrudayalaya Hospitals For bringing high-quality medical care to Indians' doorsteps. In addition to its network of hospitals offering everything from heart surgery to dialysis, the low-cost, high-volume provider started a new program last December called Home Health Care Services.
The History of Marketing (An INFOGRAPHIC) HubSpot has put together this great Infographic on the history of marketing. Take a look at how technology has changed the way marketers do their jobs, how consumers have responded (not always so favorably). Let us know what you think. History of Marketing Infographic
The History of Marketing (infographic)
Brand Sentiment Resources