Marketing
What if Apple's iWatch is… a TV? Like many people, I enjoy guessing as to what technology is going to bring and what innovations will transform our lives.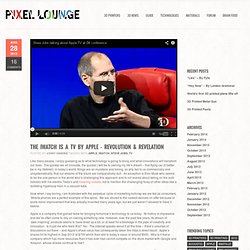 The quicker we all innovate, the quicker I will be to owning my life's dream – that flying car (it better be in my lifetime!) In today's world, things are so mundane and boring, so drip-fed to us commercially and unsystematically, that our dreams of the future are comparatively dull. An exception is Elon Musk who seems to be the one person in the world who's challenging this approach and is not scared about taking on the auto industry with his electric Tesla's and hovering rockets, not to mention the challenging foray of other ideas like a levitating hyperloop train in a vacuum tube.
Now when I say boring, I am frustrated with the perpetual cycle of marketing bullcrap we are fed as consumers. 25 Popular Company Logos Then And Now. A while back we showed you how a number of famous logos that you probably see everyday are hiding cleverly disguised images.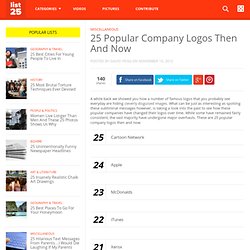 What can be just as interesting as spotting these subliminal messages however, is taking a look into the past to see how these popular companies have changed their logos over time. While some have remained fairly consistent, the vast majority have undergone major overhauls. These are 25 popular company logos then and now. About David Pegg. What Is The Virtuous Marketing Circle? 17 Brilliant Sources of Content Hiding Right Under Your Nose. Creating content is a pain in the puppy.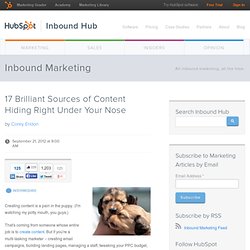 (I'm watching my potty mouth, you guys.) That's coming from someone whose entire job is to create content. But if you're a multi-tasking marketer -- creating email campaigns, building landing pages, managing a staff, tweaking your PPC budget, designing calls-to-action -- content creation has likely been elevated from a royal pain to a practical impossibility. I mean, maybe you'll get a blog post written in a couple weeks. How Gamification Can Help Attract New Customers | Video. 5 Companies With Inbound Marketing Strategies That Work. David Klein is the co-founder of Orange Line, Australia's leading strategic inbound marketing consultancy.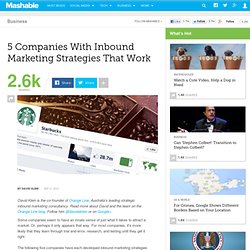 Read more about David and the team on the Orange Line blog. Follow him @davidaklein or on Google+. Some companies seem to have an innate sense of just what it takes to attract a market. Coca-Cola Content 2020 Part Two. 12 Simple Ways Marketers Can Humanize Their Brand. Companies are not people.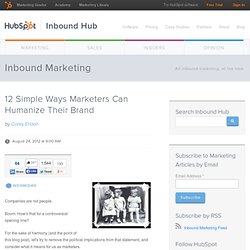 Boom. How's that for a controversial opening line? 14 Funny Brands You Can't Help But Follow in Social Media. There are quite a few factors that go into what makes a brand "followable" in social media.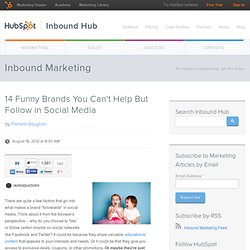 Think about it from the follower's perspective -- why do you choose to 'like' or follow certain brands on social networks like Facebook and Twitter? It could be because they share valuable, educational content that appeals to your interests and needs. Or it could be that they give you access to exclusive deals, coupons, or other promotions. Or maybe they're just ridiculously funny.
Truthfully, the best brands to follow in social media should probably have a combination of all those characteristics. Marketing Is Dead - Bill Lee. Traditional marketing — including advertising, public relations, branding and corporate communications — is dead. Many people in traditional marketing roles and organizations may not realize they're operating within a dead paradigm. But they are. What Can Brandable Phrase Domains Do For You? Marketing minds everywhere are always trying to come up with the new "edge".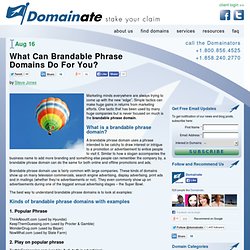 Simple tactics can make huge gains in returns from marketing efforts. One tactic that has been used by many huge companies but is never focused on much is the brandable phrase domain. What is a brandable phrase domain? History of Marketing Channels Revisited. In October of 2009, we ran the first version of this very popular infographic which has been used in a lot of innovative ways by different companies!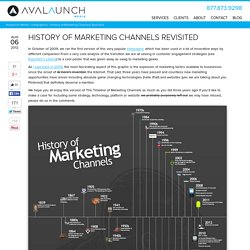 From a very cool analysis of the transition we are all seeing in customer engagement strategies (see Razorfish's Liminal) to a cool poster that was given away as swag to marketing geeks. As I said back in 2009, the most fascinating aspect of this graphic is the explosion of marketing tactics available to businesses since the onset of Al Gore's invention the Internet. That said, three years have passed and countless new marketing opportunities have arisen including absolute game changing technologies (hello iPad) and websites (yes we are talking about you Pinterest) that definitely deserve a mention. We hope you all enjoy this version of The Timeline of Marketing Channels as much as you did three years ago! The LEGO® Story. Marketing / History of Mobile Marketing. The 100+ Best Slides From Cannes Lions 2012  Here it is.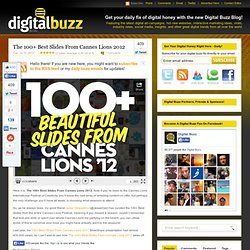 The 100+ Best Slides From Cannes Lions 2012. Now if you've been to the Cannes Lions International Festival of Creativity, you'll know the vast array of amazing content on offer, but perhaps the only challenge you'll have all week, is choosing what sessions to attend. So, as he always does, my good friend Jesse Desjardins (@JesseDee) has curated the 100+ Best Slides from the entire Cannes Lions Festival, meaning if you missed a session, couldn't remember that kick-ass slide or spent your whole Cannes Lions trip partying on the beach, you can utilise some of this to convince your boss you might have actually went to the sessions!
Last year, his 100+ Best Slides From Cannes Lions 2011 SlideShare presentation had almost 400,000 views, so I can't wait to see how The 100+ Best Slides From Cannes Lions 2012 takes off. Be Sociable, Share! Www.wpp.com/NR/rdonlyres/0A43D84F-AF3A-43BF-A520-A4BA60AAC79D/0/2006_BrandZ_Ranking_Report.pdf. Great Logos With A Secret Meaning. Amazon vs. Apple: Competing Ecosystem Strategies - Ron Adner. By Ron Adner | 11:59 AM March 19, 2012 The most viable rival to Apple's iPad isn't produced by a traditional hardware firm. Samsung, Motorola, Toshiba, HP, RIM and HTC have hardly made a dent in Apple's dominance. Remarkably, the leading challenger is online retailer Amazon, with its Kindle Fire tablet. The innovation game is changing. Delivering great products is no longer sufficient for success.
The World's 50 Most Innovative Companies 2012. The World's 50 Most Innovative Companies in India 2012. Top 10 India 01 - Narayana Hrudayalaya Hospitals For bringing high-quality medical care to Indians' doorsteps. In addition to its network of hospitals offering everything from heart surgery to dialysis, the low-cost, high-volume provider started a new program last December called Home Health Care Services. Professionals administer care and treat minor illnesses in people's homes, curbing long and costly trips to distant and crowded hospitals. The History of Marketing (infographic) The History of Marketing (An INFOGRAPHIC) HubSpot has put together this great Infographic on the history of marketing. Take a look at how technology has changed the way marketers do their jobs, how consumers have responded (not always so favorably).
Let us know what you think. History of Marketing Infographic. Brand Sentiment Resources.
---