TITANIC 100TH CENTENARY
Michael Brugh | Infographics | Titanic
Cartografía del Titanic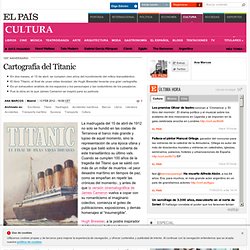 La madrugada del 15 de abril de 1912 no solo se hundió en las costas de Terranova el barco más grande y lujoso de aquel momento, sino la representación de una época ufana y ciega que bailó sobre la cubierta de este transatlántico su último vals. Cuando se cumplen 100 años de la tragedia del Titanic que se saldó con más de un millar de muertos –el peor desastre marítimo en tiempos de paz, como se empeñan en repetir las crónicas del momento-, y antes de que la versión cinematográfica de James Cameron vuelva a copar con su romanticismo el imaginario colectivo, comienza el goteo de publicaciones, exposiciones, y demás homenajes al "insumergible". Hugh Brewster, a la postre inspirador del fenómeno hollywoodiense protagonizado por Kate Winslet y Leonardo DiCaprio, publica Titanic, el final de unas vidas doradas (Lumen).
Con todas las luces encendidas, a toda máquina hacia el desastre, mientras sonaba la música.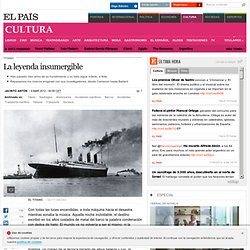 La leyenda insumergible
/Titanic_Unclassified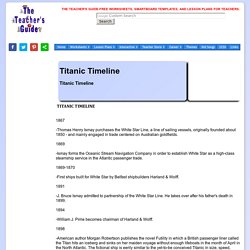 Titanic Timeline
Titanic Timeline Titanic Timeline -Thomas Henry Ismay purchases the White Star Line, a line of sailing vessels, originally founded about 1850 - and mainly engaged in trade centered on Australian goldfields. -Ismay forms the Oceanic Stream Navigation Company in order to establish White Star as a high-class steamship service in the Atlantic passenger trade. -First ships built for White Star by Belfast shipbuilders Harland & Wolff. -J.
Guia: Titanic
Expedition Titanic | Return to the Deep - Explore
Más de 5.000 objetos recuperados del legendario 'Titanic', parte de los cuales han sido presentados a la prensa, se subastarán en Nueva York el 11 de abril, en el centenario del naufragio más famoso de la historia.
Más de 5.000 objetos del 'Titanic' se subastarán en el centenario del naufragio | Cultura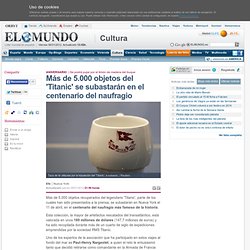 Titanic Script at IMSDb.
Collapsible D The Final Minutes of the Titanic
Brett's R.M.S. Titanic Page
GuiaTitanic.pdf (Objecte application/pdf )
The Sinking of the Titanic, 1912
The Sinking of the Titanic, 1912 On April 10, 1912, the Titanic, largest ship afloat, left Southampton, England on her maiden voyage to New York City. The White Star Line had spared no expense in assuring her luxury.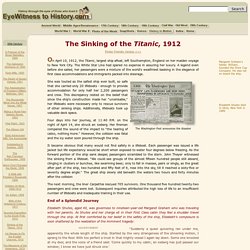 The Titanic: A Passenger's Guide
TITANIC.pdf (Objecte application/pdf )
Titanic In Photographs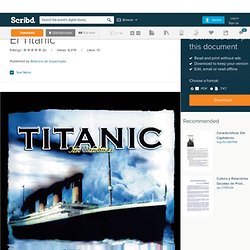 Lengua Española ¿Quién construyó el Titanic?
El Titanic