Amazing world of youtube
My daughter has chosen the Dark Side. [ORIGINAL] Most-watched YouTube videos of 2011. December 29, 2011, 9:59 PM — If you monitor the world of viral videos on the Web, you have probably already seen a lot of these videos -- but in case you were busy doing other things instead of hanging out on YouTube or Facebook (where a lot of these videos went viral), here are the most-watched videos of 2011, according to YouTube #10 Cat mom hugs baby kitten My cats don't do anything cute anymore, and when they were kittens we didn't own a video camera.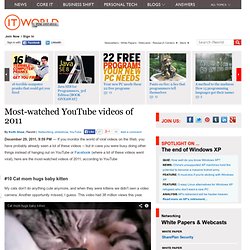 Another opportunity missed, I guess. This video had 38 million views this year. Sports Science: "World Record Kick to the Groin" Part 2.
Adorable
---