Voyage
Voyage Namibie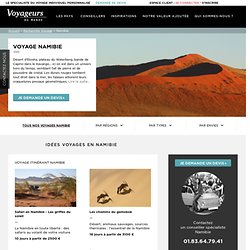 Gigantisme et splendeur des paysages, rencontres exceptionnelles avec les rhinocéros noirs, les éléphants du désert et les oryx : voyagez loin du monde, en Namibie. Le parc national d'Etosha C'est l'une des plus grandes réserves animalières au monde. L'immense désert salin de l'Etosha Pan se transforme à la saison des pluies en une lagune peuplée de flamants roses. Ses plaines arides abritent plus de 100 espèces de mammifères ! A la saison sèche, les animaux se rassemblent autour des points d'eau ; à la saison des pluies vous pourrez assister aux premiers pas de bébés zèbres !
Namibia Tourism Board - Home Page
Vol international pour Windhoek Vol régulier de nuit via Frankfort. Windhoek la capitale namibienne Prenez votre 4x4, votre GPS, téléphone portable local et votre glacière, fermez votre coffre et vous voilà parti pour la grande aventure. Première étape, vous familiariser avec la conduite à gauche à travers les superbes paysage des hauts plateaux. Repos dqns la capitale.
voyage Namibie, autotour Namibie : Road Movie en Namibie avec Vo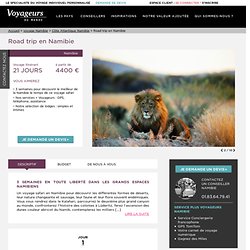 Namibia Tourism Board - Map
This is a Namibia-1on1 Group Information Site: You can find all the information you need about Namibia here. The sites' layouts are logical, user friendly and functional. It's never been so easy to find information about Namibia.
Namibia Maps accredited version 2009 Detailed Digitally Produced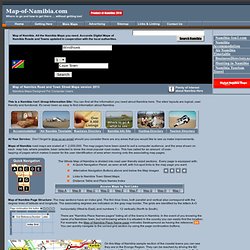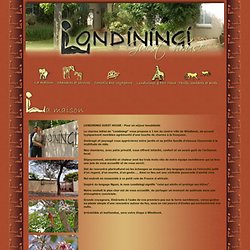 LONDININGI GUEST HOUSE - Pour un séjour inoubliable Le charme initial de "Londiningi" vous propose à 1 km du centre ville de Windhoek, un accueil typiquement namibien agrémenté d'une touche de charme à la française. Ombragé et paysagé vous apprécierez notre jardin et sa petite famille d'oiseaux tisserands à la multitude de nids.
Londiningi, Guest house
Kalahari Anib Lodge
Kalahari Anib Lodge is located about 30 km north-east of Mariental, and is an ideal stopover on the way to Southern Namibia. The lodge is nestled in a lush green oasis under high palm trees, set amidst the red dunes of the Kalahari Desert. This area is notable for the green acacias and yellow grasses that grow in the red sand. Anib means 'male bird' in the local Nama language, a people who are predominantly found in the southern regions of Namibia.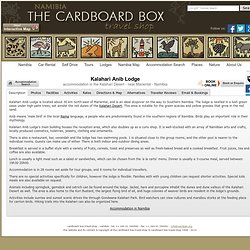 Canon Roadhouse
The Canon Roadhouse is situated 25km from the Fish River Canyon, on the privately owned Gondwana Canyon Park, and 20 kms from the main viewpoint of the canyon itself. The lodge is interestingly decorated with old car parts, found in the region. Old antiques adorn the inside, such as an old gas burning stove with a beaten copper kettle on top. There is a large swimming pool and sun-deck, tucked in between indigenous succulents such as hoodias and aloes, and guests can relax pool-side on a comfortable lazy-lounger. Guests can enjoy a drink in the noted 'Wheels' bar, a setting for many a tall travellers' tale.
Welcome to the NEST HOTEL in Lüderitz - Namibia
Welcome to Hotel Helmeringhausen, Namibia
index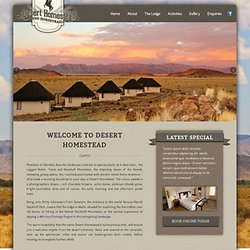 Nowhere in Namibia does the landscape contrast as spectacularly as it does here…the rugged Nubib, Tsaris and Naukluft Mountains, the imposing dunes of the Namib, sweeping grassy plains, dry riverbeds punctuated with ancient camel thorn skeletons – all provide a stunning backdrop to your stay at Desert Homestead. The colour palette is a photographers dream…rich chocolate browns, ochre dunes, platinum blonde grass, bright tourmaline skies and of course, the early morning and late afternoon pastel hues. Being only thirty kilometers from Sessriem, the entrance to the world famous Namib Naukluft Park, means that the lodge is ideally situated for exploring the five million year old dunes, or hiking in the Namib Naukluft Mountains, or the surreal experience of sipping a delicious Pinotage forged in this unforgiving landscape. The warm hospitality that the name Desert Homestead is synonymous with, will ensure you a welcome respite from the desert extremes.
Be pampered in quality self-contained cottages set on an idyllic 15 acre rural property with 5 acres of rolling lawns, cottage gardens, large specimen trees, all surrounded by natural bushland. These award winning cottages have been designed specifically with our guests' comfort and relaxation in mind. Each cottage is positioned on the property to take advantage of the rural vistas whilst retaining a sense of privacy and seclusion. For a couple we suggest Cardhu Cottage, a Studio or Loft suite in either Drambuie or Glenfiddich Cottage, and for a family or twin share Tullamore Cottage. The Gippsland region has so much to offer the traveller.
Brigadoon Cottages - Home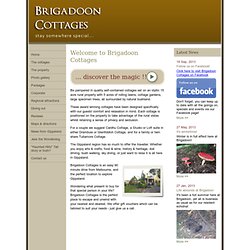 Cape Cross Lodge . . . " Easter Weekend Special offer" see below. Literally metres from the Atlantic Ocean, Cape Cross Lodge presents a unique and serene stop for travellers along this vast untamed and seldom explored wilderness on the Skeleton Coast. The Lodge is situated 60km north of Henties Bay and 120km north of Swakopmund. The curious mix of Cape Dutch and West Coast fishing village architecture, nestles colossal windows which embrace the natural light and reveal endless vistas. Around this idyllic oasis lies infinite ocean and desert, littered with the eerie remains of man's past endeavours. Nearby, rocky outcrops provide a perfect playground for a large colony of Cape Fur Seals.
unnamed
Twyfelfontein Country Lodge - Namibia Country Lodges
Okaukuejo - Etosha National Park
Okaukuejo is 114kms north of Outjo on the C38. This road leads you right to Etosha Park's Andersson's Gate – and from here it is only a few 'game viewing' kilometers to Okaukuejo. It is the oldest tourist camp in Etosha and it currently functions as the administrative hub of the park as well as being home to the Etosha Ecological Institute.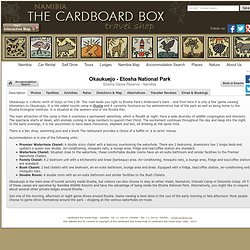 Etosha Aoba Lodge - Namibia
ダイエットの方法には、様々な種類があります。サプリメントやダイエット食品などを継続利用するもの。スポーツやヨガなどで体を動かして汗をかき、新陳代謝を上げていくもの。食事の量を調整し、減量していくもの。
Otjibamba Lodge - Otjiwarongo, Namibia