Voyage
Voyageurs du Monde. Voyage Namibie. Gigantisme et splendeur des paysages, rencontres exceptionnelles avec les rhinocéros noirs, les éléphants du désert et les oryx : voyagez loin du monde, en Namibie.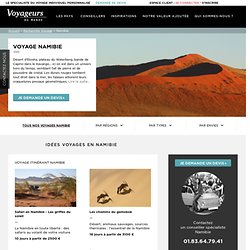 Le parc national d'Etosha C'est l'une des plus grandes réserves animalières au monde. L'immense désert salin de l'Etosha Pan se transforme à la saison des pluies en une lagune peuplée de flamants roses. Ses plaines arides abritent plus de 100 espèces de mammifères ! A la saison sèche, les animaux se rassemblent autour des points d'eau ; à la saison des pluies vous pourrez assister aux premiers pas de bébés zèbres ! Namibia Tourism Board - Home Page. Voyage Namibie, autotour Namibie : Road Movie en Namibie avec Vo. Vol international pour Windhoek Vol régulier de nuit via Frankfort.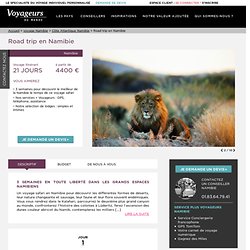 Windhoek la capitale namibienne Prenez votre 4x4, votre GPS, téléphone portable local et votre glacière, fermez votre coffre et vous voilà parti pour la grande aventure. Première étape, vous familiariser avec la conduite à gauche à travers les superbes paysage des hauts plateaux. Repos dqns la capitale. Namibia Tourism Board - Map. Namibia Maps accredited version 2009 Detailed Digitally Produced.
Londiningi, Guest house. LONDININGI GUEST HOUSE - Pour un séjour inoubliable Le charme initial de "Londiningi" vous propose à 1 km du centre ville de Windhoek, un accueil typiquement namibien agrémenté d'une touche de charme à la française.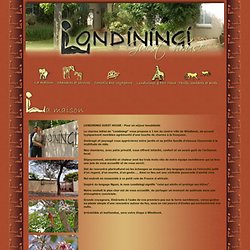 Ombragé et paysagé vous apprécierez notre jardin et sa petite famille d'oiseaux tisserands à la multitude de nids. Kalahari Anib Lodge. Kalahari Anib Lodge is located about 30 km north-east of Mariental, and is an ideal stopover on the way to Southern Namibia.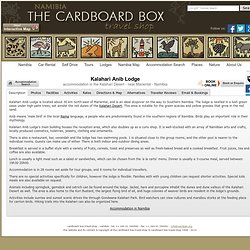 The lodge is nestled in a lush green oasis under high palm trees, set amidst the red dunes of the Kalahari Desert. This area is notable for the green acacias and yellow grasses that grow in the red sand. Anib means 'male bird' in the local Nama language, a people who are predominantly found in the southern regions of Namibia. Canon Roadhouse. The Canon Roadhouse is situated 25km from the Fish River Canyon, on the privately owned Gondwana Canyon Park, and 20 kms from the main viewpoint of the canyon itself.
The lodge is interestingly decorated with old car parts, found in the region. Old antiques adorn the inside, such as an old gas burning stove with a beaten copper kettle on top. There is a large swimming pool and sun-deck, tucked in between indigenous succulents such as hoodias and aloes, and guests can relax pool-side on a comfortable lazy-lounger. Guests can enjoy a drink in the noted 'Wheels' bar, a setting for many a tall travellers' tale. Welcome to the NEST HOTEL in Lüderitz - Namibia. Welcome to Hotel Helmeringhausen, Namibia. Index. Brigadoon Cottages - Home. Unnamed. Twyfelfontein Country Lodge - Namibia Country Lodges. Okaukuejo - Etosha National Park. Okaukuejo is 114kms north of Outjo on the C38.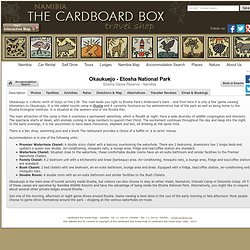 This road leads you right to Etosha Park's Andersson's Gate – and from here it is only a few 'game viewing' kilometers to Okaukuejo. It is the oldest tourist camp in Etosha and it currently functions as the administrative hub of the park as well as being home to the Etosha Ecological Institute. Etosha Aoba Lodge - Namibia. Otjibamba Lodge - Otjiwarongo, Namibia.
---
Karim Mar 1 2009

la Namibie : genial comme destination de voyage de noce. je vois que les preparatifs avancent. Bisous, Karim
---