Themes
Themes. The Morning After. Bueno. Theme Features These are some of the features that you will find within the theme: Using a clear & concise grid-based design, Bueno is not only sexy as hell, but very easy to customize; Integrated banner ad management Widgetized sidebar, with some Bueno-specific custom widgets to allow you full control of what happens in your … Release Date November 5, 2009.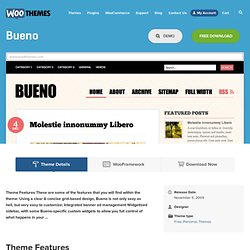 Wpshower - Free & Premium Wordpress Themes. Suburbia WordPress Theme. Portfolium WordPress Theme. Imbalance WordPress Theme. Free WordPress Themes, Templates, Skins, and Layouts. ThemeForest. Arras Theme - Magazine-Styled WordPress Theme. Graph Paper Press WordPress Photo Themes. ThemeShaper | Home of the Automattic Theme Team.
StudioPress - Premium WordPress Themes.
---