Themes
The Morning After
Theme Features These are some of the features that you will find within the theme: Using a clear & concise grid-based design, Bueno is not only sexy as hell, but very easy to customize; Integrated banner ad management Widgetized sidebar, with some Bueno-specific custom widgets to allow you full control of what happens in your … Release Date November 5, 2009
Bueno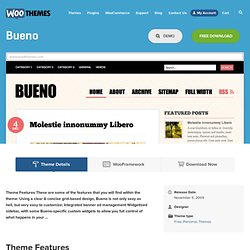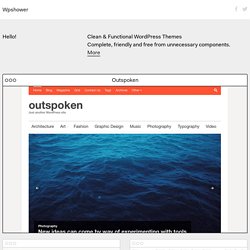 Clean & Functional WordPress Themes Complete, friendly and free from unnecessary components. Who we are? We are a team of designers. Actually, there are only two of us but you have to admit that the team sounds much better. We make elegant, simple and functional WordPress themes. Our goal is to make the Internet a bit more comfortable place for you to spend time.
Suburbia WordPress Theme
Portfolium WordPress Theme
Imbalance WordPress Theme
Development of Arras WordPress Themes (Arras, Classical Gamer & Project AR2) has been discontinued. The community forums will be locked but viewable for the next few months, which will be eventually taken down. To post new support questions, please use this Google Groups page and hopefully someone will answer them. If you are interested in working further on these themes and re-release them, please feel free to do so. The themes are licensed under the GNU General Public License v2. The GitHub pages (Arras & Project AR2) will still be available for you to download the respective themes' last releases.