Programming docs and books
The Essential Guide to Physics for Flash Games, Animation, and Simulations > Chapter 4: Basic Physics Concepts > Predicting motion: forces and dynamics - Pg. 114
From Social Patterns #What is this site? #What's a pattern? Social Patterns & Best Practices Getting started What is this site?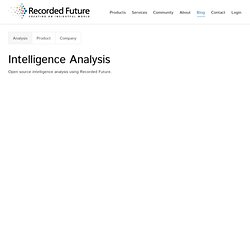 Developers | Recorded Future Blog
More Tips for Entity Type Analysis and MonitoringBy Chris Holden on December 26, 2013We introduced our refined Entity Type query capability recently by showing how to ask and answer big web intelligence...0 0 Answering Big Questions With New Entity TypesBy Chris Holden on December 18, 2013We have a new product update. Recorded Future users can now design powerful queries for events involving any entity...0 0 How Web Intelligence Adds Another Dimension to AnalysisBy Greg Barrette on December 13, 2013Anne Walton says, "Web intelligence provides one analyst with multiple views of the world.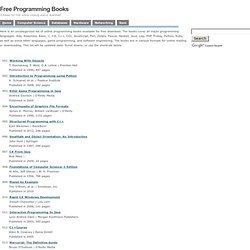 Here is an uncategorized list of online programming books available for free download. The books cover all major programming languages: Ada, Assembly, Basic, C, C#, C++, CGI, JavaScript, Perl, Delphi, Pascal, Haskell, Java, Lisp, PHP, Prolog, Python, Ruby, as well as some other languages, game programming, and software engineering. The books are in various formats for online reading or downloading.
Free Programming Books