Javascript
In a previous post, we discussed how we test LinkedIn's mobile stack, including our Node.js mobile server. Today, we'll tell you how we make this mobile server fast. Here are our top 10 performance takeaways for working with Node.js: 1. Avoid synchronous code By design, Node.js is single threaded.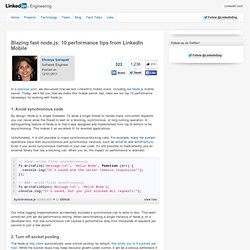 Des développeurs libèrent le code source d'un jeu mobile en HTML5, et mettent en lumière les défis
Inspiré par le buzz autour de l'HTML5, le studio de développement de jeu Wooga, a récemment tenté de créer un jeu mobile complet avec les technologies Web basées sur des normes. Pour partager les résultats de leur l'expérience durant l'année de développement, la société a publié le code source du jeu sur GitHub en vertu d'une licence de logiciel Open Source. Wooga a également publié un article sur son blog, dans lequel il décrit quelques-unes des leçons que les développeurs de la société ont retirées à travers cette expérience de développement. La société voit un potentiel considérable en matière de jeu HTML5, mais indique que la technologie n'est pas tout à fait prête.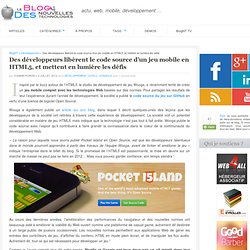 Examples and demos · bartaz/impress.js Wiki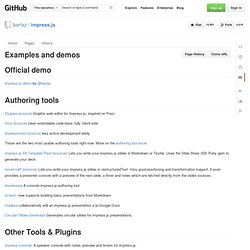 Official demo impress.js demo by @bartaz Authoring tools Strut (source) clean extendable code base, fully client-side
Breakpoints.js - XOXCO - Web and Community Development
Everyone loves AJAX. A few years back it was probably the biggest buzz word in all of web development. Now HTML5 and CSS3 have stolen the show, but AJAX has now taken its place as a first-class citizen among web development – and specifically JavaScript – tools. And to make things even better, Backbone.js has built in support for AJAX and makes it dead simple for you to use it to synchronize your models with a database, as I show in this video tutorial. Backbone.js Video Tutorial Series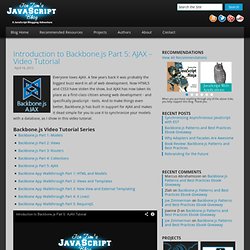 Introduction to Backbone.js Part 5: AJAX – Video Tutorial
Hovercard - a jQuery plugin with built in Twitter and Facebook cards
Hover over the red text to see the hovercard in action: jQuery is a cross-browser JS library designed to simplify the client-side scripting of HTML. It was released in January of 2006 by John Resig is an application developer at Khan Academy.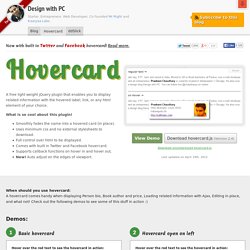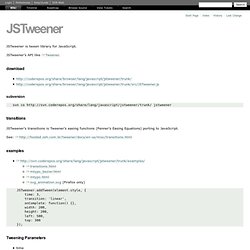 JSTweener – CodeRepos::Share – Trac
JSTweener is tween library for JavaScript. JSTweener's API like Tweener. download ¶
8 Amazing Javascript Experiments of Physic and Gravity Simulation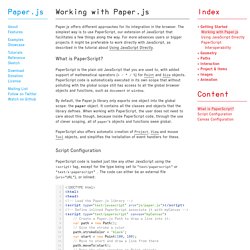 Paper.js offers different approaches for its integration in the browser. The simplest way is to use PaperScript, our extension of JavaScript that facilitates a few things along the way. For more advances users or bigger projects it might be preferable to work directly with JavaScript, as described in the tutorial about Using JavaScript Directly. What is PaperScript?
Working with Paper.js
Login - jsFiddle - Online Editor for the Web (JavaScript, MooTools, jQuery, Prototype, YUI, Glow and Dojo, HTML, CSS)
JSTweener – CodeRepos::Share – Trac
Recorded Future harvests media discussion across more than 300,000+ sources. These include traditional news sources as well as blogs, social media, government filings, and niche publications. Use media analytics to identify hidden relationships between events, media-flow, and market behavior and drive trading strategies. Scan the web interface or incorporate the API to access the machine-readable index of events. [benefits section="Financial Services Benefit"]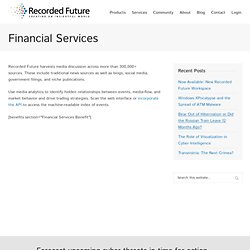 News Analytics: Analytic Tools for Quantitative Finance, Business & More - Recorded Future
Get started with object-oriented JavaScript code
The JavaScript language includes several built-in objects, such as Array, String, and Date, to name a few. But, if there are custom functions that you want to create, you can create your own custom objects using one of the available methods. There are a lot of benefits to developing your own custom objects using the JavaScript language, one being that you can easily reuse these custom objects across multiple projects without modification. Additionally, custom objects provide access to functions that are beyond the prebuilt objects the JavaScript language has to offer. When combined with other custom objects, you can use them to build a library that can be distributed to other web developers.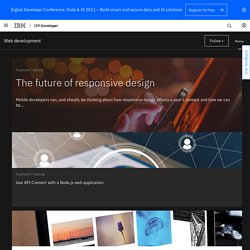 40 Useful JavaScript Libraries | Strong Life
Dashcode Invader: Using Dashcode To Create A Game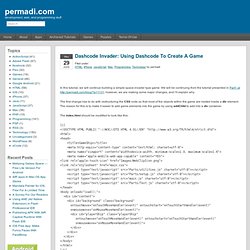 In this tutorial, we will continue building a simple space-invader type game. We will be continuing from the tutorial presented in Part1 at http://permadi.com/blog/?p=1131; however, we are making some major changes, and I'll explain why.
Node.js is growing rapidly; one of the biggest reasons for this is thanks to the developers who create amazing tools that significantly improve productivity with Node. In this article, we will go through the basic installation of Express, a development framework, and creating a basic project with it. What We're Going to Build Today Node is similar in design to, and influenced by, systems like Ruby's Event Machine or Python's Twisted. Node takes the event model a bit further – it presents the event loop as a language construct instead of as a library.
How to Scrape Web Pages with Node.js and jQuery
Creating a basic site with node.js and Express | Shape Shed
A walkthrough on how to create and deploy a basic site with Node.js and the Express framework What we are going to do This walkthrough will go over setting up a basic site using Node.js and Express.
README.md Full documentation is at jade-lang.com Jade is a high performance template engine heavily influenced by Haml and implemented with JavaScript for node.
A Simple MVC Setup In Node.JS
I'm sure many of you have heard about the new server side javascript project called node.js. I've been using myself to build full stack dynamic websites and find it a very nice environment to create a dynamic website. When I first started out I had no idea what sort of way one should create an MVC style framework with node or what modules would help me to achieve the model, view, controller ideal.
This simple force-directed graph shows character co-occurence in . A physical simulation of charged particles and springs places related characters in closer proximity, while unrelated characters are farther apart. Layout algorithm inspired by Tim Dwyer and Thomas Jakobsen . Data based on character coappearence in Victor Hugo's , compiled by Donald Knuth . Source Code
Force-Directed Graph
YUI+YQL Twitter example - jsFiddle - Online Editor for the Web (JavaScript, MooTools, jQuery, Prototype, YUI, Glow and Dojo, HTML, CSS)
Closure Library API Documentation (Closure Library API Documentation - JavaScript)
JSFIDDLE
$fx - JavaScript animation library
Processing.js
Processing.js
plovr
Xib2Js « Frog on Mobile
Lessons learned porting from jQuery to Closure
20+ Useful jQuery Google Maps Tutorials and Plugins
Category:String similarity measures
Tutorials: Aptana Jaxer
JSON in JavaScript
Scripty2 - Puzzles