Javascript
In a previous post, we discussed how we test LinkedIn's mobile stack, including our Node.js mobile server. Today, we'll tell you how we make this mobile server fast.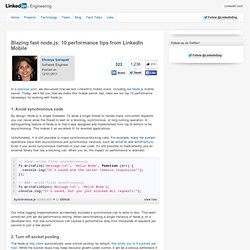 Des développeurs libèrent le code source d'un jeu mobile en HTML5, et mettent en lumière les défis
Inspiré par le buzz autour de l'HTML5, le studio de développement de jeu Wooga, a récemment tenté de créer un jeu mobile complet avec les technologies Web basées sur des normes.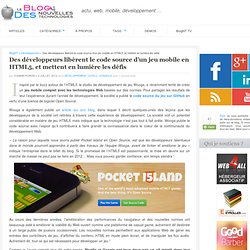 Examples and demos · bartaz/impress.js Wiki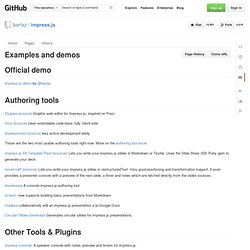 Official demo
Breakpoints.js - XOXCO - Web and Community Development
Everyone loves AJAX.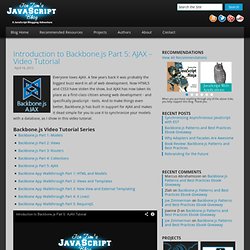 Introduction to Backbone.js Part 5: AJAX – Video Tutorial
Hovercard - a jQuery plugin with built in Twitter and Facebook cards
Hover over the red text to see the hovercard in action: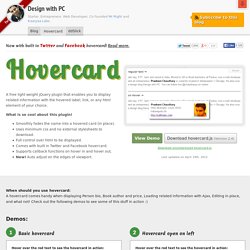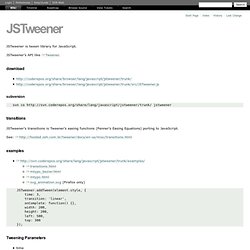 JSTweener – CodeRepos::Share – Trac
JSTweener is tween library for JavaScript. JSTweener's API like Tweener. download ¶
8 Amazing Javascript Experiments of Physic and Gravity Simulation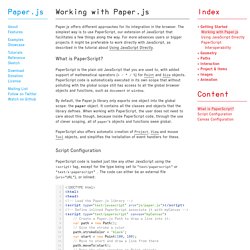 Paper.js offers different approaches for its integration in the browser.
Working with Paper.js
Login - jsFiddle - Online Editor for the Web (JavaScript, MooTools, jQuery, Prototype, YUI, Glow and Dojo, HTML, CSS)
JSTweener – CodeRepos::Share – Trac
News Analytics: Analytic Tools for Quantitative Finance, Business & More - Recorded Future
Get started with object-oriented JavaScript code
The JavaScript language includes several built-in objects, such as Array, String, and Date, to name a few.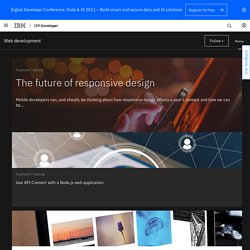 40 Useful JavaScript Libraries | Strong Life
Dashcode Invader: Using Dashcode To Create A Game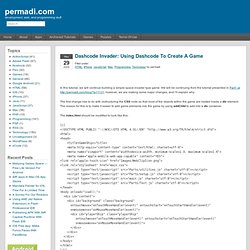 In this tutorial, we will continue building a simple space-invader type game. We will be continuing from the tutorial presented in Part1 at http://permadi.com/blog/?p=1131 ; however, we are making some major changes, and I'll explain why.
Node.js is growing rapidly; one of the biggest reasons for this is thanks to the developers who create amazing tools that significantly improve productivity with Node.
How to Scrape Web Pages with Node.js and jQuery
Creating a basic site with node.js and Express | Shape Shed
A walkthrough on how to create and deploy a basic site with Node.js and the Express framework What we are going to do This walkthrough will go over setting up a basic site using Node.js and Express.
A Simple MVC Setup In Node.JS
I'm sure many of you have heard about the new server side javascript project called node.js. I've been using myself to build full stack dynamic websites and find it a very nice environment to create a dynamic website. When I first started out I had no idea what sort of way one should create an MVC style framework with node or what modules would help me to achieve the model, view, controller ideal.
This simple force-directed graph shows character co-occurence in .
Force-Directed Graph
YUI+YQL Twitter example - jsFiddle - Online Editor for the Web (JavaScript, MooTools, jQuery, Prototype, YUI, Glow and Dojo, HTML, CSS)
Closure Library API Documentation (Closure Library API Documentation - JavaScript)
JSFIDDLE
Complex and slick JavaScript-based animation has been made easier with the emergence of frameworks and libraries that give developers the ability to create stunning and eye-grabbing animation and transition effects that make it easy these complex tasks.
What is $fx() library? $fx() is a tiny, self-contained Javascript library for animating HTML elements. It doesn't require any other library to function and [should] play well with any other libraries you are using (Prototype, JQuery, Moo tools, etc.)
$fx - JavaScript animation library
Processing.js
Processing.js
plovr
Xib2Js « Frog on Mobile
Lessons learned porting from jQuery to Closure
20+ Useful jQuery Google Maps Tutorials and Plugins
Category:String similarity measures
Tutorials: Aptana Jaxer
JSON in JavaScript
Scripty2 - Puzzles