Linux
KeepAlived - HowTo
If you're new here, you may want to subscribe to my RSS feed and if you have questions related to your ubuntu system post question to our forums . Thanks for visiting! The basics for any network based on *nix hosts is the Transport Control Protocol/ Internet Protocol (TCP/IP) combination of three protocols. This combination consists of the Internet Protocol (IP),Transport Control Protocol (TCP), and Universal Datagram Protocol (UDP). By Default most of the users configure their network card during the installation of Ubuntu.
Ubuntu Networking Configuration Using Command Line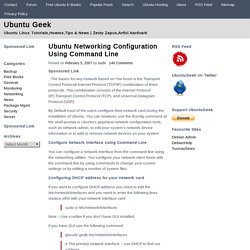 heddar.fr | comment devenir un bon linuxien, en peu de temps
Serveur IRC (hybrid-ircd + hybserv)
SSH derrière un proxy SOCKS - Blog de Pingoomax
Voilà comment très simplement utiliser SSH derrière un proxy SOCKS . Présentation Page du projet : http://zippo.taiyo.co.jp/~gotoh/ssh/connect.html Voici un extrait (non traduit) des fonctionnalités : Supports SOCKS (version 4/4a/5) and https CONNECT method. Supports NO-AUTH and USERPASS authentication of SOCKS Partially supports telnet proxy (experimental).
configurer et utiliser le ssh
Securing your Linux server is important to protect your data, intellectual property, and time, from the hands of crackers (hackers). The system administrator is responsible for security Linux box. In this first part of a Linux server security series, I will provide 20 hardening tips for default installation of Linux system. #1: Encrypt Data Communication All data transmitted over a network is open to monitoring.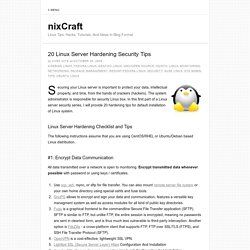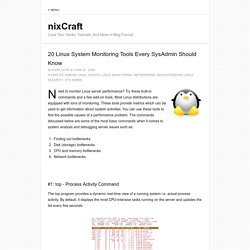 Need to monitor Linux server performance? Try these built-in commands and a few add-on tools. Most Linux distributions are equipped with tons of monitoring. These tools provide metrics which can be used to get information about system activities. You can use these tools to find the possible causes of a performance problem. The commands discussed below are some of the most basic commands when it comes to system analysis and debugging server issues such as:
Introduction Vala is a new programming language that aims to bring modern programming language features to GNOME developers without imposing any additional runtime requirements and without using a different ABI compared to applications and libraries written in C. News