Chapter 2
What Are Social Bookmarking Sites? Websites Like Delicious.com. What Are Social Bookmarking Sites?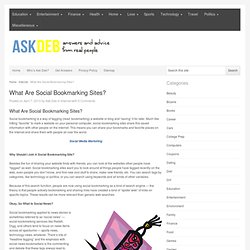 Social bookmarking is a way of tagging (read: bookmarking) a website or blog and "saving" it for later. Much like hitting "favorite" to mark a website on your personal computer, social bookmarking sites share this saved information with other people on the Internet. This means you can share your bookmarks and favorite places on the Internet and share them with people all over the world. Social Media Marketing Why Should I Join A Social Bookmarking Site? Social bookmarking tools - Teaching Hacks.
From TeachingHacks.com What is Social Bookmarking There have been many different attempts to classify web sites through the use of more traditional classification systems such as Gail Shea Grainger's "Dewey Browse.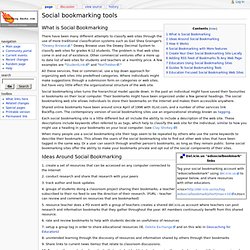 " Top 15 Most Popular Social Bookmarking Websites. Here are the 15 Most Popular Social Bookmarking Websites as derived from our eBizMBA Rank which is a constantly updated average of each website's Alexa Global Traffic Rank, and U.S.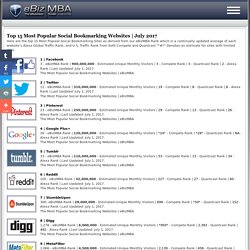 Traffic Rank from both Compete and Quantcast. "*#*" Denotes an estimate for sites with limited data. 1 | Facebook3 - eBizMBA Rank | 900,000,000 - Estimated Unique Monthly Visitors | 3 - Compete Rank | 3 - Quantcast Rank | 2 - Alexa Rank | Updated: April 1, 2014. Social Bookmarking – What is Social Bookmarking? What is Social Bookmarking?
: Have you ever e-mailed a friend or family member and sent them a link to a website you thought they might find interesting? If so, you have participated in social bookmarking. Why Is Social Software So Important? Two assertions form the baseline for why social software is important to the enterprise.
First, before being a buyer or seller of products and services, an organization is a participant in a complex network of market and stakeholder relationships (e.g., employees, customers, partners, and suppliers) that have greater influence over its long-term success than does its products or services. Second, management institutions are not the center of the universe around employee revolve. While managerial practices direct the work of employees, the informal networks and social relationships that permeate a workforce have greater influence over an organization's long-term success than does its managerial practices. Recognizing the critical role informal networks and relationships have on organizational success is necessary to understanding the importance of social software.
Three Big Benefits of Social Software. Collaboration is becoming an overused term, despite the fact that few people seem to agree on exactly what it is.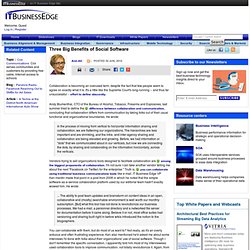 It's a little like the Supreme Court's long-running -- and thus far unsuccessful -- effort to define obscenity. Andy Blumenthal, CTO of the Bureau of Alcohol, Tobacco, Firearms and Explosives, last summer tried to define the difference between collaboration and communication, concluding that collaboration differs from communication by taking folks out of their usual functional and organizational boundaries. The Importance of Social Software in the Enterprise. Over the next few years, there will be a big transformation in the workplace as large numbers of Gen X and Y individuals start entering the workforce.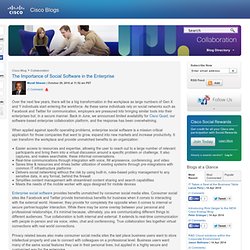 As these same individuals rely on social networks such as Facebook and Twitter for communication, employers are pressured into bringing similar tools into their enterprises but, in a secure manner. Back in June, we announced limited availability for Cisco Quad, our software-based enterprise collaboration platform, and the response has been overwhelming.
When applied against specific operating problems, enterprise social software is a mission critical application for those companies that want to grow, expand into new markets and increase productivity. It can transform the workplace and provide unmatched benefits to an organization: The Characteristics and Design of Web 2.0. Web 2.0 and social software: An introduction. The terms Web 2.0 and social software are now used widely in the education sector.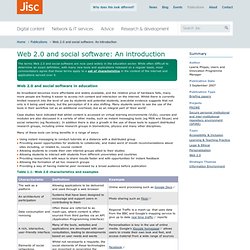 While often difficult to determine an exact definition, with many new tools and applications released on a regular basis, most commentators agree that these terms apply to a set of characteristics1 in the context of the internet and applications served over it. Web 2.0 and social software in education. Characteristics of Social Networks | LoveToKnow. There are more people than ever before who are fascinated by the characteristics of social networks.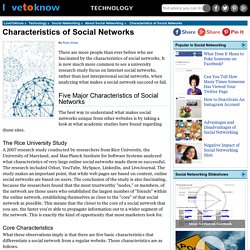 It is now much more common to see a university research study focus on Internet social networks, rather than just interpersonal social networks, when analyzing what makes a social network succeed or fail. Five Major Characteristics of Social Networks The best way to understand what makes social networks unique from other websites is by taking a look at what academic studies have found regarding those sites. Social Software in Higher Education. Tracing the Evolution of Social Software. The term 'social software', which is now used to define software that supports group interaction, has only become relatively popular within the last two or more years.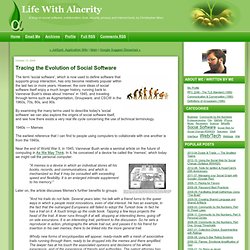 However, the core ideas of social software itself enjoy a much longer history, running back to Vannevar Bush's ideas about 'memex' in 1945, and traveling through terms such as Augmentation, Groupware, and CSCW in the 1960s, 70s, 80s, and 90s. By examining the many terms used to describe today's 'social software' we can also explore the origins of social software itself, and see how there exists a very real life cycle concerning the use of technical terminology. 1940s — Memex The earliest reference that I can find to people using computers to collaborate with one another is from the 1940s.
Near the end of World War II, in 1945, Vannevar Bush wrote a seminal article on the future of computing in As We May Think.
---