XBMC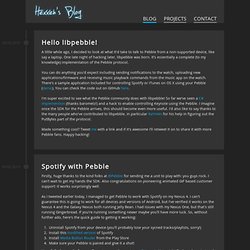 Since I'm launching this new design, let's begin with a few updates on various projects. Raspberry Pi - Status: Hiatus I'd still like to see Chrome on Raspberry Pi fly, but I don't have time for it at present, and I'm kinda at a dead end in terms of where to go with it. It's not dead, so I might have something to share with you in the future for this one.
Centre multimédia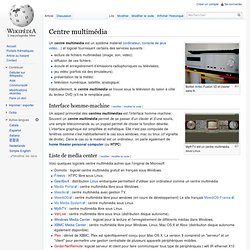 Un article de Wikipédia, l'encyclopédie libre. Boitier Antec Fusion V2 et clavier sans fil. Un centre multimédia est un système matériel (ordinateur, console de jeux vidéo…) et logiciel fournissant certains des services suivants : lecture de fichiers multimédias (image, son, vidéo);diffusion de ces fichiers;écoute et enregistrement d'émissions radiophoniques ou télévisées;jeu vidéo (parfois via des émulateurs);présentation de la météo;télévision numérique, satellite, analogique; Habituellement, le centre multimédia se trouve sous la télévision du salon à côté du lecteur DVD (s'il ne le remplace pas).
Un article de Wikipédia, l'encyclopédie libre. Un home theater personal computer, couramment abrégé sous le sigle HTPC, est un ordinateur personnel destiné au home cinema. Il réunit en un seul composant (l'unité centrale) la plupart, sinon tous les composants d'un ensemble home cinema traditionnel.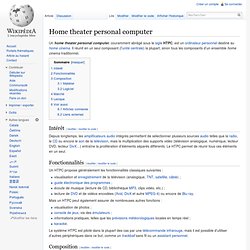 Home Theater Personal Computer
XBMC Pt 1 The Noobs Guide To Creating The Ultimate HTPC
XBMC Community Forum
Once again with Beta 3 we are looking at almost entirely fixes rather than features. Still, many of those fixes are worth mentioning in an abbreviated change log, and at least one is worth bringing up by name. Ever since the release of iOS 7, Airplay support in XBMC has suffered. Fortunately, thanks to generous …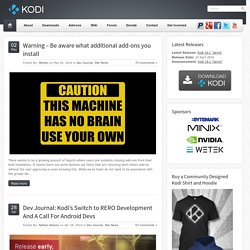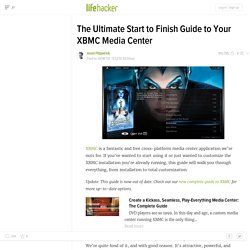 SExpand XBMC is a fantastic and free cross-platform media center application we're nuts for. If you've wanted to start using it or just wanted to customize the XBMC installation you're already running, this guide will walk you through everything, from installation to total customization.P Update: This guide is now out of date. Check out our new complete guide to XBMC for more up-to-date options.P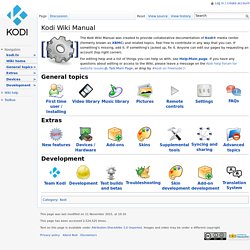 The XBMC Wiki Manual was created to provide collaborative documentation of XBMC Media Center and related topics. Feel free to contribute in any way that you can. If something's missing, add it. If something's jacked up, fix it. Anyone can edit our pages by requesting an account (top right corner).