XBMC
Centre multimédia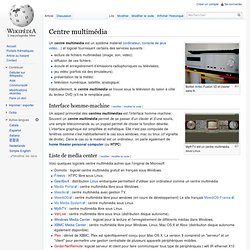 Un article de Wikipédia, l'encyclopédie libre. Boitier Antec Fusion V2 et clavier sans fil. Ceci est un PC. Un centre multimédia (ou media center en anglais) est un système matériel ( ordinateur , console de jeux vidéo , …) et logiciel fournissant certains des services suivants : lecture de fichiers multimédias (image, son, vidéo); diffusion de ces fichiers; écoute et enregistrement d'émissions radiophoniques ou télévisées; jeu vidéo (parfois via des émulateurs); présentation de la météo; télévision numérique, satellite, analogique; …
Un article de Wikipédia, l'encyclopédie libre. Un Home Theater Personal Computer , couramment abrégé sous le sigle HTPC , est un ordinateur personnel dédié au home cinema . Il réunit en un seul composant (l' unité centrale ) la plupart, sinon tous les composants d'un ensemble home cinema traditionnel.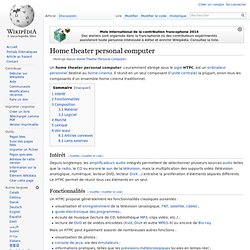 Home Theater Personal Computer
XBMC Pt 1 The Noobs Guide To Creating The Ultimate HTPC
XBMC Community Forum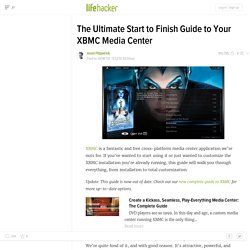 XBMC is a fantastic and free cross-platform media center application we're nuts for. If you've wanted to start using it or just wanted to customize the XBMC installation you're already running, this guide will walk you through everything, from installation to total customization. We've featured quite a few XBMC tips, tricks, and guides here at Lifehacker. We're quite fond of it, and with good reason: It's attractive, powerful, and highly customizable. In fact, nearly everyone at Lifehacker has a copy installed somewhere—and I have XBMC networked and running on every television and computer in my house.