Raspberry Pi
Chromium OS for Raspberry Pi. About. Raspbmc is a minimal Linux distribution based on Debian that brings XBMC to your Raspberry Pi.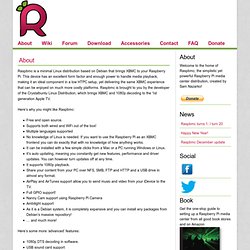 This device has an excellent form factor and enough power to handle media playback, making it an ideal component in a low HTPC setup, yet delivering the same XBMC experience that can be enjoyed on much more costly platforms. Raspbmc is brought to you by the developer of the Crystalbuntu Linux Distribution, which brings XBMC and 1080p decoding to the 1st generation Apple TV. Here's why you might like Raspbmc: Free and open source.Supports both wired and WiFi out of the box! Multiple languages supportedNo knowledge of Linux is needed. 10 coolest uses for the Raspberry Pi. As the $40 Raspberry Pi computer ships we round up the 10 projects to try on your new Pi.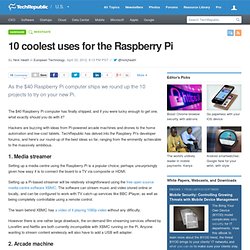 The $40 Raspberry Pi computer has finally shipped, and if you were lucky enough to get one, what exactly should you do with it? Hackers are buzzing with ideas from Pi-powered arcade machines and drones to the home automation and low-cost tablets. TechRepublic has delved into the Raspbery Pi's developer forums, and here's our round-up of the best ideas so far, ranging from the eminently achievable to the massively ambitious. 1. [Dossier] Tout savoir sur le RaspBerry Pi. L'histoire du RaspBerry Pi serait digne d'une adaptation cinématographique si le suspense au sujet de sa sortie avait duré un peu plus longtemps.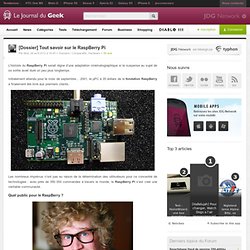 Initialement attendu pour le mois de septembre… 2001, le µPC à 35 dollars de la fondation RaspBerry a finalement été livré aux premiers clients. Les nombreux imprévus n'ont pas eu raison de la détermination des utilisateurs pour ce concentré de technologies : avec près de 350 000 commandes à travers le monde, le RaspBerry Pi s'est créé une véritable communauté.
Mais à qui s'adresse le RaspBerry Pi ? Si l'on s'en tient à la cible initiale à laquelle ont pensé les membres de la fondation, il faut compter sur les écoles de pays en voie de développement, les utilisateurs désireux de coder à moindre coût et… c'est tout. Five Things You Can Do With the New Raspberry Pi. Raspberry Pi Launches, Offers Low-Cost, Low-Power, Hackable PCs to All. R-Pi Hub. Notice: The Raspberry Pi Wiki pages on this site is collaborative work - the Raspberry Pi Foundation is not responsible for content on these pages.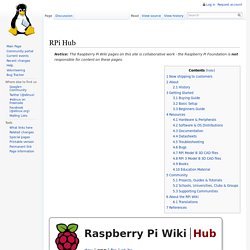 Now shipping to customers See the Buying Guide on how to order one, or visit the Raspberry Pi Foundation Home Page. Raspberry Pi | An ARM GNU/Linux box for $25. Take a byte! Register here to express an interest in Raspberry Pi. Passez votre commande dès aujourd'hui.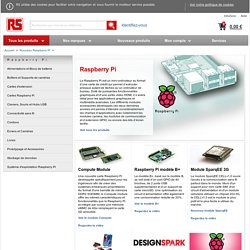 Le Raspberry Pi est un ordinateur à peine plus grand qu'une carte de crédit, pouvant se connecter à un écran et un clavier. Cette carte miniature basée sur un processeur ARM peut exécuter bon nombre de tâches effectuées aujourd'hui par un PC de bureau, feuilles de calcul, traitement de texte, jeux et vidéo HD grâce à ses capacités graphiques remarquables et sa sortie HDMI.
Les cartes Raspberry Pi modèle A et modèle B nécessitent une carte SD préchargée d'un OS linux, une alimentation, un clavier, un boîtier et des câbles non fournis. Raspberry Pi. Un article de Wikipédia, l'encyclopédie libre.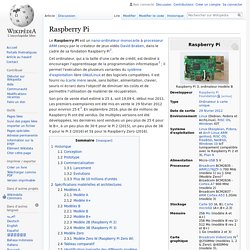 Le Raspberry Pi est un nano-ordinateur monocarte à processeur ARM conçu par le créateur de jeux vidéo David Braben, dans le cadre de sa fondation Raspberry Pi[2]. Cet ordinateur, qui a la taille d'une carte de crédit[2], permet l'exécution de plusieurs variantes du système d'exploitation libre GNU/Linux et des logiciels compatibles. Il est fourni nu (carte mère seule, sans boîtier, alimentation, clavier, souris ni écran) dans l'objectif de diminuer les coûts et de permettre l'utilisation de matériel de récupération. Cet ordinateur est destiné à encourager l'apprentissage de la programmation informatique[2].