To Do List
Get flash to fully experience Pearltrees
(First posted in 2007, updated with step-by-step photos and printer-friendly recipe and added to Recipe Favorites August 2009) Tzatziki is one of the classic sauces in Greek cuisine, with as many versions as there are cooks who make it. I can get away with calling this the World's Best Tzatziki Sauce Recipe because it was made by my friend Georgette, who's not only 100% Greek, but also one of the best cooks I know. In the archives I also have Georgette's Really Lemony Greek Pilafi and Georgette's Greek Zucchini . I keep telling Georgette that someday she'll have her own page in the recipe archives, and when she does, this Tzatziki Sauce recipe will be at the top of the list.
In addition to all her lovely recipes and her wonderful idea to host our new " No Croutons Required " food blogging event, there are many things that I have to thank my fellow vegetarian blogger Holler from Tinned Tomatoes for, not the least of which is that she is such a dear friend even though she's halfway across the world from me. One other thing that I'm grateful to her for is turning me on to the idea of oat smoothies blended with yogurt and fruit. What a terrific way to combine all the proteins, minerals and fibre of oats and yogurt with the vitamins of fruit into a quick, easy, wholesome and delicious pick-me-upper for any time of day!
Dec 19, 2007 dairy,beverage var omni_channel = "Recipes"; var omni_prop4 = "article"; var omni_prop9 = "Sweet-Corn-and-Milk-Drink"; var omni_prop10 = "21046726"; var omni_prop16 = omni_channel + ":" + omni_prop9; var omni_prop11 = omni_prop16; var omni_prop12 = omni_prop11; var omni_prop13 = "dairy,beverage"; var omni_pageName = "saveur:" + omni_prop12; Credit: Andr¿ Baranowski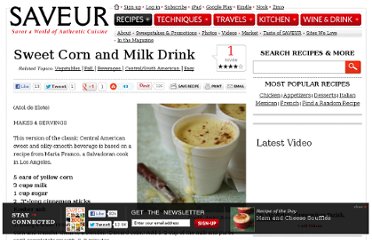 These were a huge hit! Keith, Andrew, and Kramer all ate at least two of these the other night. I brought some into work, too, and they quickly disappeared. They seriously tasted just like a s'more, and they should, considering that all of the same ingredients are used, just kicked up a notch! The crust is a graham cracker cookie, topped with marshmallow, a layer of chocolate, and a graham cracker crust to top it all off. These bars are sure to wow everyone that tries them!
i 4 Votes Update 05/31/2011 This recipe was featured on 100 ways to use Strawberries at Endless Simmer . Update 05/14/2011 Another reader successfully tried this recipe.See here .
For cake: Pierce sweet potatoes with fork. Microwave on high until very tender, about 8 minutes per side. Cool, peel and mash sweet potatoes. Position rack in center of oven; preheat to 325°F. Spray 12-cup Bundt pan with nonstick spray, then generously butter pan.
Shortly after I started food blogging I came across he concept of macarons. Macarons are a French pastry made with almond powder, icing sugar, egg whites, and sugar. (The short list of ingredients makes the macarons sound deceptively easy to make.) The macarons form a sandwich with a layer in between. I had some green tea buttercream and white chocolate ganache left over from making my green tea and white chocolate opera cake and I thought that they would make nice fillings for macarons. I decided to continue with the flavour theme and went with green tea flavoured macarons.
August 15, 2010 at 9:54 pm My brother and I have our birthdays within a week of each other. This year, for possibly the first time in 23 years, my mom decided that we weren't both getting our own separate birthday cakes.
Jun 24th, 2009 You have probably seen recipes for Crash Hot Potatoes, using regular red or white potatoes [I have a version of my own I will be sharing at some point], but these are a little different. I had a couple sweet potatoes I needed to use up and they were getting a little on the aged side. So I thought of cooking them like this, since as they age, sweet potatoes tend to get a little drier inside and that is a good thing when you are trying to get a little crunchiness on the outside of something. I'll give you some tips for using fresher ones in a minute. Peel two medium sweet potatoes and slice – these are about an inch and a half thick.