Coffee and Tea
Study: Tea Boosts Immune System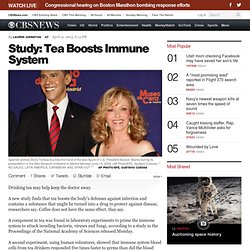 Spanish actress Silvia Tortosa touches the hand of the wax figure of U.S. President Barack Obama during its presentation in the Wax Museum of Madrid in Madrid Monday June 15, 2009. (AP Photo/EFE, Gustavo Cuevas) ** NO SALES, LATIN AMERICA, CARIBBEAN AND SPAIN OUT ** AP Photo/EFE, Gustavo Cuevas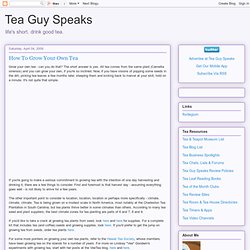 How To Grow Tea
Grow your own tea - can you do that? The short answer is yes. All tea comes from the same plant (Camellia sinensis) and you can grow your own, if you're so inclined. Now, if you have visions of popping some seeds in the dirt, picking tea leaves a few months later, steeping them and kicking back to marvel at your skill, hold on a minute. It's not quite that simple. If you're going to make a serious commitment to growing tea with the intention of one day harvesting and drinking it, there are a few things to consider.
Lemon-Ginger Iced Tea
Coffee is a brewed beverage prepared from the roasted or baked seeds of several species of an evergreen shrub of the genus Coffea. The two most common sources of coffee beans are the highly regarded Coffea arabica, and the "robusta" form of the hardier Coffea canephora. The latter is resistant to the coffee leaf rust (Hemileia vastatrix), but has a more bitter taste. Coffee plants are cultivated in more than 70 countries, primarily in equatorial Latin America, Southeast Asia, and Africa. Once ripe, coffee "berries" are picked, processed and dried to yield the seeds inside. The seeds are then roasted to varying degrees, depending on the desired flavor, before being ground and brewed to create coffee.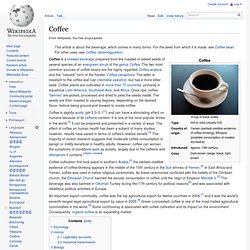 Monterey Bay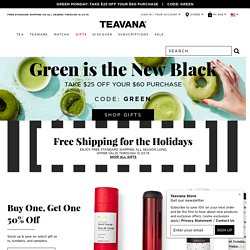 Mother's Day is Sunday, May 11 Give Mom the gift of delicious tea or a beautiful teapot, and every time she enjoys a cup of Teavana tea, she will think of you! We created a list of exquisite teas, teawares and accessories with big savings for you 20% off Belle Amitie Teapot + 20% off Peach Momotaro Blooming Tea Free 2 oz of Youthberry White Tea with purchase of a Breville One-Touch Tea Maker