Recipes
Oven-Fried Chicken Tenders recipe from Betty Crocker. TD Tunes | Great free music! Klassieke boerenkoolstamppot. Een lekker hollands recept.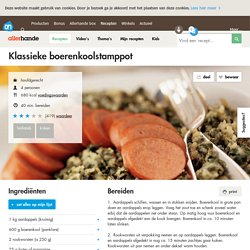 Het hoofdgerecht bevat de volgende ingrediënten: vlees, aardappels, boerenkool, rookworsten, boter of margarine, azijn en versgemalen peperHollandshoofdgerecht4 personen680 kcal Ingrediënten Keukenspullen. Beef Taquitos. This photo originally appeared in FamilyFun Magazine Like tacos, only neater to eat, taquitos have plenty of kid appeal.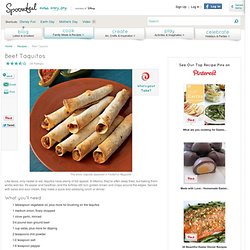 In Mexico, they're often deep-fried, but baking them works well too. It's easier and healthier, and the tortillas still turn golden brown and crispy around the edges. Served with salsa and sour cream, they make a quick and satisfying lunch or dinner. Cornmeal-Crusted Chicken Nuggets with Blackberry Mustard. Perfect Mashed Potatoes Recipe. Method 1 Put potatoes into a saucepan.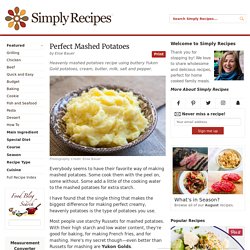 Add 1/2 teaspoon salt. Add water until potatoes are covered. Bring to boil, reduce heat and simmer, covered, 15-20 minutes, or until done - a fork can easily be poked through them. 2 Warm cream and melt butter, together, either in microwave or in a pan on the stove. Best White Icing Ever Recipe. A Year of Slow Cooking. Easy Vegetarian Chili Recipe - Easy Vegan Chili Recipe - TVP Chili Recipe - Quick Vegetarian Chili. Even though this vegetarian chili recipe uses canned ingredients, a generous amount of spices are simmered to give it a homemade taste.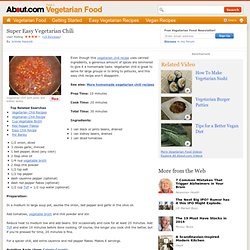 Vegetarian chili is great to serve for large groups or to bring to potlucks, and this easy chili recipe won't disappoint. See also: More homemade vegetarian chili recipes Prep Time: 10 minutes Cook Time: 20 minutes Total Time: 30 minutes. Red Velvet Cake Recipe. Red Velvet Cake: Preheat oven to 350 degrees F (175 degrees C) and place rack in center of oven.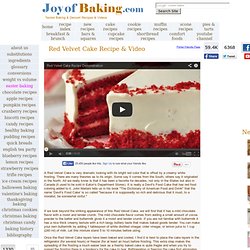 Butter two - 9 inch (23 cm) round cake pans and line the bottoms of the pans with parchment paper. Set aside. In a mixing bowl sift together the flour, salt, and cocoa powder.
---