OSED
Welkom bij Turtle Creations Turtle Creations is gespecialiseerd in het technisch realiseren van concepten en ideeën. Mensen met een idee kunnen bij ons terecht voor het uitwerken van dit idee tot een werkend prototype of product. Door de kennis en ervaring die wij in de loop der jaren heb opgedaan hebben wij klanten uit verschillende branches kunnen helpen met het tot stand brengen van hun idee. Wij maken gebruik van Arduino en Raspberry Pi om prototypes snel te realiseren.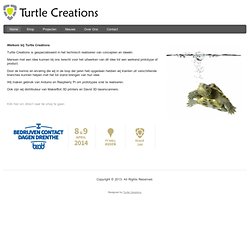 Turtle Creations: Home
XLOGO ---> Bienvenue, welcome, bienvenidos
Why Minecraft? Every day, more and more teachers are using the world-building game Minecraft to engage and educate. The game is a true phenomenon and gamers young and old are using it in countless creative ways. Practitioners of Games Based Education have realized the potential and have embraced Minecraft in classrooms around the world. Now you can too! What is MinecraftEdu?