Green
Climate Misinformers & their climate myths. Term Lookup Enter a term in the search box to find its definition.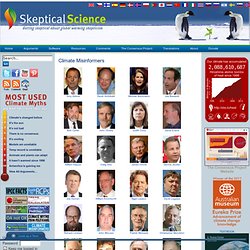 Settings. Is there a scientific consensus on global warming? Science achieves a consensus when scientists stop arguing.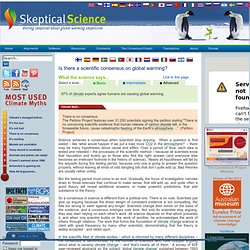 When a question is first asked – like 'what would happen if we put a load more CO2 in the atmosphere?' – there may be many hypotheses about cause and effect. Over a period of time, each idea is tested and retested – the processes of the scientific method – because all scientists know that reputation and kudos go to those who find the right answer (and everyone else becomes an irrelevant footnote in the history of science). Scientist: "The Murdoch Media Empire Has Cost Humanity Perhaps One or Two Decades in Battle Against Climate Change." By Climate Guest Contributor on August 31, 2011 at 10:05 am "Scientist: "The Murdoch Media Empire Has Cost Humanity Perhaps One or Two Decades in Battle Against Climate Change."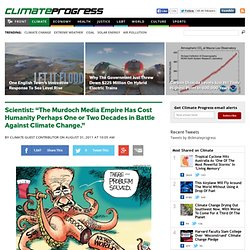 " The Australian is the country's biggest-selling national newspaper. It is owned by Rupert Murdoch's News Corp, which "also owns the sole dailies in Brisbane, Adelaide, Hobart and Darwin and the most popular metropolitan dailies in Sydney and Melbourne." Michael Ashley investigates the national paper's "seriously warped" op-ed policy in this extended excerpt. [R]eality becomes so distorted that The Australian was able to state earlier this month, "it is in keeping with this newspaper's rationalist pedigree that we have long accepted the peer-reviewed science on anthropogenic climate change," while at the same time engaging in a campaign to misrepresent and distort climate science.
MIT's artificial leaf is ten times more efficient than the real thing. Speaking at the National Meeting of the American Chemical Society in California, MIT professor Daniel Nocera claims to have created an artificial leaf, made from stable and inexpensive materials, which mimics nature's photosynthesis process.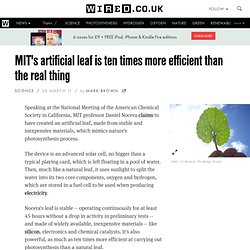 The device is an advanced solar cell, no bigger than a typical playing card, which is left floating in a pool of water. Then, much like a natural leaf, it uses sunlight to split the water into its two core components, oxygen and hydrogen, which are stored in a fuel cell to be used when producing electricity. Deaths per TWH by energy source. Comparing deaths/TWh for all energy sources I wrote this back in 2008 and with one new death that is somewhat nuclear energy related (a death at one of the japanese nuclear plants following the 8.9 earthquake) the statistics are not changed.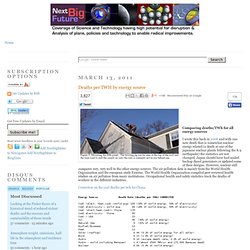 Japan should have had sealed backup diesel generators or updated some of their designs. Report: 97 percent of scientists say man-made climate change is real - Science Fair: Science and Space News. Updated 2010-06-22 5:43 PM Forget the four out of five dentists who recommend Trident….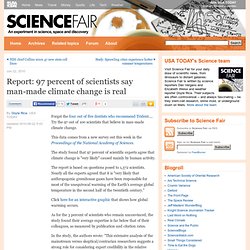 Try the 97 out of 100 scientists that believe in man-made climate change. This data comes from a new survey out this week in the Proceedings of the National Academy of Sciences. The study found that 97 percent of scientific experts agree that climate change is "very likely" caused mainly by human activity. The report is based on questions posed to 1,372 scientists. I.imgur.com/rdfVO.jpg. FREE Fotki Image Hosting. Climate_skeptics_960.gif (960×3864)
---