NewhouseSM4
Welcome to Lemon Grass. Cadillac Shifts Advertising Dollars to Digital | Digital. 12 Tips to Write Enticing Blog Posts. 222 Flares Twitter 168 Facebook 33 Google+ 1 StumbleUpon 2 LinkedIn 18 inShare18 Pin It Share 0 Reddit 0 222 Flares × Do you attract readers?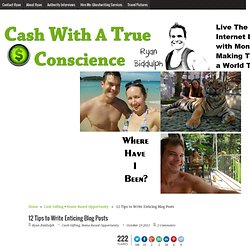 This is the question for bloggers. You attract readers. Six Keys To Standing Out On Twitter [INFOGRAPHIC] Facebook Inspires Young Voters to Take Action [INFOGRAPHIC] As election day approaches, you might be getting sick of the political bickering in your News Feed.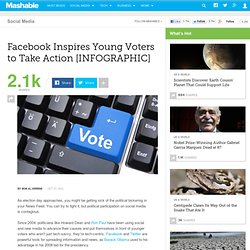 You can try to fight it, but political participation on social media is contagious. Since 2004, politicians like Howard Dean and Ron Paul have been using social and new media to advance their causes and put themselves in front of younger voters who aren't just tech-savvy, they're tech-centric. Facebook and Twitter are powerful tools for spreading information and news, as Barack Obama used to his advantage in his 2008 bid for the presidency. But Facebook can do more than just familiarize voters with a candidate or let them "Like" a campaign page. For the younger demographic of new voters, social media can be a push to the ballot. Teen Takes Educators to Twitter School. Fifteen-year-old Adora Svitak knows students nowadays "live, work and play" social media.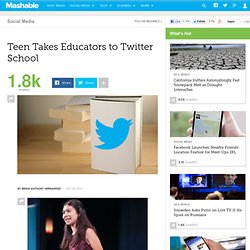 "We're used to the characteristics of social media: participation, connection, instant gratification," she tells Mashable, "and when school doesn't offer the same, it's easy to tune out. " To help more educators learn about the benefits of using social media in the classroom, Adora recently taught nearly 3,000 teachers, principals and administrators how to implement Twitter and Facebook into their lives.
"The speech was successful in that a lot of new people joined Twitter and learned how to start a Facebook page for a class or school group," Adora said about her collaborative keynote presentation at the Advancing Improvement in Education Conference in Austin this month. The first-time Twitter users learned how to sign up, tweet and weave in hashtags — pushing thankful messages to Adora during her demonstration: 5 Things You Need To Know About Chinese Social Media. 10 Creative Ways to Use Instagram for Business. Nowadays ordinary people usually use Instagram for … photographing their food and cats!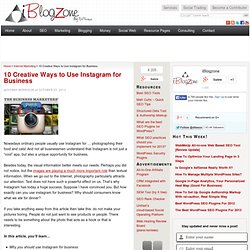 And not all businessmen understand that Instagram is not just a "cool" app, but also a unique opportunity for business. Besides today, the visual information better meets our needs. Perhaps you did not notice, but the images are playing a much more important role than textual information. Barnes &amp - Noble Stores Have Credit Card Data Breach. What Would Classic Literary Characters Leave As Their Away Messages?
5 Tips for Talking About Politics on Social Media. Sometimes when we talk about things we're passionate about, conversations can get heated.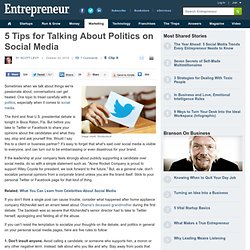 One topic to tread carefully with is politics, especially when it comes to social media. The third and final U.S. presidential debate is tonight in Boca Raton, Fla. But before you take to Twitter or Facebook to share your opinions about the candidates and what they say, stop and ask yourself this: Would I say this to a client or business partner? It's easy to forget that what's said over social media is visible to everyone, and can turn out to be embarrassing or even disastrous for your brand. If the leadership at your company feels strongly about publicly supporting a candidate over social media, do so with a simple statement such as, "Acme Rocket Company is proud to support Wiley Coyote for president, we look forward to the future.
" Social Media Intelligence Brief: October 23 2012. Connect: Authored by: Steve Momorella Steve Momorella, owner and founder, TEKGROUP International, has more than 17 years of direct Internet experience ranging from programming to high-level design and consulting for numerous large corporations including IBM, AOL and Ford Motor Company.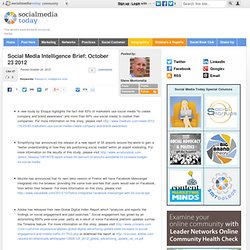 Currently, Steve is responsible for the sales and marketing of TEKGROUP's Online Newsroom Solution, used by well-known brands including Toyota, ... See complete profile. Index. Instagram a pic, get free shoes. Tuesday, October 23, 2012instagram a pic, get free shoes Want a pair of free shoes?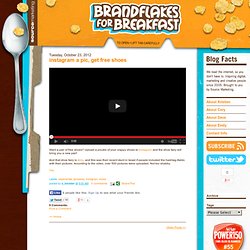 Upload a picutre of your crappy shoes to Instagram and the shoe fairy will bring you a new pair! And that shoe fairy is Aldo, and this was their recent stunt in Israel if people included the hashtag #aldo with their pictures. According to the video, over 500 pictures were uploaded. 10 Ways to Grow Your Facebook Following.
Has your Facebook Page growth stalled?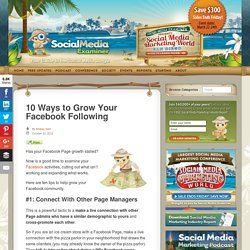 Now is a good time to examine your Facebook activities, cutting out what isn't working and expanding what works. Here are ten tips to help grow your Facebook community. Mark Zuckerberg on Facebook's Early Days - Mike Isaac - Social. Asa Mathat / AllThingsD.com Like any young start-up, the early days of Facebook were thin and scrappy.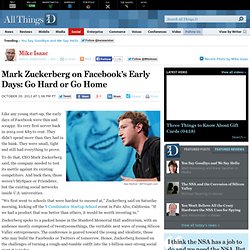 Its very first server back in 2004 cost $85 to rent. #Romnesia: A Made for Social Media Attack Line. On Tap This Week, Apple and Microsoft Events, Earnings - Tricia Duryee. Flickr: Paqman The staff at AllThingsD is generally a very busy bunch.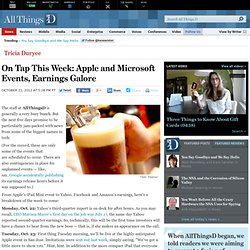 But the next five days promise to be particularly jam-packed with news from some of the biggest names in tech. Salesforce.com grows social capabilities with 20 partners. Building on its acquisition of Radian6 and Buddy Media, Salesforce.com today announced that its Marketing Cloud has expanded to include 20 of the most current social analytics vendors, with the most additions including Trendspottr, LeadSift, Bitext, Caterva, EpiAnalytics and LingaSys. At Cloudforce 2012, a company event held in New York City, Salesforce.com noted a recent McKinsey Global Institute report that found relying on brand recognition can increase a company's margins by as much as 60 percent by using social technologies to connect with customers and to generate sharper consumer insights. Michael Lazerow, chief marketing officer of Salesforce Marketing Cloud, said Salesforce.com provided the tools to make that happen. "150 million social conversations are happening every day, and now companies are truly able to take social insight and turn it into action by focusing on the conversations that matter," he said.
Talkin' Bout Social Media With Michael Brito (with image, tweets) · sarbrandt. @Britopian Speaks on Social Business (with image, tweets) · lindsaybarton7. New York Restaurant Puts Instagram on the Menu. A new restaurant in New York City has implemented what it's calling an Instagram menu, directing patrons to pictures of food posted on the popular photo-sharing site to help them decide what to order. When three-week old Latin-American restaurant Comodo — located in Manhattan's SoHo neighborhood — noticed guests were repeatedly snapping pictures of their entrees and uploading them to Instagram, it decided to capitalize on the trend. The restaurant has embraced the hashtag #ComodoMenu and added it to the bottom of its real-life menu, encouraging guests to add, share and check out photos of food offered at the establishment. 5 Social Media Metrics You Should Be Monitoring. There are hundreds of social media and web metrics that you could look at everyday if there was enough time and context to understand each of them.
But without overwhelming you with data and drowning out what is important, there are a few key metrics that you should be monitoring at all times. Today we'll cover the 5 metrics social media metrics that you should be aware of and monitoring for a pulse on your social business. Let's jump in, and happy monitoring! 1. NewhouseSU COM 600 Social Media Theory and Practice #NewhouseSM6 Fall 2012 - What We've Accomplished So Far! @Linda_S_Daley NewhouseSU COM 600 Social Media Theory and Practice #NewhouseSM6 Fall 2012 - What We've Accomplished So Far!
We conduct an open and transparent course using the Web 2.0 skills, digital tools, and social networking savvy demanded by the Communication, Advertising, Public Relations, Journalism, Television, Radio, and Film professions today and in the future. We use these tools and skills to help us learn course content, create, communicate, collaborate, and network with each other and the marketing communications profession. We also use these skills and tools to write, share, and present our information and ideas. What Tactics and Strategies are Companies Using for Content Marketing? #infographic #B2B. 12 Things To Do After You Wrote A Blogpost - Checklist [Infographic] How Social Is B2B. 'Perfect Split' Meme: Chinese College Student Becomes Internet Sensation Thanks To Spotless Split (PHOTOS) YouTube Opens Turkish Site, Giving Government More Control. 10 Tips for Writing the Ideal Blog Post. How Does SEO Work. For College Students, Social Media Tops the Bar Scene.
Social Media Blunders. NFL Social Media Sentiment Plummets. 10 Tools to Significantly Increase Your Twitter Efficiency. Forrester Social Media And Retail Report. Update: Facebook Confirms No Private Messages Appearing On Timeline. They're Old Wall Posts. Multiple Twitter Accounts. Pro athletes on Twitter: league execs say marketing outweighs gaffes. Have You Been Making This Huge Mistake On Your Blog? Facebook. Pepsi Marks 25th Anniversary of Michael Jackson's 'Bad' | Advertising and Marketing Wisdom: Adages. 72 Fascinating Social Media Marketing Facts and Statistics for 2012. What Social Network Should You Use - and When. Why is Digital So Difficult to Measure? Answer: It's Complicated. Poynter. Update your user profile - Profile.
Database Error. Can Twitter Increase Student Engagement and Boost Grades? #infographic #HigherEd #study. Cindy Gallop and Elliot Polak | Textappeal. Alex Perez: Ice cream at #newhouse :-)... LinkedIn Launches iPad App, Takes New Direction. The Capitol - The Official Government of Panem. Miss Piggy (muppetsstudio) The Muppets. Do you follow updates on films through social media before the film is released? 26 Charities and Non-Profits on Twitter. Fifty & Five | We get social media. Period. 6 questions to ask before working with a blogger. Instagram Users Fail to Welcome Their New Overlord. What is Crowdsourcing?
Am. Cazenovia Computer Repair - Home. Oh My Goodness. ESUSM. Small Business Size Standards. Facebook Users: Protect Your Timeline Profile from the Public. #AKASocialTV. The Balancing Act: Social Media Privacy and Our Employment. Boy "Meets" Girl: Dating in a Virtual World. Do you use other forms of technology (iPhone, iPad, laptop, etc) while watching live TV? GetGlue. UpGRADE Presentation*
#Curation101. Dr4Ward. Oliver Starr.
---