Social Media Policies and Guidelines
Teachers, students and social media: Where is the line? A substitute teacher in New Hampshire chooses not to work at a school after being instructed to unfriend students on Facebook.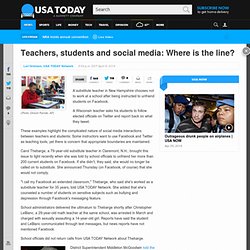 A Wisconsin teacher asks his students to follow elected officials on Twitter and report back on what they tweet. These examples highlight the complicated nature of social media interactions between teachers and students: Some instructors want to use Facebook and Twitter as teaching tools, yet there is concern that appropriate boundaries are maintained. Carol Thebarge, a 79-year-old substitute teacher in Claremont, N.H., brought this issue to light recently when she was told by school officials to unfriend her more than 200 current students on Facebook. Why Social Media Matters – US EPA Research accidentally writes #CoopExt Obit - Social Media. The above tweet that the "Internet today is like Ag Extension Service was," was surely not meant to defame the good people currently working in cooperative extension, but if you heard the chirp of a canary I'm glad.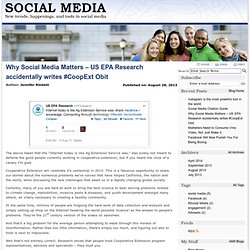 Cooperative Extension will celebrate it's centennial in 2014. This is a fabulous opportunity to share our stories about the numerous problems we've solved that have helped California, the nation and the world, while discussing the new challenges that await us in a rapidly changing global society. Currently, many of you are hard at work to bring the best science to bear solving problems related to climate change, malnutrition, invasive pests & diseases, and youth development amongst many others, all vitally necessary to creating a healthy community. At the same time, millions of people are forgoing the hard work of data collection and analysis and simply setting up shop on the Internet hawking the worst possible 'science' as the answer to people's problems.
72% of Online Adults are Social Networking Site Users. By Joanna Brenner and Aaron Smith Social Networking Sites The number of social networking site users continues to grow As of May 2013, almost three quarters (72%) of online U.S. adults use social networking sites, up from 67% in late 2012.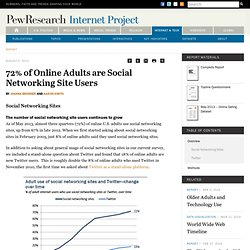 When we first started asking about social networking sites in February 2005, just 8% of online adults said they used social networking sites. Using Social Media For Your Job Search: A Definitive Guide. Social media isn't just for connecting with that high school friend you haven't seen in years, and sharing juicy updates on what's been going on in your life - you can actually leverage this online tool to help you get a job.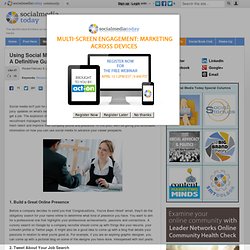 The explosion of social media in the last few years has meant that many companies and recruitment managers have taken to platforms such as Facebook, Twitter and LinkedIn to source for fresh talent and improve their company profile and presence. In this post, we'll be giving you actionable information on how you can use social media to advance your career prospects. 1. Social Media Handbook 2013. Guidelines for Social Media Managers at Boston College. Think before you post.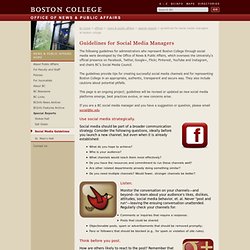 How are others likely to react to the post? Remember that "delete" only goes so far on the Internet, so use good judgment before each post.Things can go viral very quickly, so if it's questionable (ask yourself: Would I want to see this shared across the Web attributed to my channel?) , skip it.If it touches on a controversial topic (e.g., politics), it can result in a heated discussion. Are you prepared for that? Remember that audience members may have varying reactions to a post that appears to be completely positive. Social Media Tools for Consumers and Partners - Guidelines & Best Practices. @import "/socialmedia/~inc~/local.css"; Skip directly to search Skip directly to A to Z list Skip directly to navigation Skip directly to page options Skip directly to site content Get Email Updates.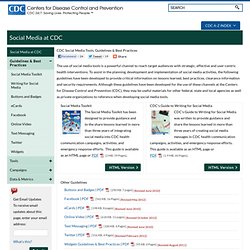 Social Media Best Practices at a Glance | FARMnWIFE. When I first read this infographic from TopNonProfits, I thought it had some good practical info.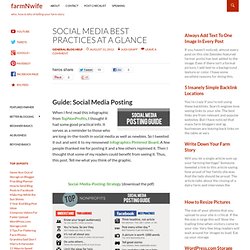 It serves as a reminder to those who are long-in-the-tooth in social media as well as newbies. So I tweeted it out and sent it to my renowned Infographics Pinterest Board. A few people thanked me for posting it and a few others repinned it. DoD Social Media Hub. Www.records.ncdcr.gov/guides/best_practices_socialmedia_usage_20091217.pdf.
The Government Records and Digital Services sections are part of the Department of Cultural Resources, Division of Archives and Records.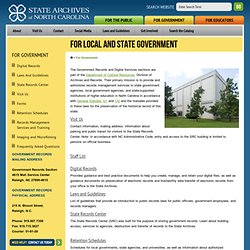 Their primary mission is to provide and administer records management services to state government agencies, local government agencies, and state-supported institutions of higher education in North Carolina in accordance with General Statutes 121 and 132 and the mandate provided in these laws for the preservation of the historical record of this state. Visit Us. Social Media Guidelines | eXtension Content Management System. Cooperative Extension has a rich history of working within communities to address significant personal, family, business, and community issues.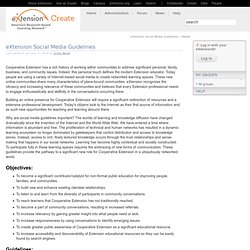 Indeed, this personal touch defines the modern Extension educator. Today people are using a variety of Internet-based social media to create networked learning spaces. Collaborate.extension.org/mediawiki/files/f/f6/NCCE_socialmedia.pdf. Social Media Tools for Consumers and Partners - Guidelines & Best Practices. @import "/socialmedia/~inc~/local.css"; Skip directly to search Skip directly to A to Z list Skip directly to navigation Skip directly to page options Skip directly to site content Get Email Updates To receive email updates about this page, enter your email address: Related Links CDC Social Media Tools, Guidelines & Best Practices.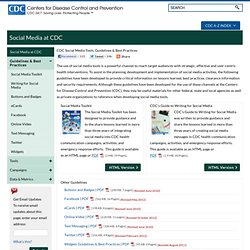 Yammer's Social Media Policy. Election Season Calls For Caution, Professionalism Among Military  Recently, Cpl. Jesse Thorsen, an Army reservist, took the podium at a rally for presidential candidate Ron Paul in Iowa – disregarding Defense Department Directive 1344.10, which restricts political activity by DoD personnel. (By Marine Corps News)
---