The Expendables
Expendables : unité spéciale

Edit Storyline Barney Ross leads the "Expendables", a band of highly skilled mercenaries including knife enthusiast Lee Christmas, martial arts expert Yin Yang, heavy weapons specialist Hale Caesar, demolitionist Toll Road and loose-cannon sniper Gunner Jensen. When the group is commissioned by the mysterious Mr. Church to assassinate the merciless dictator of a small South American island, Barney and Lee head to the remote locale to scout out their opposition.
The Expendables
Avec la sortie du film The Expendables, les grands actionners (comprendre, films d'action purement jouissifs et bourrés de testostérone) reviennent à la mode. On reparle des Stallone, Schwarzenegger (d'autant plus avec le Predators tout frais sorti des bobines), Statham, Li et autres Bruce Willis avec délectation en se rappelant leurs grands faits d'armes de la fin des années 80-90. Cependant, il ne faut pas oublier que les deux plus grands symboles de ces actionners ne sont autre que ces messieurs Sylvester Stallone et Arnold Schwarzenegger, deux monstres du cinéma d'action qui ont cependant connus des carrières mouvementées et malgré tout assez similaires…c'est sur ces dernières que nous allons revenir après avoir revu pour le plaisir la bande annonce de The Expendables : Lire la suite : Les années 80 – le graal des actionners Pages : 1 2 3
Retour sur les carrières de Stallone et Schwarzenegger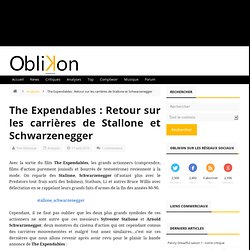 The Expendables: Trailer
Countdown: In Theaters Today
Official website
August 19, 2013 Producer Boaz Davidson shared on his facebook page a list of confirmed names for the EX3. Some names it seems won't appear in the move that were rumored before like Milla Jovovich & Jackie Chan with Nic Cage saying he won't be in EX3 himself. Cast: Sylvester Stallone, Jason Statham, Jet Li, Dolph Lundgren, Randy Couture, Terry Crews and Arnold Schwarzenegger, Wesley Snipes, Antonio Banderas, Mel Gibson and Harrison Ford.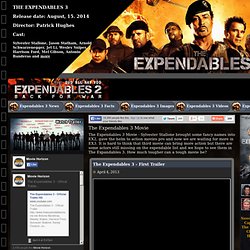 Box-office US : démarrage musclé pour les "Expendables" !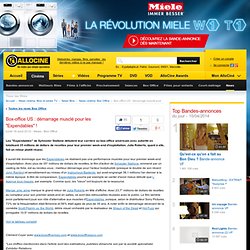 Les "Expendables" de Sylvester Stallone débutent leur carrière au box-office américain avec autorité en totalisant 35 millions de dollars de recettes pour leur premier week-end d'exploitation. Julia Roberts, quant à elle, fait un retour plutôt réussi. Il aurait été dommage que les Expendables ne réalisent pas une performance musclée pour leur premier week-end d'exploitation. Avec plus de 35* millions de dollars de recettes, le film d'action de Sylvester Stallone, emmené par un casting de folie, est au rendez-vous : meilleur démarrage pour l'acteur bodybuildé (presque le double de son récent John Rambo) et sensiblement au niveau d'un Inglourious Basterds, qui avait engrangé 38,1 millions l'an dernier à la même époque. A titre de comparaison, Expendables pourra par exemple se vanter d'avoir mieux débuté que L' Agence tous risques, par exemple. Comme quoi, les "vieux" ont toujours de la ressource.
En plein revival 80′s, Stallone a rassemblé le plus gros casting de films d'action du cinéma. The Expendables aurait été sympatoche … si s'était effectivement tourné dans les années 80 ! Stallone, Statham, Li, Lundgren, Rourke et bien d'autre stars des vidéoclubs se sont donnés rendez-vous chez Stallone pour faire vibre notre fibre de fans de films d'action des 80′s. Côté casting, si il manque Van Damme (un scénario pas assez bien ?), Chuck Norris (parce qu'il les aurait tous éclaté ?) et Steven Seagle (plus préoccupé par jouer de la Machete), il y a donc de quoi prendre bien son pied avec des scènes de bastons que l'on attendait depuis un bout de temps pour savoir qui a la plus grosse … musculature.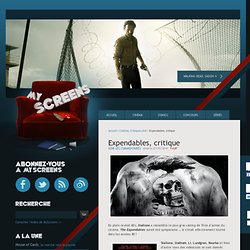 Review
Weekend Box Office: Expendables Explodes
Proving once again that films aimed at older audiences have theoretically stronger legs than those aimed at teens, The Expendables and Eat Pray Love both had strong weekend multipliers and both performed at or above realistic expectations. With all the hub-bub regarding 'the guy movie vs. the chick flick', both films posted exceptional opening weekends and both respective marketing teams should be commended. As for Scott Pilgrim vs. the World, its frontloaded and underwhelming debut proves that geek cultures is not mainstream culture, and that hardcore geek interest should not be mistaken for mainstream interest.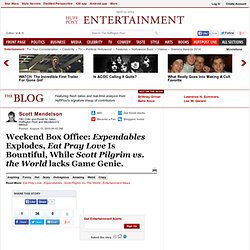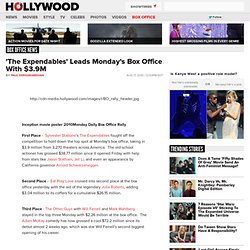 Monday Daily Box Office Rally First Place - Sylvester Stallone's The Expendables fought off the competition to hold down the top spot at Monday's box office, taking in $3.9 million from 3,270 theaters across America. The old-school actioner has grossed $38.77 million since it opened Friday with help from stars like Jason Statham, Jet Li, and even an appearance by California governor Arnold Schwarzenegger. Second Place - Eat Pray Love cruised into second place at the box office yesterday with the aid of the legendary Julia Roberts, adding $3.04 million to its coffers for a cumulative $26.15 million. Third Place - The Other Guys with Will Ferrell and Mark Wahlberg stayed in the top three Monday with $2.26 million at the box office. The Adam McKay comedy has now grossed a cool $72.2 million since its debut almost 2 weeks ago, which was star Will Ferrell's second biggest opening of his career.
'The Expendables' Leads Monday's Box Office
Sylvester Stallone Interview Part 1/2
Sylvester Stallone Interview Part 2/2
Sly Stallone talks The Expendables at premiere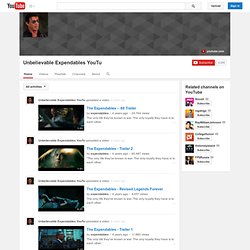 Welcome to YouTube! The location filter shows you popular videos from the selected country or region on lists like Most Viewed and in search results.To change your location filter, please use the links in the footer at the bottom of the page. Click "OK" to accept this setting, or click "Cancel" to set your location filter to "Worldwide". The location filter shows you popular videos from the selected country or region on lists like Most Viewed and in search results. To change your country filter, please use the links in the footer at the bottom of the page.
Dolph Lundgren Interview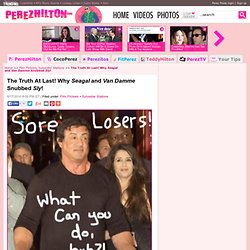 Why Seagal and Van Damme Snubbed Sly!
Steven Seagal and Jean-Claude Van Damme didn't have enough of a sense of humor for The Expendables! We were wondering what was up with Seagal and Van Damme. It didn't make sense to us that they would pass up on a possibility to actually be in a theatrically released film. Seemed bizarre. Here's what Sylvester Stallone has said on the subject: "I wanted to set Jean-Claude against Jet Li, but he didn't want to lose to Jet.