Design
DRAWER's design Marmite. The Real Helvetica: A Designer Restores the Original Font - Steven Heller - Life. Helvetica wasn't always the cold, rational typeface it is today.
For the first time, someone is bringing back its beauty. In which camp are you? Those who cannot get enough Helvetica, the world's most famous sans serif font, or those who have had more than enough. One cannot be neutral about this neutral typeface. Idler Font Design on Typography Served. Idler is an all caps, modular display typeface meant to be used for big, bold lettering.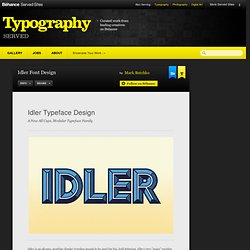 Idler's two "main" weights (Idler Detail and Idler Plain) can be used effectively as single colored layers on their own, but the typeface's true potential is realized when the user layers the "shaded" weights along with the main weights to create a colorful 3D shading effect. The Idler family contains six weights all together: Idler Detail, Idler Plain, Idler Inner, Idler Highlight, Idler Shadow, & Idler Solid. Pattern Filled Typography on Typography Served. Philippe Starck: the genius of all things. In the final episodes of Sex and the City - which some still consider a bible on all things trendy - Carrie Bradshaw was shown having lunch in a chic Parisian restaurant with a French woman.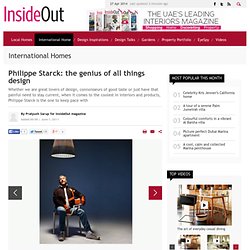 Ms Bradshaw loved the place. Her lunch date called it "hideous", with a level of disdain exclusive to the French, and pointed to the polycarbonate chairs. The chairs in question were the Louis Ghost armchairs by legendary French designer Philippe Starck. The 2002 polycarbonate reincarnation of the classic Louis VXI armchairs had the world divided -on screen and off. Déco & jolies choses. #wdfr.
---