Search 1
Bibliogo
WebClust - Clustering Search Engine
Use this free Java application to explore the connections between related websites. Try it now! Enter keywords or a URL, and click 'Graph it!' See Getting Started below for more details. Getting Started Make sure you have the latest version of java, at least Java 1.5 Type in your search keywords or a URL, and press "Graph It!"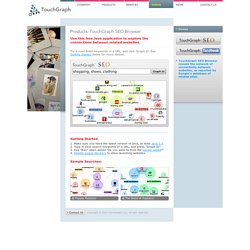 Centre National de Ressources Textuelles et Lexicales
mnemomap
http://www.managedq.com/search.php?q=neuruppin
Developer Portal - Evri
Overview With the Evri API, you can automatically, cost effectively and in a fully scalable manner: analyze text , get recommendations , discover relationships , mine facts and get popularity data . Getting Started
- Casual visualization and concept landscapes -
Timelines Tools
Timefo
Tianamo ... web discovery
WikiMindMap
WordNet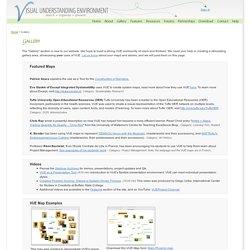 The "Gallery" section is new to our website. We hope to build a strong VUE community of users and thinkers. We need your help in creating a stimulating gallery area, showcasing your uses of VUE. Let us know about your maps and stories, and we will post them on this page. Featured Maps
SciPlore: Exploring Science
Editions and pricing
Webcasts | Greenplum
Carrot2 Clustering Engine
Get Started with Digital Dashboards | Business Dashboard Basics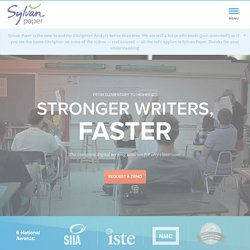 When researching online, it's easy to derail your train of thought by switching back and forth between web browser and word processor. Citelighter stays with you, so you can log your findings as you go. Tabbed browsing is the research equivalent of speed dating. You may read many sources at once, but it's doubtful you'll read them all well. Citelighter lets you pour through pages, strip out the important bits, and move on while maintaining your focus.
The fully automated bibliography, research, citation, and internet highlighting tool.
Archivsoftware
Definition: Software zur Archivverwaltung ermöglichen die Ausführung einiger Aufgaben aus dem Archivwesen, wie beispielsweise die Verwaltung der Nachlässe, die Erstellung eines Inventars oder die Online-Bereitstellung von Rechercheinstrumenten. Anwendung: Die Mehrheit der Programme zur Archivverwaltung ist für Forschende frei zugänglich. Ihre Installation und Anwendung erfordern aber gewisse technische Kompetenzen. Software:Archivists Toolkit Open Source Software zur Beschreibung und Verwaltung der Archivdienste.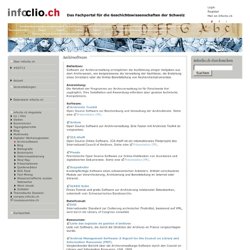 SiteVet