Shopping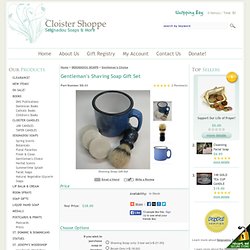 Gentleman's Shaving Soap Gift Set
We admit that there are few Seignadou Soap gifts for the gentlemen you know. So, we decided it was time to do something about it! This soap has a GREAT lather and in fact, some women use it for their own shaving needs! The brush is a genuine boar bristle brush, 4.25″. Navy handle.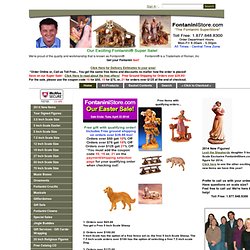 FontaniniStore.com
1. Orders over $65.00 You get a Free 5 Inch Scale Sheep 2. Orders over $100.00 5 Inch Scale has the option of a free fence set or, the free 5 Inch Scale Sheep.
Large Nativity Sets | Nativity Scenes | Nativity Creche
Outdoor Nativity Sets - Free Shipping on Outdoor Nativity Scenes
Christmas Night, Inc. carries a wide selection of inspiring nativity scenes and magnificent outdoor Christmas displays for your home, church, school, or hospital. Our inventory of creche figures and heavenly angels comes from a variety of quality-oriented manufacturers including Fontanini, Joseph's Studio, and Roman, Inc. Each of our nativity scene figures is lovingly detailed to tell the story of the birth of Jesus in the manger. If you are looking for distinctive outdoor nativity sets to celebrate the Savior's coming, we offer a wide range of nativity scenes, all constructed of durable, weather-resistant materials. Let our attractive selection of outdoor and indoor decorations, including life size Santa Claus figures and giant festive snowmen, spread the joy of Christmas year after year!
Nativity Sets, Nativity Scenes, Outdoor Christmas Decor, Nativity Figures, Nativity Creche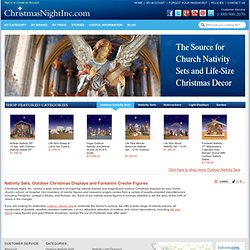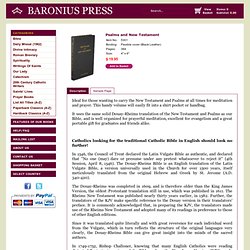 Baronius Press: Douay-Rheims Psalms and New Testament - Pocket Size Edition
Ideal for those wanting to carry the New Testament and Psalms at all times for meditation and prayer. This handy volume will easily fit into a shirt pocket or handbag. It uses the same solid Douay-Rheims translation of the New Testament and Psalms as our Bible, and is well organized for prayerful meditation, excellent for evangelism and a great portable gift for graduates and friends alike.
The only complete Roman Missal according to the typical edition of 1962 approved by the Church! The "1962 Daily Missal" contains the English translations and the Latin originals of the rites and texts for Holy Mass and many other liturgical ceremonies that were attended by the vast majority of Roman Catholics in the centuries before the liturgical reforms of Vatican Council II took effect. The liturgy of the 1962 Daily Missal is better known as the "Tridentine Mass", "Traditional Latin Rite" or "Traditional Roman Rite" and since 2007 as the "Extraordinary Form of the Roman Rite". With its splendid texts and ceremonies that orient both priest and people entirely to the worship of God, this form of the sacred liturgy has fostered a living faith that has produced numerous saints and inspired countless artists, writers and thinkers to create much of what we now know as Western culture.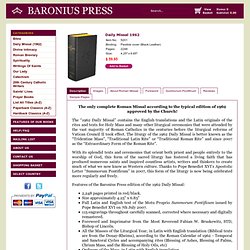 Baronius Press: Daily Missal 1962 for use with the Traditional Latin Mass (Tridentine Rite).
Baronius Press: Catholic Publisher of Catholic Books, Catholic Bibles, Daily Missal, Liturgical Books, Catechism, Catholic Classics - Online Catholic Bookstore.
A new edition of the Roman Breviary 1961 in English and Latin. An invaluable set of books for all those attached to the traditional Roman Breviary, in the form approved by Pope Benedict XVI in Summorum Pontificum. We hope and pray that this edition which has taken many years of work to complete, will help to bring about an increased use of the traditional liturgy in the praying of the Divine Office of the Church.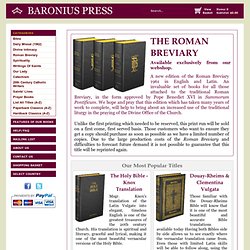 Natural Health Products, Natural Bath Products, Gluten Free Foods, Benefit Your Life, Knoxville, Tennessee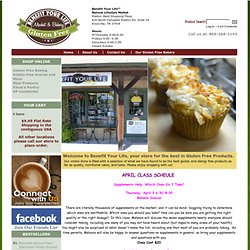 Supplements-Help, Which Ones Do I Take? Thursday, April 3 6:30-8:30 Melanie DuncanThere are literally thousands of supplements on the market, and it can be mind- boggling trying to determine which ones are worthwhile. Which ones you should you take? How can you be sure you are getting the right quality or the right dosage?
Dynamic Catholic Giftstore
It is always a pleasure to shop at Aquinas and More. May God go with you today. -Kathleen We are proud to have the bronze Pieta statue in our home; it is a very beautiful piece of art, and one that we will treasure.
The Catholic store for First Communion Gifts, Confirmation Gifts, Catholic books, Catholic bibles and rosaries.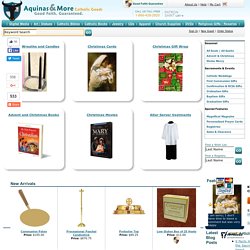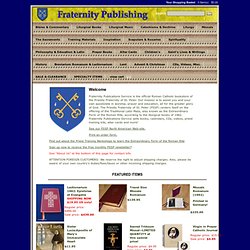 Fraternity Publications Service is the official Roman Catholic bookstore of the Priestly Fraternity of St. Peter. Our mission is to assist you and your own apostolate in worship, prayer and education, all for the greater glory of God.
Fraternity Publications Service
Sale and Telescope Accessories at Telescopes.com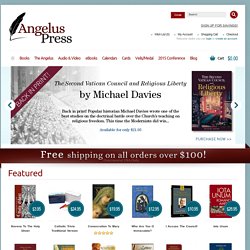 Angelus Press is the premier source of information on the Traditional Latin Mass and the practice of an integral Catholic Faith in today's world. As an apostolate of the Catholic press, we have the mission of spreading the Catholic Faith through the printed word by our Traditional Catholic books and magazine publications. We offer resources ranging from the promotion of the Holy Sacrifice of the Mass, the spiritual life, and lives of the Saints, to the crisis in the Church, theology, liturgy, and catechetics - anything that will help the Christian save his soul.
Roman Catholic Books | Traditional Catholic Books, Bibles, Missals, Calendars, Magazines | SSPX Latin Mass & Catholicism
Catholic Books & Gifts Catholic Bibles & Rosaries
Catholic Child.com: Teachings and treasures for Catholic youth, toddler through teen.
"Just slowly remove the item. Thank you." "Do you know what this is?" "Uh, yeah. I've seen this sort of thing before. It's a Seagate."
Books of Note: Used Books & New