Shopping
Gentleman's Shaving Soap Gift Set. We admit that there are few Seignadou Soap gifts for the gentlemen you know.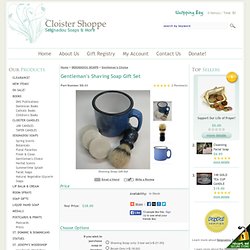 So, we decided it was time to do something about it! This soap has a GREAT lather and in fact, some women use it for their own shaving needs! The brush is a genuine boar bristle brush, 4.25″. Navy handle. FontaniniStore.com. Large Nativity Sets | Nativity Scenes | Nativity Creche. Outdoor Nativity Sets - Free Shipping on Outdoor Nativity Scenes. Nativity Sets, Nativity Scenes, Outdoor Christmas Decor, Nativity Figures, Nativity Creche. Baronius Press: Douay-Rheims Psalms and New Testament - Pocket Size Edition. Ideal for those wanting to carry the New Testament and Psalms at all times for meditation and prayer.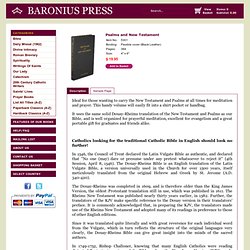 This handy volume will easily fit into a shirt pocket or handbag. It uses the same solid Douay-Rheims translation of the New Testament and Psalms as our Bible, and is well organized for prayerful meditation, excellent for evangelism and a great portable gift for graduates and friends alike. Baronius Press: Daily Missal 1962 for use with the Traditional Latin Mass (Tridentine Rite). The only complete Roman Missal according to the typical edition of 1962 approved by the Church!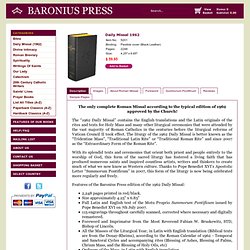 The "1962 Daily Missal" contains the English translations and the Latin originals of the rites and texts for Holy Mass and many other liturgical ceremonies that were attended by the vast majority of Roman Catholics in the centuries before the liturgical reforms of Vatican Council II took effect. The liturgy of the 1962 Daily Missal is better known as the "Tridentine Mass", "Traditional Latin Rite" or "Traditional Roman Rite" and since 2007 as the "Extraordinary Form of the Roman Rite".
With its splendid texts and ceremonies that orient both priest and people entirely to the worship of God, this form of the sacred liturgy has fostered a living faith that has produced numerous saints and inspired countless artists, writers and thinkers to create much of what we now know as Western culture. Baronius Press: Catholic Publisher of Catholic Books, Catholic Bibles, Daily Missal, Liturgical Books, Catechism, Catholic Classics - Online Catholic Bookstore.
Running. Watches. Sell and Recycle Used Electronics - Gazelle. Natural Health Products, Natural Bath Products, Gluten Free Foods, Benefit Your Life, Knoxville, Tennessee. Dollar Shave Club. Dynamic Catholic Giftstore. The Catholic store for First Communion Gifts, Confirmation Gifts, Catholic books, Catholic bibles and rosaries. Fraternity Publications Service. Sale and Telescope Accessories at Telescopes.com.
Roman Catholic Books | Traditional Catholic Books, Bibles, Missals, Calendars, Magazines | SSPX Latin Mass & Catholicism. Catholic Books & Gifts Catholic Bibles & Rosaries. Catholic Child.com: Teachings and treasures for Catholic youth, toddler through teen. Woot : One Day, One Deal (SM) Books of Note: Used Books & New.
---