Scripture
Tools for Bible Study - Scott Hahn
FREE materials from the St. Paul Center:Dr. Hahn's recommended Bible study tools: Aquinas, Thomas. Catena Aurea: A Commentary on the Four Gospels Collected Out of the Works of the Fathers (and edited by John Henry Newman). Southampton: Saint Austin Press, 1997.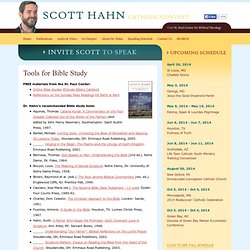 Defenders of the Catholic Faith : Hosted by Stephen K. Ray
A gentleman heard me on Relevant Radio earlier. I had mentioned on the air that one of the great humiliations of a crucifixion was that a man was crucified naked. This thoughtful gentleman wrote to challenge my comments. Below is his e-mail and my response. Dear Mr.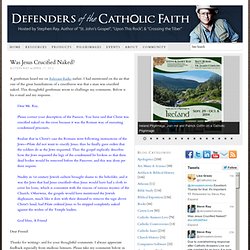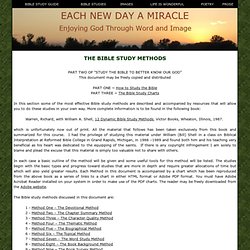 The Bible Study Methods
This document may be freely copied and distributed PART ONE ~ How to Study the Bible PART THREE ~ The Bible Study Charts In this section some of the most effective Bible study methods are described and accompanied by resources that will allow you to do these studies in your own way.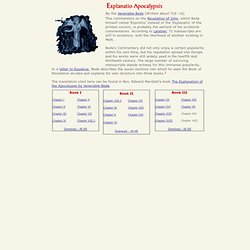 Beda Venerabilis - Explanatio Apocalypsis
This commentary on the Revelation of John, which Bede himself called 'Expositio' instead of the 'Explanatio' of the printed version, is probably the earliest of his scriptural commentaries. According to Laistner, 72 manuscripts are still in existence, with the likelihood of another existing in Melk. Bede's Commentary did not only enjoy a certain popularity within his own time, but his reputation spread into Europe and his works were still widely used in the twelfth and thirtheeth century.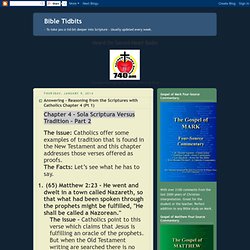 Bible Tidbits
Chapter 2 - The Apocrypha – Does It Belong In The Bible? All quotes are from "Reasoning from the Scriptures with Catholics" by Dr. Ron Rhodes A Step-by-Step guide to sharing the Good News with Catholics The (numbers in parenthesis refer to page numbers in the book)
Print Page - A Look at Catholic Scripture Commentaries
Haydock's Catholic Bible Commentary, 1859 edition.
Home > Biblica Published since 1920 by the Pontifical Biblical Institute in Rome, Biblica is a research journal and appears four times a year. It is dedicated to biblical studies on the Old and New Testament, and intertestamentary literature, and covers fields of research, such as exegesis, philology, and history. You can contact the Biblica's editors and send your contributions by email:General EditorOld Testament EditorNew Testament EditorBook Review EditorManaging Editor Roger Boily, Managing Editor for Biblica On-line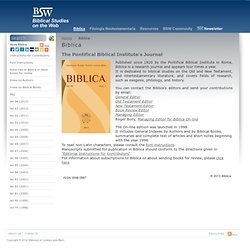 Biblica
The Enchiridion Biblicum - in English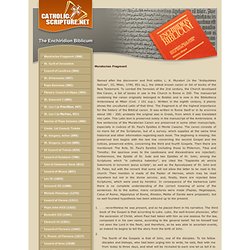 Named after the discoverer and first editor, L. A. Muratori (in the "Antiquitates italicae", III, Milan, 1740, 851 sq.), the oldest known canon or list of books of the New Testament.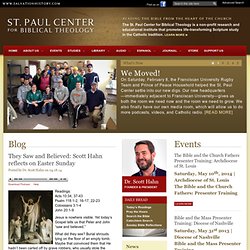 We Moved! On Saturday, February 8, the Franciscan University Rugby Team and Prince of Peace Household helped the St. Paul Center settle into our new digs. Our new headquarters—immediately adjacent to Franciscan University—gives us both the room we need now and the room we need to grow. We also finally have our own media room, which will allow us to do more podcasts, videos, and Catholic radio. [READ MORE]