Portfolio
Learn how to earn $125 or more per hour as a freelancer - Click Here One of the first posts on DesignM.ag was 101 Awesome Portfolio Sites , which drew an excellent response from readers. Many of the current readers/subscribers weren't around at that point, so if you enjoy seeing examples of excellent portfolio sites I encourage you to take a look.
» 15 Ridiculously Good Graphic Design Portfolios (Plus 1 Bonus)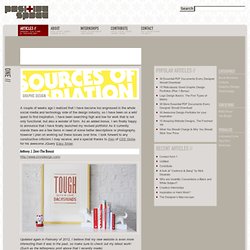 A couple of weeks ago I realized that I have become too engrossed in the whole social media and technology side of the design industry, so I have been on a wild quest to find inspiration. I have been searching high and low for work that is not only functional, but also a wonder of form. As an added bonus, I am finally happy to announce that I have finally launched my revised portfolio! As it currently stands there are a few items in need of some better descriptions or photography, however I plan on working out these issues over time. I look forward to any constructive criticism I may receive, and a special thanks to Alen of CSS Globe for his awesome JQuery Easy Slider .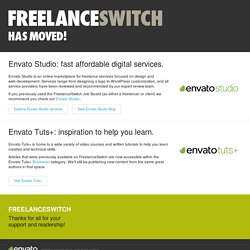 I've scoured the web to find nine portfolio designs that are, dare I say it, probably better than yours, mine and just about everyone else's. I'm sharing them because they're fun, inspiring, creative and ultimately, works of art. I'll be up-front about one thing before we start, though. Unless you're a Flash genius or have lots of dosh to spend on things like that (doing work for Nike and Microsoft helps), you'll probably never have an online portfolio like one of these.
9 Insane Portfolio Designs to Make You Drool
10 Free WordPress Themes for Portfolio Sites
WordPress is a wonderful publishing platform for your portfolio site. There are plenty of free WordPress themes available specifically designed and developed for designers, photographers, and digital artists. In this roundup, you'll find 10 excellent and (surprisingly) free WordPress themes for portfolio and image gallery websites.
» Insanely Creative Portfolios Seven
Today we find ourselves at post number seven in my Sources of Inspiration Series. I have rounded up another batch of great portfolios that are both inspirational and stylish. Be sure to check out the other inspirational portfolios via the related articles section below.
Examples of Good Graphic Design Portfolios This is a post on Astheria Design Blog that is in response to a previous post called "˜My Last Portfolio Sucked, Yours Might Too"˜. This articles includes pictures and links to Design portfolios that were designed with a goal in mind.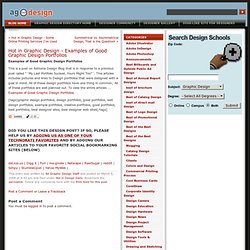 Hot in Graphic Design - Examples of Good Graphic Design Portfolios
sebdesign.eu | graphic design & illustration | online portfolio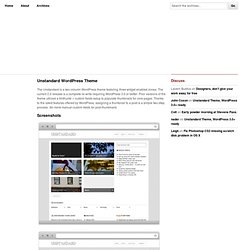 Unstandard WordPress Theme
The Unstandard is a two-column WordPress theme featuring three widget enabled zones. The current 2.0 release is a complete re-write requiring WordPress 3.0 or better. Prior versions of the theme utilized a timthumb + custom fields setup to populate thumbnails for core pages.
100 stunning professional portfolio Wordpress themes | Pingable :: Everything Wordpress
If you work with WordPress, you are a web developer of some kind. Whether it is your full time job or just a side gig, you may want to display your work. As WordPress themes become more and more specialized, portfolio themes have developed rapidly. From their beginnings as a simple blog built for displaying images… all the way to stunning sliders and interfaces, here are some of our favorite Portfolio themes for WordPress.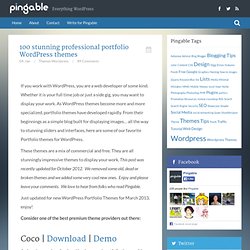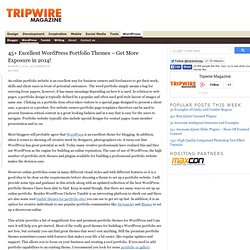 WordPress Portfolio Themes are excellent for business owners and freelancers to get a professional online portfolio set up fast.
Learn how to earn $125 or more per hour as a freelancer - Click Here With the right plugins and a bit of know-how, WordPress can be used to create almost any type of website imaginable. It's the perfect platform to use for creating an online portfolio: it looks great, it can be managed remotely from any computer, it requires very little knowledge of HTML and, most importantly, it's completely free. Artists, photographers, graphic and web designers can use WordPress to create an online portfolio that perfectly suits their work. Plugins can be used to convert a plain, standard WordPress blog into an interesting and unique portfolio that end-users will be keen to explore.
15 Essential WordPress Plugins for Portfolio Sites - Web Design Blog – DesignM.ag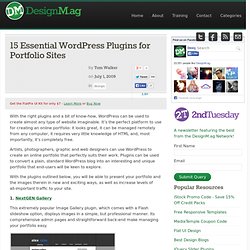 Portfolio Press Wordpress Theme Review
Oops! This Theme didn't make the cut and is no longer available. Check our homepage for the latest ThemeGrade of your favorite WP Themes. Theme Score Theme testing in such detail is a tedious process. We try our very best to present the most accurate information about the theme.
30+ Inspirational Portfolio Designs for Web Designers
It is getting more and more usual for designers to highlight their artwork online and the result is tons of portfolio websites competing for awareness. This means that you need to be special to stand out. Having access to collections of great web designs that really stand out may speed up your design process significantly and increase the chance that the result you end up with have new and unique features. The value of fresh inspiration should not be underestimated and in this article, you will find more than you will need. Get started and be inspired to create a unique and attractive portfolio .
Your portfolio is the showcase of your work, your skills and your potential for your future employers. The more time and effort you dedicate for a usable and nice-looking design, the higher are your chances for getting better account balance in the end of the month. So how can you make sure your portfolio is better than the portfolios of your competitors? How can you point employer's attention to your works?
10 Creative Designer Portfolios of The Month June at DzineBlog
Learn how to earn $125 or more per hour as a freelancer - Click Here If a photo is worth a thousand words, then some graphic design work should be worth five thousand words. Every month we take a look around and select some of the coolest creative designer portfolio and select best 10 of them for 10 Creative Designer Portfolios of The Month post, Here Dzineblog presents you the 10 creative designer portfolio of the month June , they are presented in no particular order 2.David Waters
Graphic Design Portfolio | Read Top Five Graphic Design Portfolio Tips
f claire baxter | creative director . senior designer . brand manager . rock star | design portfolio | vanityclaire.com