Logos
Brands of the World? | Download vector logos and logotypes. A Guide to Creating Professional Quality Logo Designs. Logo design is often seen as a quick and easy job; you create a small graphic, stick it next to some text and the job is done!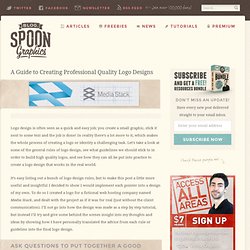 In reality there's a lot more to it, which makes the whole process of creating a logo or identity a challenging task. Let's take a look at some of the general rules of logo design, see what guidelines we should stick to in order to build high quality logos, and see how they can all be put into practice to create a logo design that works in the real world. It's easy listing out a bunch of logo design rules, but to make this post a little more useful and insightful I decided to show I would implement each pointer into a design of my own.
To do so I created a logo for a fictional web hosting company named Media Stack, and dealt with the project as if it was for real (just without the client communication). Logo Design Process and Walkthrough for Vivid Ways. This post was originally published in 2009 The tips and techniques explained may be outdated.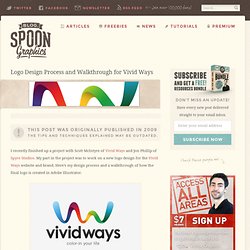 I recently finished up a project with Scott McIntyre of Vivid Ways and Jon Phillip of Spyre Studios. My part in the project was to work on a new logo design for the Vivid Ways website and brand. Here's my design process and a walkthrough of how the final logo is created in Adobe Illustrator. Logofi - A New Experience of Logo Design Inspiration. LogoMoose ? Logo design community and inspiration gallery. Logo Faves | Logo Inspiration Gallery. Logos. 40 Sexy And Creative Typographic Logo Designs. I have always loved looking at well-designed logos and I like it even more when they feature great typography (hey, after all typography is sexy!)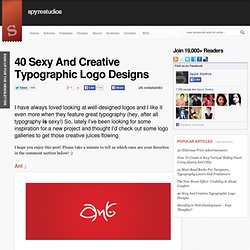 So, lately I've been looking for some inspiration for a new project and thought I'd check out some logo galleries to get those creative juices flowing. I hope you enjoy this post! Logo Design Love. 72 Creative And Smart Typographic Logo Inspiration | Graphic and. If we are starting to go crazy in typography style, then let's continue with typographic and smart logo designs, shall we?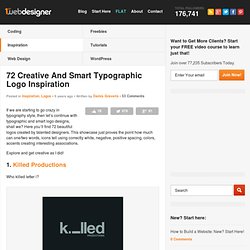 Here you'll find 72 beautiful logos created by talented designers. This showcase just proves the point how much can one/two words, icons tell using correctly white, negative, positive spacing, colors, accents creating interesting associations. Explore and get creative as I did! For the Love of Logos: Tips, Resources, and More - Noupe Design Blog. Jan 12 2011 When it comes to design projects, logo designs tend to be some of the trickiest to work with, simply because of their purpose.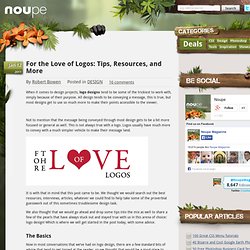 All design tends to be conveying a message, this is true, but most designs get to use so much more to make their points accessible to the viewer. Not to mention that the message being conveyed through most design gets to be a bit more focused or general as well. This is not always true with a logo. Logos usually have much more to convey with a much simpler vehicle to make their message land. Tags / logo. Inspiration: Fantastic Logos Across the Color Spectrum | Vectort.
One of the biggest uses of Illustrator has always been and most probably always will be logo design.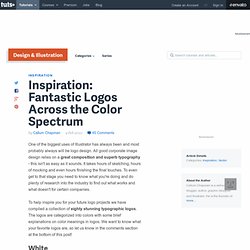 All good corporate image design relies on a great composition and superb typography - this isn't as easy as it sounds. It takes hours of sketching, hours of mocking and even hours finishing the final touches. To even get to that stage you need to know what you're doing and do plenty of research into the industry to find out what works and what doesn't for certain companies. Logo Design Trends 2009 - Showcase. LogoPond - Identity Inspiration -
Best Logo Design Gallery - The Logo Mix. Vintage Logos : un album.