Manipulation
5 Mental Tricks for Getting Over Yourself. Self-absorption, or solipsism, is defined roughly as "wanting to believe that you are the center of the universe" (you'd have to want to believe it), and it's undeniably a Huge Thing in the present culture, because let's just admit it -- you either are or are never more than 10 feet from someone with the ego to secretly suspect that society is literally an elaborate Truman Show -style situation with themselves at the center (I'll go first and put my own hand up, although I have long stopped looking for the hidden camera in my bathroom mirror).
But as comforting as it is to think that you're more real than everyone else , you're ironically screwing yourself over by believing you're the anointed protagonist of life's movie. A lot of us need to get over ourselves, in other words, and I'm sure you've noticed. I've mentioned before the romantic consequences (or lack thereof) of thinking that you're The One True Human, but here's a bunch of other self-sabotage that occurs when you're Truman. How to tell if you're a scoiopath. Sociopaths: feeding a need for stimulation.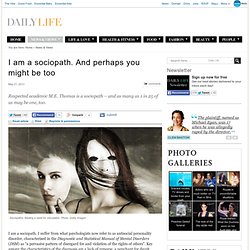 Photo: Getty Images I am a sociopath. I suffer from what psychologists now refer to as antisocial personality disorder, characterised in the Diagnostic and Statistical Manual of Mental Disorders (DSM) as "a pervasive pattern of disregard for and violation of the rights of others". Key among the characteristics of the diagnosis are a lack of remorse, a penchant for deceit, and a failure to conform to social norms.
Leadership training, leadership tips, theory, skills, for leadership training and development. Home » leadership/management » leadership leadership development methods and tips This leadership tips webpage is a general guide to modern ethical progressive leadership.
See also the leadership theories article for explanations and summaries of the main leadership theories. 7 Social Hacks For Manipulating People. 1.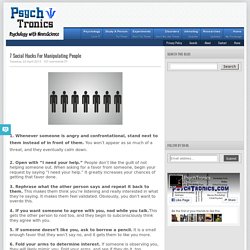 Whenever someone is angry and confrontational, stand next to them instead of in front of them. You won't appear as so much of a threat, and they eventually calm down. 2. Open with "I need your help." People don't like the guilt of not helping someone out. How to Manipulate People to Do What You Want Without Abandoning Your Ethics. Changing minds and persuasion -- How we change what others think, believe, feel and do. 21 Essential Rules of Persuasion. This article was originally published on Forbes.com.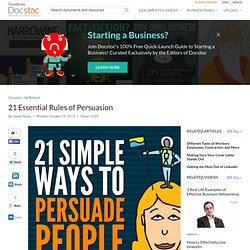 For access to the original, click here. How is it that certain people are so incredibly persuasive? Perfect Persuasive Messages. Craft messages that change minds using these 20 principles of persuasion, all based on established psychological research.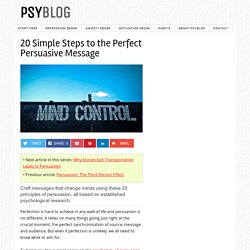 Perfection is hard to achieve in any walk of life and persuasion is no different. It relies on many things going just right at the crucial moment; the perfect synchronisation of source, message and audience. The Battle for Your Mind: Brainwashing Techniques Being Used On The Public By Dick Sutphen. Authoritarian followers Mind Control Subliminals By Dick Sutphen Summary of Contents The Birth of Conversion The Three Brain Phases How Revivalist Preachers Work Voice Roll Technique Six Conversion Techniques 1. keeping agreements 2.physical and mental fatigue 3. increase the tension 4.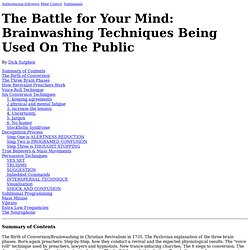 Uncertainty. 5. How to Pick Up on Manipulative Behavior: 13 steps. Edit Article Edited by Iqbal Osman, Teresa, Tipsy, Flickety and 24 others Manipulation refers to making attempts at indirectly influencing someone else's behavior or actions.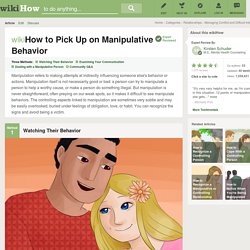 As human beings, our emotions often cloud our judgments making it difficult to see the reality behind hidden agendas or motives in different forms of behavior. The controlling aspects or shrewdness linked to manipulation are sometimes very subtle and may be easily overlooked, buried under feelings of obligation, love, or habit. Embedded Commands (NLP) I'm wondering if...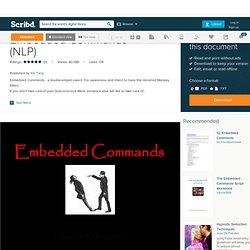 I'm wondering if you will stop smoking this afternoon . 10 Psychology Tricks You Can Use To Influence People. Humans Before we get started, it's important to note that none of these methods fall under what we would term the dark arts of influencing people.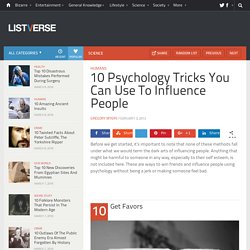 Anything that might be harmful to someone in any way, especially to their self esteem, is not included here. These are ways to win friends and influence people using psychology without being a jerk or making someone feel bad. Trick: Get someone to do a favor for you—also known as the Benjamin Franklin effect. Legend has it that Benjamin Franklin once wanted to win over a man who didn't like him. 30 Brilliant Psychological Life Hacks That Successful People Have Been Using Forever. These 24 psychological life hacks have been practiced by successful people for years, and it's time you took advantage of these mind tricks that can vastly improve your life. These small shifts will give you greater control of potentially important outcomes, from everyday situations to stressful job interviews.
I've adapted these awesome pieces of advice from an AskReddit thread on the topic. For instance when I want him to put his shoes on I will say ,"do you want to put your star wars shoes on or your shark shoes on? " Pro-tip: In some cases, this works on adults. 14 Excellent Mind Tricks to Get What You Want. Get Anyone to Like You – Instantly – Guaranteed. Get anyone to like you - Instantly - Guaranteed If you want people to like you, make them feel good about themselves. This golden rule of friendship works every time - guaranteed! The principle is straightforward. If I meet you and make you feel good about yourself, you will like me and seek every opportunity to see me again to reconstitute the same good feeling you felt the first time we met.
Top 10 Conversation Hacks. Manipulation News, Videos, Reviews and Gossip - Lifehacker. This is really more of a side effect of the way that computer sales work. As a computer salesman, my goal is to pair you with a computer that (a) you'll be able to use to accomplish everything you want to do with a computer, including things you weren't thinking about (games, netflix) but that you'll use the thing for anyway, (b) that is capable of running things that your workplace / school will require of you, and also (c) that fits into your lifestyle well enough that it's something you'll be happy to keep using.
If I fail at this job, two things will happen. You'll definitely be upset with me, because I sold you a product that didn't do what you needed. Introduction to Social Influence, Persuasion, Compliance & Propaganda. This portion of the Working Psychology website offers a brief introduction to a big topic: social influence, the modern, scientific study of persuasion, compliance, propaganda, "brainwashing," and the ethics that surround these issues. Although these topics aren't always simple (it is, after all, science), I've done my best to make this introduction interesting. Since Aristotle recorded his principles of persuasion in Rhetoric, humans have attempted to define and refine the principles of successful influence.
SCHOPENHAUER'S 38 STRATAGEMS, OR 38 WAYS TO WIN AN ARGUMENT. Arthur Schopenhauer (1788-1860), was a brilliant German philosopher. These 38 Stratagems are excerpts from "The Art of Controversy", first translated into English and published in 1896. Carry your opponent's proposition beyond its natural limits; exaggerate it. The more general your opponent's statement becomes, the more objections you can find against it.
Fallacy List. Rhetological Fallacies. Thou shalt not commit logical fallacies. How to tell if someone is telling a lie or lying: Viewzone. Pamela Meyer: How to Spot a Liar. The Science of Lying. How To Tell If Someone Is Lying - Eye Patterns of a liar. The 48 Laws of Power. Die 48 Gesetze der Macht.
---