Crime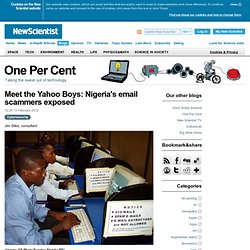 One Per Cent: Meet the Yahoo Boys: Nigeria's email scammers exposed
Jim Giles, consultant (Image: AP Photo/Sunday Alamba/PA) Anyone with an inbox knows about "419 scams". They are the messages from mysterious strangers in possession of vast wealth and in need of a bank account to transfer it into. The senders are often assumed to be Nigerian, hence the name - 419 is a section of the Nigerian criminal code pertaining to fraud. Read more: "Happy spamiversary!
I don't ask people to share often, but this is one that EVERYONE needs to s
Mary Hamilton: BBC News citing Telegraph,...
World's Most Charming Prison? Beautiful eco-friendly…