Keywords Research
Adwords Herramienta palabras clave. Neue Ideen für Keywords und Anzeigengruppen finden Der Keyword-Planer ist ein zentraler Ort, an dem Sie neue Kampagnen für das Suchnetzwerk erstellen oder bereits vorhandene Kampagnen erweitern können.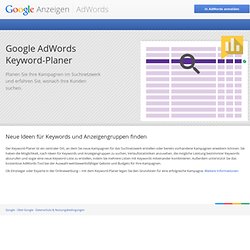 Sie haben die Möglichkeit, nach Ideen für Keywords und Anzeigengruppen zu suchen, Verlaufsstatistiken anzusehen, die mögliche Leistung bestimmter Keywords abzurufen und sogar eine neue Keyword-Liste zu erstellen, indem Sie mehrere Listen mit Keywords miteinander kombinieren. Außerdem unterstützt Sie das kostenlose AdWords-Tool bei der Auswahl wettbewerbsfähiger Gebote und Budgets für Ihre Kampagnen. Ob Einsteiger oder Experte in der Onlinewerbung – mit dem Keyword-Planer legen Sie den Grundstein für eine erfolgreiche Kampagne. Weitere Informationen. Trends. Free keyword suggestion tool for SEO, Adwords & blogging from Wordtracker - the leading keyword research tool.
Keyword Analysis Tool. Search Engine Optimization Tools » Keyword Analysis Tool Our Keyword Analyser will read the page you specify and give a report on what words are used, and how many times they are used.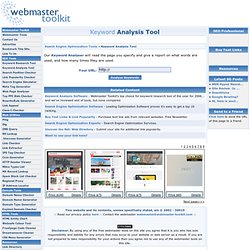 Keyword Analysis Software - Webmaster Toolkit's top choice for keyword research tool of the year for 2006... and we've reviewed alot of tools, but none compared.
---