DIY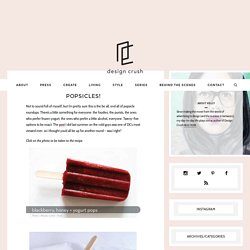 Jun29 Not to sound full of myself, but I'm pretty sure this is the be all, end all of popsicle roundups. There's a little something for everyone: the foodies, the purists, the ones who prefer frozen yogurt, the ones who prefer a little alcohol, everyone. Tweny-five options to be exact. The post I did last summer on the cold guys was one of DC's most viewed ever, so I thought you'd all be up for another round – was I right? Click on the photo to be taken to the recipe.
Lavender is a lovely purplish flower that accentuates a garden and emits a pleasant fragrance, and lavender oil is derived from the fresh plant. Simply by picking a quantity of lavender petals, drying them and putting them in dish in your bathroom produces a lovely scent. When you lightly crush them with your fingers, they release an intoxicating aroma. Lavender oil possesses that fragrance in liquid form. Lavender oil is used for aromatherapy, potpourri, and it is known to have antibacterial and antiviral properties. It is good for the health of your skin and produces a general sense of relaxation when you breathe it in.
How to Make Lavender Oil | DoItYourself.com - Pale Moon
100 Best DIY Sites on the Web Saturday, February 26, 2011 at 6:06pm by Site Administrator DIY offers a great way to take on personal projects and make things your own. Although often DIY focuses primarily on home improvement, the DIY ethic expands out to arts, technology, and so much more.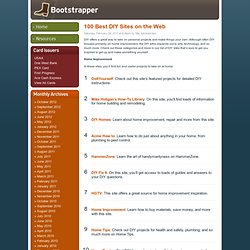 If your gift list is long and your budget is small here are some great Handmade Gifts that you can make. Keep in mind that handmade items are not just beautiful but special… I love to give them and I love to receive them. In my opinion they are the best! Jersey Knit Bracelet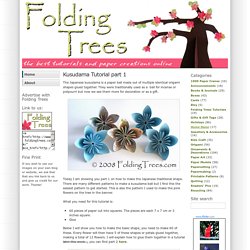 The Japanese kusudama is a paper ball made out of multiple identical origami shapes glued together. They were traditionally used as a ball for incense or potpourri but now we see them more for decoration or as a gift. Today I am showing you part 1 on how to make the Japanese traditional shape. There are many different patterns to make a kusudama ball but I find this the easiest pattern to get started. This is also the pattern I used to make the pink flowers on the tree in the banner.
Polly Wiggins, a quilling friend in Kansas, encrusted this paper mache heart with beautiful folded roses and fringed flowers. I'm drawn to the subtle, old fashioned shades she chose, perhaps because they remind me of a silky-soft comforter my great grandmother made years and years ago. If you've been steering clear of folded roses because they seem too complicated, fear not. Just a few supplies and repetitious steps, and you'll soon realize they're really quite simple. Supplies:
Folded Rose Tutorial - Pale Moon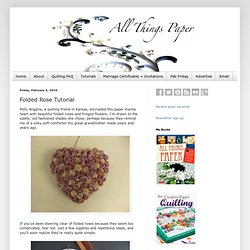 You know how I just wrote about how I like getting a handmade gift more than just about anything. Well, this is anything. Sitting on the couch on a lazy Sunday, knitting with my kids . . . that beats gift-getting for sure. It is a gift itself.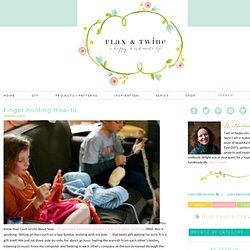 5 DIY Winter Warmth Projects - Pale Moon
Hi there! It's felt like forever since I've last blogged, and has felt like an eternity since I've done anything crafty and nifty. Since my morning sickness has gone into full speed (yes, we're expecting our third this fall!)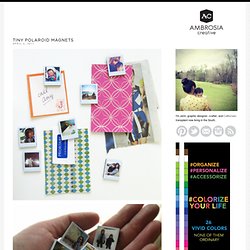 See the updated version of this project here! This was one of my favorite crafts to make because it is really relaxing just like knitting and crocheting! This is just like making one of those paracord bracelets, except with yarn. I got some neato small yarn just for making these! Here is what you will be making: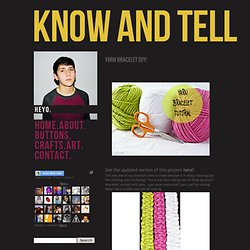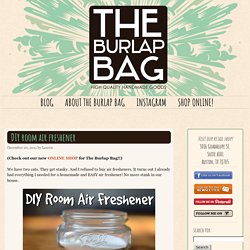 December 20, 2011 by Lauren (Check out our new ONLINE SHOP for The Burlap BAG!!) We have two cats. They get stanky.
Have some spare time? Feeling crafty? Check out this old school way to make ring I just HAD to try!
Have you ever made play dough and it just fell apart?? Well… not this time. This recipe will make play dough that is seriously the closest thing to store-bought you'll ever make. No falling apart or drying out (as long as stored in a sealed container). It will last up to 6 months.The secret to this recipe?? Two things: First, Cream of Tarter… it's what helps the dough stay together. and Second, not a lot of salt… all that salt dries out your dough!
I was walking through Target a few weeks ago and noticed this little knit fabric headband that was not just braided together…….but woven. I decided they were charging way too much for something that could be made with t-shirt scraps. And that means free. So there you have it. A nice and easy project to give my bad-hair-day head some love.