Games
Stratagus | Home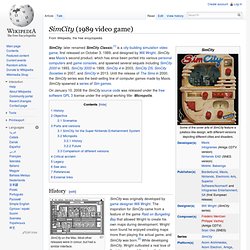 On January 10, 2008 the SimCity source code was released under the free software GPL 3 license under the original working title- Micropolis. SimCity on the Mac. Most other releases were in colour, but had a similar interface. The first version of the game was developed for the Commodore 64 in 1985; it was not published for another four years.[7] The original working title of SimCity was Micropolis.[8] The game represented an unusual paradigm in computer gaming, in that it could neither be won nor lost; as a result, game publishers did not believe it was possible to market and sell such a game successfully. Brøderbund declined to publish the title when Wright proposed it, and he pitched it to a range of major game publishers without success. Finally, founder Jeff Braun of then-tiny Maxis agreed to publish SimCity as one of two initial games for the company.[2]
Micropolis (video game)
Battle for Wesnoth
See more screenshots » Trailer Get Started Want to know more about the game? Get started and read the complete manual.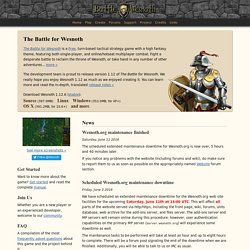 Freeciv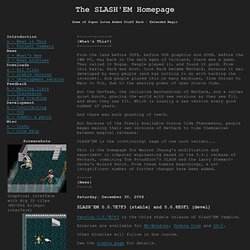 +------------+ |What's This?| +------------+ From the land before 3DFX, before VGA graphics and DOOM, before the IBM PC, way back in the dark ages of Unixland, there was a game. They called it Rogue. People played it, and found it good.
The Slash'EM Homepage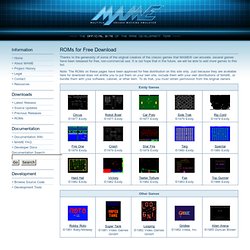 MAME | ROMs for Free Download
Thanks to the generosity of some of the original creators of the classic games that MAME® can emulate, several games have been released for free, non-commercial use. It is our hope that in the future, we will be able to add more games to this list. Note: The ROMs on these pages have been approved for free distribution on this site only. Just because they are available here for download does not entitle you to put them on your own site, include them with your own distributions of MAME, or bundle them with your software, cabinet, or other item. To do that, you must obtain permission from the original owners.
/dev/null/network: NetHack
NetHack - Falcon's Eye
Wikihack
/dev/null/nethack: Tournament Archive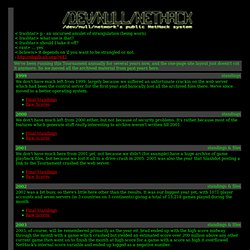 2003, of course, will be remembered primarily as the year eit_brad ended up with the high score midway through the month with a game which crashed but yielded an estimated score over 200 million above any other current game then went on to finish the month at high score for a game with a score so high it overflowed NetHack's internal score variable and ended up logged as a negative number. With several returning admin volunteers (particularly, Matt, Craig, Kevin, Joe and the Modeemi Ry computer club) we had 7 servers again, in 3 countries though only on 2 continents. We logged a total of 11,718 games played by 576 players.
To play Crawl on this server, either visit WebTiles, or SSH to crawl.akrasiac.org. The username and password are both joshua; if you catch the reference, give yourself a cookie. If you prefer to connect via SSH key, click here to get the RSA key.
Crawl!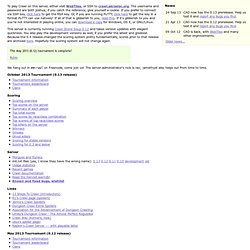 XSokoban Home Page - Pentadactyl