Computers
A fit-all subject really, as there are tools, game platforms, working appartus, and a subject of science. How to sort through all that?
One Per Cent: Bot with boyish personality wins biggest Turing test. Celeste Biever, deputy news editor Eugene Goostman, a chatbot with the personality of a 13-year-old boy, won the biggest Turing test ever staged, on 23 June, the 100th anniversary of the birth of Alan Turing.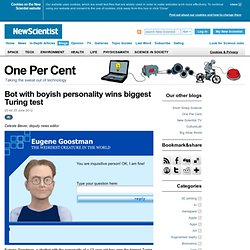 Held at Bletchley Park near Milton Keynes, UK, where Turing cracked the Nazi Enigma code during the second world war, the test involved over 150 separate conversations, 30 judges (including myself), 25 hidden humans and five elite, chattering software programs. By contrast, the most famous Turing test - the annual Loebner prize, also held at Bletchley Park this year to honour Turing - typically involves just four human judges and four machines. "With 150 Turing tests conducted, this is the biggest Turing test contest ever," says Huma Shah, a researcher at the University of Reading, UK, who organised the mammoth test.
Chatbot Eugene Wins Biggest Turing Test Ever.
Cryptography
JavaScript. Games. Logiciel libre. Unix. Legal. Flex Documentation | Adobe Developer Connection - Pentadactyl. Livedocs.adobe.com/flex/3/devguide_flex3.pdf. Livedocs.adobe.com/flex/3/createcomps_flex3.pdf.
---