Articles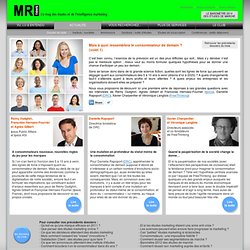 Identifier de bonnes pistes d'innovation est à l'évidence un enjeu stratégique majeur pour les entreprises, et même souvent une question de survie !
Ecouter le consommateur sur le web : pourquoi, comment ? la vie du conseil et des études marketing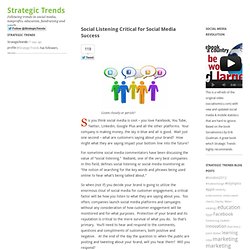 Listen closely or perish? S o you think social media is cool – you love Facebook, You Tube, Twitter, Linkedin, Google Plus and all the other platforms.
Social Listening Critical for Social Media Success | Strategic Trends
Is Social Listening More Valuable Than Your Message?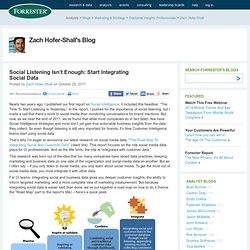 Social Listening Isn't Enough: Start Integrating Social Data
Nearly two years ago, I published our first report on Social Intelligence ; it included this headline: "The Time To Start Listening Is Yesterday." In the report, I pushed for the importance of social listening, but I made a call that there's more to social media than monitoring conversations for brand mentions. But now, as we near the end of 2011, we've found that while most companies do in fact listen, few have Social Intelligence strategies and most don't yet gain true actionable business insights from the data they collect.
La fidélité à la marque s'estompe dans les pays matures
Christophe Platet, associé d'Ernst & Young France.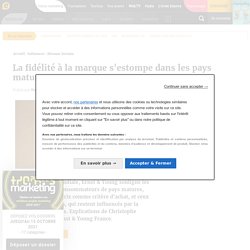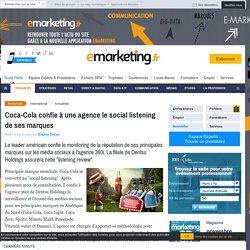 Coca-Cola confie à une agence le social listening de ses marques
Principale marque mondiale, Coca-Cola se convertit au "social listening".
Focus Your Engagement by Pinpointing Social Listening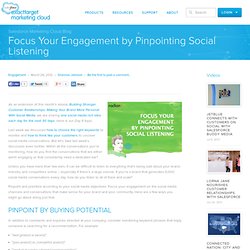 As an extension of this month's ebook, Building Stronger Customer Relationships: Making Your Brand More Personal With Social Media , we are sharing one social media rich idea each day for the next 30 days . Here is our Day 5 topic. Last week we discussed how to choose the right keywords to monitor and how to think like your customers to uncover social media conversations. But let's take last week's discussion even further. Within all the conversations you're monitoring, how do you find the conversations that are either worth engaging or that consistently need a dedicated ear?
4 Steps to Create a Social Listening Strategy
Is your business thinking about social analytics?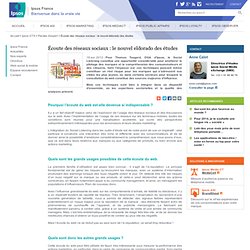 Pourquoi l'écoute du web est-elle devenue si indispensable ?
Écoute des réseaux sociaux : le nouvel eldorado des études -
Le cabinet Millward Brown décrypte l'usage des réseaux sociaux en entreprise , BIA/Kelsey's publie ses prévisions relatives aux dépenses publicitaires sur les médias sociaux et Ipsos lance un nouvel outil pour décrypter au mieux les tendances du web social… Les détails de ces trois actualités. L'usage des réseaux sociaux en entreprise Selon une étude menée par le cabinet Millward Brown pour le compte de Google, les cadres européens qui utilisent les réseaux sociaux estiment qu'ils peuvent permettre d'améliorer de près de 20% la productivité des entreprises, rapporte l'AFP .Ce gain de productivité s'expliquerait notamment par un gain de temps sur d'autres tâches comme les déplacement, les réunions ou encore l'envoi de mails.