Brain
Simple models of human brain functional networks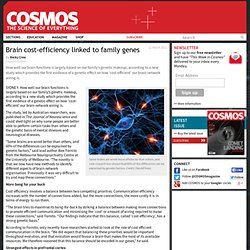 Brain cost-efficiency linked to family genes
Some brains are wired more efficiently than others, and new research has shown that 60% of the differences can be explained by genetic factors. Credit: iStockPhoto SYDNEY: How well our brain functions is largely based on our family's genetic makeup, according to a new study which provides the first evidence of a genetic effect on how 'cost-efficient' our brain network wiring is. The study, led by Australian researchers, was published in The Journal of Neuroscience and could shed light on why some people are better able to perform certain tasks than others and the genetic basis of mental illnesses and neurological diseases. "Some brains are wired better than others, and 60% of the differences can be explained by genetic factors," said lead author Alex Fornito from the Melbourne Neuropsychiatry Centre at the University of Melbourne.
Pentagon enlists universities to collaborate on brain implants to repair brain injury
DARPA, the Pentagon's research arm, has announced $14.9 million in funding for major research institutions to collaborate on brain implants that can help repair traumatic brain injury.
Toward discovery science of human brain function
WiredDifferently – Uniting Us to Explore the Jungle of the Mind
Researchers Map Brain Regions Linked to Intelligence
FRIDAY, April 13 (HealthDay News) -- The physical architecture of intelligence in the brain has been mapped by scientists who used brain injury patients to conduct their research. The findings provide new insight about the specific brain structures involved in general intelligence and specific skills such as memory and the ability to understand words. The study included 182 Vietnam War veterans who had highly localized brain damage caused by penetrating head wounds. [Read: Health Buzz: Dental X-Rays Linked to Brain Tumors.] "It's a significant challenge to find patients [for research] who have brain damage, and even further, it's very hard to find patients who have focal brain damage," study leader Aron Barbey, a professor of neuroscience at the University of Illinois, said in a university news release. Many people who've suffered brain damage from stroke or other causes have multiple impaired brain areas.