JS
jQuery mobile gives you an integrated user interface for many platforms like windows mobile, iPhone, Android and Blackberry. You can search for the latest jQuery mobile growth from the different sites that provide it. A little help from the word press community will let you get your desired result. This jQuery mobile article will give focus on the different features of mobile framework and make a mobile webpage with jQuery.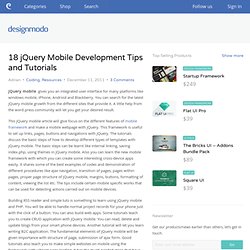 18 jQuery Mobile Development Tips and Tutorials
jMenu — Navigation horizontale avec jQuery UI
jMenu est un système de menu horizontal en jQuery et jQuery UI qui autorise un nombre illimité de sous-menus. jMenu possède plus d'une douzaine d'options : largeur des sous-menus, position ( top et left ) du premier niveau par rapport au niveau supérieur, délai d'ouverture et de fermeture des sous-menus, type d'effets applicables à l'ouverture ou à la fermeture des niveaux, etc. Marquage HTML et classes CSS attendus pour jMenu : <ul id="jMenu"><li><a class="fNiv">Niveau 1</a><!