WikiLeaks
White House Uses Espionage Act to Pursue Leak Cases. Jake Tapper, the White House correspondent for ABC News, pointed out that the administration had lauded brave reporting in distant lands more than once and then asked, "How does that square with the fact that this administration has been so aggressively trying to stop aggressive journalism in the United States by using the Espionage Act to take whistle-blowers to court?"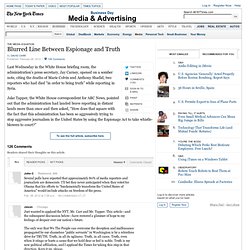 He then suggested that the administration seemed to believe that "the truth should come out abroad; it shouldn't come out here." Fair point. The Obama administration, which promised during its transition to power that it would enhance "whistle-blower laws to protect federal workers," has been more prone than any administration in history in trying to silence and prosecute federal workers. List of Releases. Search the GI Files LONDON—Today, Monday 27 February, WikiLeaks began publishing The Global Intelligence Files – more than five million emails from the Texas-headquartered "global intelligence" company Stratfor.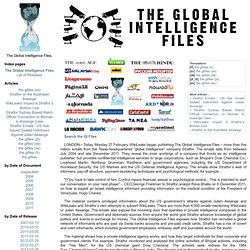 The emails date from between July 2004 and late December 2011. They reveal the inner workings of a company that fronts as an intelligence publisher, but provides confidential intelligence services to large corporations, such as Bhopal's Dow Chemical Co., Lockheed Martin, Northrop Grumman, Raytheon and government agencies, including the US Department of Homeland Security, the US Marines and the US Defense Intelligence Agency. The Afghanistan Report the Pentagon Doesn't Want You to Read | Michael Hastings.
Twitter subpoena social media Boston occupy movement. An Australian activist is fighting an attempt by Boston authorities to subpoena information about her from Twitter in relation to the #occupy movement.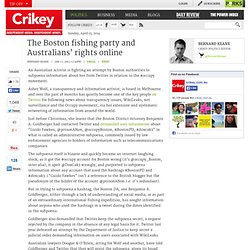 Asher Wolf, a transparency and information activist, is based in Melbourne and over the past 18 months has quietly become one of the key people on Twitter for following news about transparency issues, WikiLeaks, net surveillance and the Occupy movement, via her extensive and systematic retweeting of information from around the world.
Just before Christmas, she learnt that the Boston District Attorney Benjamin A. Goldberger had contacted Twitter and demanded user information about "Guido Fawkes, @p0isonANon, @occupyBoston, #BostonPD, #d0xcak3" in what is called an administrative subpoena, commonly issued by law enforcement agencies to holders of information such as telecommunications companies. HBGary faces Congressional probe - SC Magazine US. March 24, 2011 A subcommittee consisting of 19 members of Congress is seeking to launch an investigation into the activities of security firm HBGary Federal following revelations that the company, together with two other security firms, Berico Technologies and Palantir Technologies, may have conspired to sabotage opponents.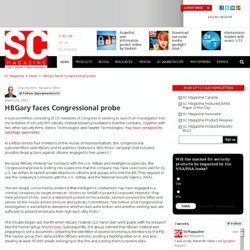 In a letter sent to four members of the House of Representatives, the Congressional subcommittee said HBGary and its partners "planned a 'dirty-tricks' campaign that included possible illegal actions against citizens engaged in free speech. " Because HBGary Federal has contracts with the U.S. military and intelligence agencies, the Congressional probe is looking into suspicions that the company may have used tools paid for by U.S. tax dollars to launch private attacks on citizens and groups who foot the bill. They request to see the company's contracts with the U.S. military and the National Security Agency (NSA).
Was alleged Wikileaks leaker Bradley Manning's crisis also one of personal identity? Yesterday, I published a what purported to be more detailed versions of IM logs between alleged whistleblower US Army PFC Bradley Manning and hacker Adrian Lamo, revealing specific countries and issues implicated in military documents Manning is alleged to have leaked to Wikileaks.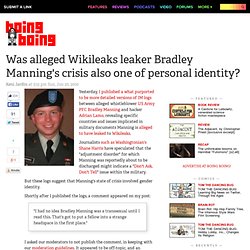 Journalists such as Washingtonian's Shane Harris have speculated that the "adjustment disorder" for which Manning was reportedly about to be discharged might indicate a "Don't Ask, Don't Tell" issue within the military. But these logs suggest that Manning's state of crisis involved gender identity. Shortly after I published the logs, a comment appeared on my post: "I had no idea Bradley Manning was a transsexual until I read this. Early Struggles of Soldier Charged in Leak Case. WikiLeaks.
A Field Guide to Wikileaks and Its Adversaries. There is a lot of misinformation oiy there about the sexual allegations.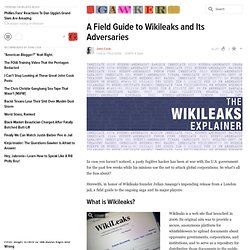 Not using a condom does seem to be part of the charges, but I don't think it is just "Oh, he didn't use a condom, so I'll accuse him of rape. " The LA Time and the Guardian have reported that with one woman he held her down and finished after she realized he wasn't wearing a condom and tried to push him off. With the second woman, he is accused of raping her while she slept (and not using a condom). Wikileaks Insiders Messages. 6 September 2010.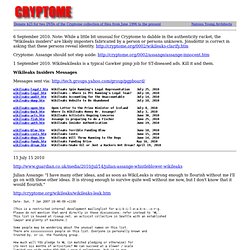 Note: While a little bit unusual for Cryptome to dabble in the authenticity racket, the "Wikileaks insiders" are likely imposters fabricated by a person or persons unknown. Jónsdóttir is correct in asking that these persons reveal identity. Cryptome: Assange should not step aside: 1 September 2010. The leaked campaign to attack WikiLeaks and its supporters - Glenn Greenwald.
Last week, Aaron Barr, a top executive at computer security firm HB Gary Federal, boasted to the Financial Times that his firm had infiltrated and begun to expose Anonymous, the group of pro-WikiLeaks hackers that had launched cyber attacks on companies terminating services to the whistleblowing site (such as Paypal, MasterCard, Visa, Amazon and others).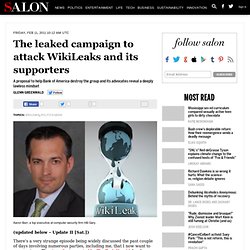 In retaliation, Anonymous hacked into the email accounts of HB Gary, published 50,000 of their emails online, and also hacked Barr's Twitter and other online accounts. Among the emails that were published was a report prepared by HB Gary — in conjunction with several other top online security firms, including Palantir Technologies — on how to destroy WikiLeaks. The emails indicated the report was part of a proposal to be submitted to Bank of America through its outside law firm, Hunton & Williams. Wikileaks Fails "Due Diligence" Review. In the past week, both the Washington Post and the New York Times have referred to WikiLeaks.org, the web site that publishes confidential records, as a "whistleblower" site.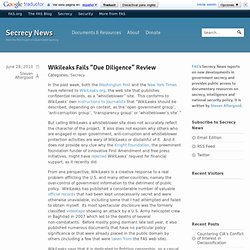 This conforms to WikiLeaks' own instructions to journalists that "WikiLeaks should be described, depending on context, as the 'open government group', 'anti-corruption group', 'transparency group' or 'whistleblower's site'." But calling WikiLeaks a whistleblower site does not accurately reflect the character of the project.
---