Websites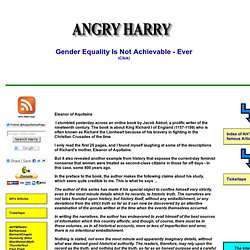 Eleanor of Aquitaine I stumbled yesterday across an online book by Jacob Abbot; a prolific writer of the nineteenth century. The book is about King Richard I of England (1157-1199) who is often known as Richard the Lionheart because of his bravery in fighting in the Christian Crusades of the time I only read the first 25 pages, and I found myself laughing at some of the descriptions of Richard's mother, Eleanor of Aquitaine. But it also revealed another example from history that exposes the current-day feminist nonsense that women were treated as second-class citizens in those far off days - in this case, some 800 years ago.
Men's Movement and Men's Rights - Fathers For Justice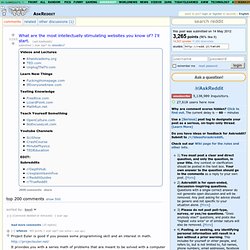 Why are comment scores hidden? Click to find out. The current delay is -- 60 -- minutes Use a [Serious] post tag to designate your post as a serious, on-topic-only thread.
What are the most intellectually stimulating websites you know of? I'll start. : AskReddit
Jason Silva - Filmmaker - Futurist - Epiphany Addict
The LvlS!x
What Happens When The Oil Runs Out? Authored by Professor Chris Rhodes via OilPrice.com, Summary of a lecture by Professor Chris Rhodes to the Conway Hall Ethical Society, Conway Hall, Red Lion Square, London. 11.00 am, Sunday July 28th, 2013.
Welcome to Michael C. Ruppert's Collapse Network - holding a lantern at the crossroads
Reality Sandwich | Evolving consciousness, bite by bite.
Why I Support the Worldwide Wave of Action Through a worldwide movement, we can rally to change our fate and chart a new direction, but we need to act quickly. We must overcome the current paradigm and launch a new operating system for global society, based on principles of regenerative design.