Tech.
A genius is born: New computer programme is 'more intelligent' than 96 per cent of humans with an IQ of 150. Software uses mixture of logic and 'human-like' thinkingScore is classified as 'genius'It could 'spot patterns' in financial data By Rob Waugh Updated: 17:33 GMT, 17 February 2012 A computer has become the first to be classed as a 'genius' after scoring 150 in an IQ test.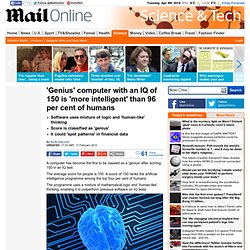 The average score for people is 100. A score of 150 ranks the artificial intelligence programme among the top four per cent of humans. Anthony Adams: Evolution Is a Spiritual Process: An Interview With Ray Kurzweil. As I stepped off the NYC subway on my way to interview Ray Kurzweil, a woman bumped into me and my iPhone (in what seemed like bullet time) fell, bounced, and then dropped down into the tracks of the 1 train.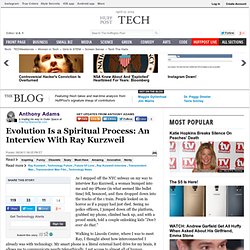 People looked on in horror as if a puppy had just died. Seeing no police officers, I jumped down off the platform, grabbed my phone, climbed back up, and with a proud smirk, told a couple onlooking kids "Don't ever do that. " Walking to Lincoln Center, where I was to meet Ray, I thought about how interconnected I already was with technology.
Soldiers can double as broadband base stations | Crave. With everything from night vision goggles to GPS enhancing the effectiveness of the military, the modern soldier is a walking technological marvel.
Now, continuous Internet access may be within reach of the average GI even in the most remote parts of the world, thanks to the KnightHawk 3G. Essentially a mobile telecommunication network base station, the device is described as a "ruggedized, highly mobile tactical base station" that can acquire 3G signals in places with "limited or no cellular connectivity. " Your iPhone's watching you. Should you care? (FAQ) | Apple. Researchers announced last week that they found what look like secret files on the iPhone that track user location and store it on the device, without the permission of the device owner.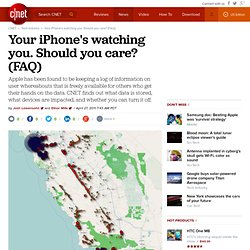 Apple has been collecting it in iOS products that carry a 3G antenna for nearly a year now to help create a crowd-sourced database that's able to help speed up location positioning. Pete Warden, a writer, and Alasdair Allan, a senior research fellow in astronomy at the University of Exeter, discovered the log file and created a tool that lets users see a visualization of that data. Last week they said there was no evidence of that information being sent to Apple or anyone else, which Apple has now said it uses to build a large, anonymized database.
That data was found to be unencrypted, giving anyone with access to your phone or computer where backups may be stored a way to grab the data. F.lux: software to make your life better. Semiconductors threaded with nerve cells could be the first step toward biological computers. Tips and downloads for getting things done. @Ed Bortoni: I had problems installing Silverlight also, wanted to use Boxee to stream Netflix and Silverlight is required.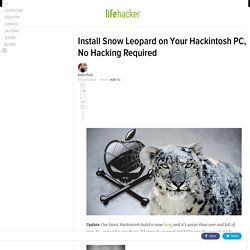 Got the error message, "Microsoft Silverlight Browser Plug-In can't be installed on the computer. Silverlight 2 may not be installed on PowerPC. " Found this thread regarding same problem: Tips and downloads for getting things done.
---